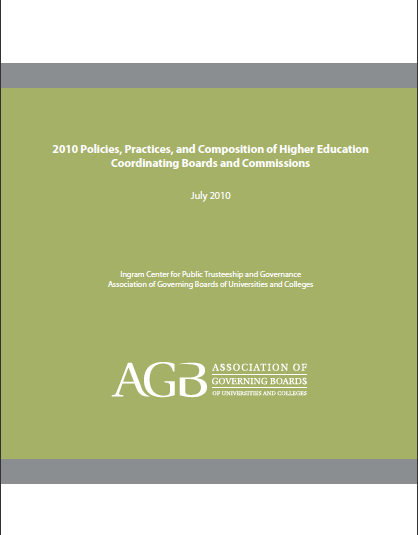 Coordinating boards and commissions have long been members of the Association of Governing Boards of Universities and Colleges (AGB), but we have never attempted to systematically collect data about how they are structured internally or about the citizens who serve on them. This report does that. It provides us considerable information about the citizens who serve on these boards and commissions (a demographic profile), as well as some of the internal policies and operations of such boards and their members.
This report delves much deeper than a November 2008 report, Public Higher Education Governing and Coordinating Boards: Composition, Characteristics, and Structure. In addition to the information in that report, this report provides data on basic board and committee structures, as well as the frequency and number of board meetings and the time commitment required of board members. One interesting finding in this report, for example, is that coordinating boards meet, on average, eight times a year and spend just over 10 days in full board meetings (some additional time is spent in standing and ad hoc committee meetings). This may be sufficient time for the challenges facing states and their higher education systems, and is only slightly less than the time spent by public governing boards. Or is it sufficient? Do today's challenges require more of these boards and their members; and, indeed, of all higher education boards?
The survey for this report asked questions about the state higher education executive-board relationship, and those questions were limited to hiring practices, evaluation, and compensation. A fuller examination of this relationship may be worthwhile given the relatively high turnover rate among state coordinating board executives, for example: what responsibility rests with the board in terms of selection, meaningful performance assessment, expectations, and support that could improve the service of coordinating agency executives (at least for the 20 boards that retain authority to select executives)?
Statutorily created citizen coordinating boards and commissions wield considerable authority; a few have governing board-related powers. Even in those states in which the board and the state agency they oversee are officially advisory, the board is often made up of prominent citizens whose leadership and guidance on state policy is sought often. Examining how board authority and leadership are exercised is not the purpose of this report. We view it as the first step in what will be a further examination of state coordinating boards and commissions, their individual members, and the nature of their work and engagement—in partnership with their executives and agency staffs—on the critical education-related policies facing states and their higher education systems.
Much is at stake for asserting state higher-education policy and in creating and advancing public agendas for higher education. Public colleges and universities and the states need highly effective, high-performing governing and state coordinating boards to help ensure that our nation achieves its educational goals. We believe the information in this report will contribute to an understanding of the work and structure of state coordinating boards and commissions as they address the educational challenges ahead.
Publication Year: 2010