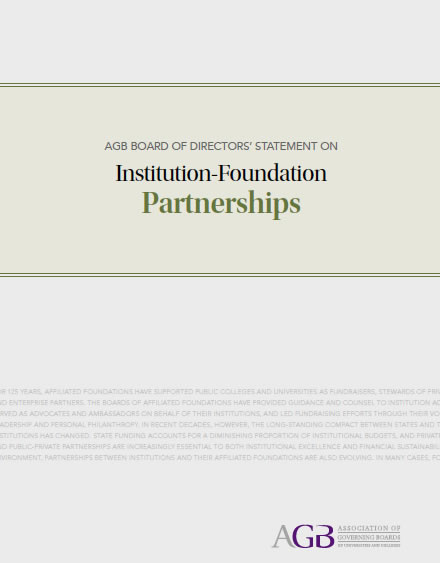 Wednesday, September 14, 2016
The following text is excerpted from the introduction; download the full statement.
For 125 years, affiliated foundations have supported public colleges and universities as fundraisers, stewards of private resources, and enterprise partners. The boards of affiliated foundations have provided guidance and counsel to institutional administrators, served as advocates and ambassadors on behalf of their institutions, and led fundraising efforts through their volunteer leadership and personal philanthropy. In recent decades, however, the long-standing compact between states and their public institutions has changed. State funding accounts for a diminishing proportion of institutional budgets, and private support and public-private partnerships are increasingly essential to both institutional excellence and financial sustainability. In this environment, partnerships between institutions and their affiliated foundations are also evolving. In many cases, foundations are becoming increasingly vital and engaged as fundraisers and entrepreneurial partners to their institutions. The same factors are leading institutional boards to devote increased attention to the activities of affiliates and prompting institutional presidents to assess and adapt the structure of advancement programs. In some cases, this is creating discord in institution-foundation partnerships.
This statement provides guidance for institutional governing boards; senior administrators of public colleges, universities, and systems; and the boards and staff of affiliated foundations on ways they can mitigate potential risks stemming from foundation activities, enhance the alignment of foundation activities with institutional priorities, and fulfill governing boards' fiduciary responsibility for oversight of affiliated entities. While public institutions may have many affiliated entities fulfilling various roles, this statement is intended to apply to foundations—typically 501(C)(3) publicly supported charities—that serve as gift repositories, invest and manage endowment funds, may be responsible for fundraising programs and real estate projects, and provide other services and support to their affiliated institutions. The principles and recommendations outlined here should not be taken as prescriptions. Institutional culture, financial considerations, state policies, and legal contexts may entail differing approaches to oversight, governance, and operations. Ultimately, a robust culture of collaboration, accountability, and trust will determine the effectiveness of institution-foundation partnerships.
We hope this statement will serve as a catalyst, encouraging institutional and foundation boards to reflect on their relationships and develop a shared vision as well as the engaged, collaborative leadership our public institutions will need in the decades ahead.
The text above is excerpted from the introduction; download the full statement.