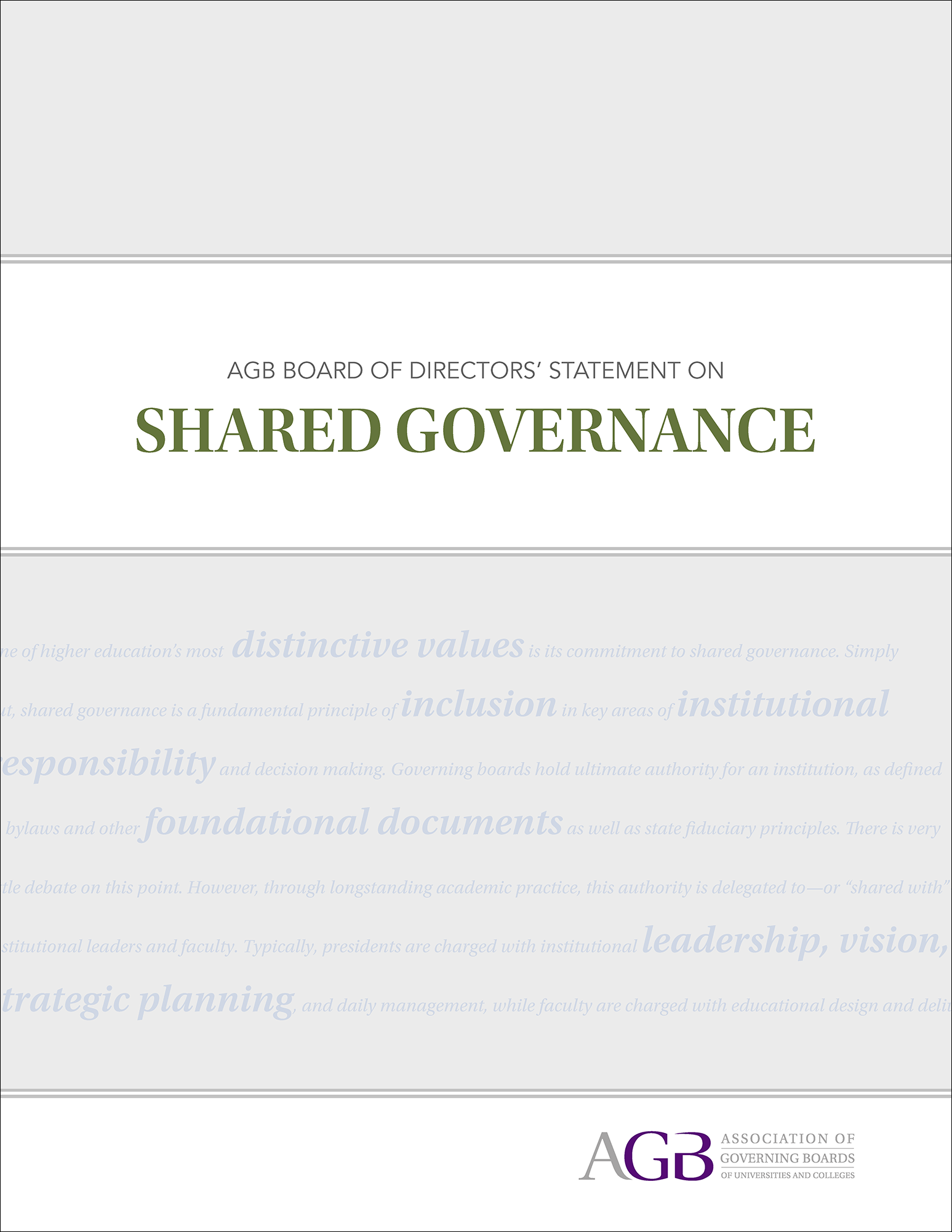 Tuesday, October 10, 2017
The following text is excerpted from the introduction. Download the full statement.
One of higher education's most distinctive values is its commitment to shared governance. Simply put, shared governance is a fundamental principle of inclusion in key areas of institutional responsibility and decision making. Governing boards hold ultimate authority for an institution, as defined in bylaws and other foundational documents as well as state fiduciary principles. There is very little debate on this point. However, through longstanding academic practice, this authority is delegated to—or "shared with"—institutional leaders and faculty. Typically, presidents are charged with institutional leadership, strategic planning, and daily management, while faculty are charged with educational design and delivery. As the Association of Governing Boards of Universities and Colleges (AGB) said in its Statement on Board Responsibility for Institutional Governance (2010), shared governance "has historically resulted in continuous innovation and the concomitant effect that American college curricula and pedagogy define the leading edge of knowledge, its production, and its transmission." Despite the remarkable value of shared governance, the stakeholders who are fundamental to its impact often lack understanding of, appreciation for, and even commitment to it. Boards, faculty, and presidents—the key players in the relationship that defines shared governance— continue to struggle with its value and its effectiveness.
In higher education's volatile environment, shared governance is essential. It adds substantial value to institutional progress and innovation. In fact, responsibility and accountability for addressing colleges' and universities' thorniest challenges often rest with multiple parties. Effective shared governance is about more than who is responsible for what. At its best, shared governance is about how key constituents in institutional communities—traditionally faculty, administrators, and board members—engage in achieving a commonly supported mission. For example, these groups customarily participate in strategic planning, institutional budgeting, and discussion of critical issues such as campus climate and student-learning outcomes. The practice of shared governance has developed differently according to the circumstances of individual colleges and universities. For instance, a small, religiously affiliated college with mainly full-time faculty will likely have different shared governance traditions from those of a large public university with faculty unions and substantial numbers of part-time faculty. However, despite institutional size or mission, effective shared governance provides the context for meaningful engagement and decision making in virtually every private and public college or university. It strengthens institutions by providing the means of aligning priorities and including key constituents in mission-related decision making. Even when there is recognition of the importance of shared governance to institutional operations and innovation in principle, it can present considerable challenges in practice. As AGB explained in the 2010 statement, "Many presidents, governing boards, and faculty members believe that institutional governance is so cumbersome that timely and effective decision making is imperiled; factionalism, distrust and miscommunication, and lack of engagement among the parties can impede the decision-making process." Newer board members may be surprised to learn that—despite their fiduciary authority—some responsibilities, especially those related to academic programs, are primarily the province of the faculty.
The text above is excerpted from the introduction. Download the full statement.