Your membership matters.
Working with limited resources and ever-increasing demand, AGB members receive crucial support to navigate their challenges and opportunities, along with an invaluable lifeline during times of change or crisis.
Determine your eligibility.
AGB Membership is open to:
Boards of colleges, universities, and systems accredited (or accreditation candidate) by an agency recognized by the Council for Higher Education Accreditation
Advisory (nongoverning) and quasi-governing boards of institutions or campuses within public multicampus or statewide systems of higher education
Boards of separately incorporated foundations affiliated with public colleges and universities
Boards of statewide higher education coordinating and planning agencies
Governing boards of universities incorporated in other nations as nonprofit or state-sponsored organizations
AGB will also consider, on a case-by-case basis, boards of certain national and international nonprofit organizations whose missions focus largely on higher education.
Determine your investment.
Membership dues are payable in the anniversary month in which the member board joined the association. Dues may be adjusted annually at the discretion of the AGB Board of Directors; adjustments take effect on January 1. Dues are assessed according to an institution's FTE (full-time equivalent) enrollment, with some exceptions.
Annual dues for institutionally related foundation boards are based on assets under management at the end of the foundation's previous fiscal year.
Complete your membership application.
Once you've determined your eligibility and investment, click on the pertinent link below to download and complete your membership application. Contact Membership@AGB.org with questions or to submit your application. Once you send your completed form, you will hear from an AGB representative regarding next steps.
Get assistance from an AGB representative.
To learn more about member benefits, understand your investment, or get answers to questions about the membership application, fill in this form. An AGB representative will contact you within two business days.
"AGB membership is a tremendous resource for our board and trustees. Our board regularly looks to AGB publications and staff for content expertise and to enhance effectiveness."
Nicole Washington
Trustee, Florida A&M University and Miami Dade College
Join by July 31 and attend the 2023 Foundation Leadership Forum on us.
There are four key reasons institutions and institutionally related foundations become AGB members.
AGB membership enables boards, leaders, and board professionals to:
Apply best practices throughout their operations.
Use director education to drive continuous improvement.
Anticipate emerging trends, risks, and challenges.
Understand the impact of regulations and policies.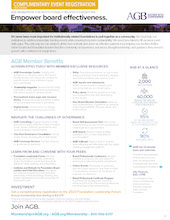 Download a quick introduction to AGB Membership: