Gain a trusted partner in higher education.
AGB partners with corporations that share our passion and commitment to institutional vitality and student success. Partnering with AGB enables your organization to:

Network and connect with higher education governing boards and leadership teams full of talented, passionate people

Shape and contribute to higher education's future

Demonstrate your organization's commitment to the value of higher education
Hear from a few of our partners below or view all current AGB partners.
Reach those who are guiding the future of higher education institutions and foundations.
AGB membership comprises 40,000 members from more than 2,000 institutions, systems, and foundations. AGB is the trusted resource for board members, chief executives, and key administrators about higher education governance and leadership.

MEMBERSHIP
COMPOSITION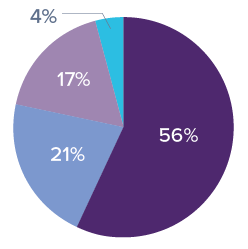 Private Institutions
Public Institutions
Institutionally Related Foundations
Other
LENGTH OF
MEMBERSHIP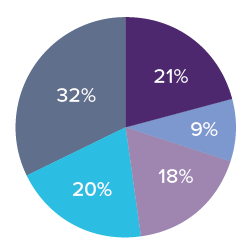 5 years or less
6–10 years
11–20 years
21–39 years
40 years or more
MEMBER
ROLES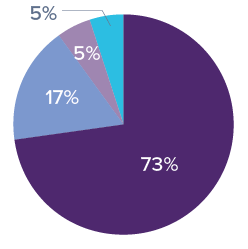 Board Members
Senior Administrators
Presidents
Board Professionals
INDIVIDUAL MEMBER PROFILE
ENGAGEMENT OPPORTUNITIES AT A GLANCE
» Mission Partner
» Mission Champion
» Mission Sponsor
Other ways to support AGB.
AGB thanks those individuals who support our work by donating to our annual fund. Gifts ensure that AGB can continue the important work of strengthening, protecting, and advocating on behalf of the citizen trusteeship that supports and advances higher education. AGB accepts cash donations (credit card or check), stock donations, matching gifts, and legacy gifts.
Each year, AGB works to meet the needs of governing boards through special interest projects. Through the support of foundation partners, we can analyze and address substantive higher education topics in depth, responding to the most pressing challenges facing higher education.
Get started.
To learn more about these opportunities to support AGB, please contact our partnerships team by submitting the form below, or call us: 
Steve Abbott, senior director of partnerships, (202) 776-0842
Glory Onwuka, partnership manager, (202) 776-0828
AGB's Corporate Engagement Prospectus 2023–2024 has further details on sponsorship opportunities.