Equip yourself for governance.
The primary benefit of joining AGB is access—to exclusive content, resources, and tools for governance. We help experienced board members use their time efficiently as they confront the challenges facing their institutions. We also help new trustees prepare to be effective from their first day in the boardroom.
Are you a current AGB member? Request a member benefits overview.
Gain exclusive access to resources.
Full access to the entire Knowledge Center
Print edition and digital access
Full access to digital books and member pricing for print books
Full access to all AGB statements and reports
Crisis-related information only
Save on AGB Programs & Events.
Member-exclusive
Additional fees apply.
Full access to live and on demand webinars
Stay up to date on advocacy efforts
and policy issues.
Navigate the challenges of governance.
Member-exclusive
Additional fees apply.
"AGB gives both presidents and boards the resources to know how to govern in the unique higher education environment. Their information is timely and actionable."
Elizabeth Davis
President, Furman University
Join by December 15, 2023 and attend the 2024 National Conference on Trusteeship and Board Professionals Conference on us.
There are four key reasons institutions and institutionally related foundations become AGB members.
AGB membership enables boards, leaders, and board professionals to:
Apply best practices throughout their operations.
Use director education to drive continuous improvement.
Anticipate emerging trends, risks, and challenges.
Understand the impact of regulations and policies.
JOIN AGB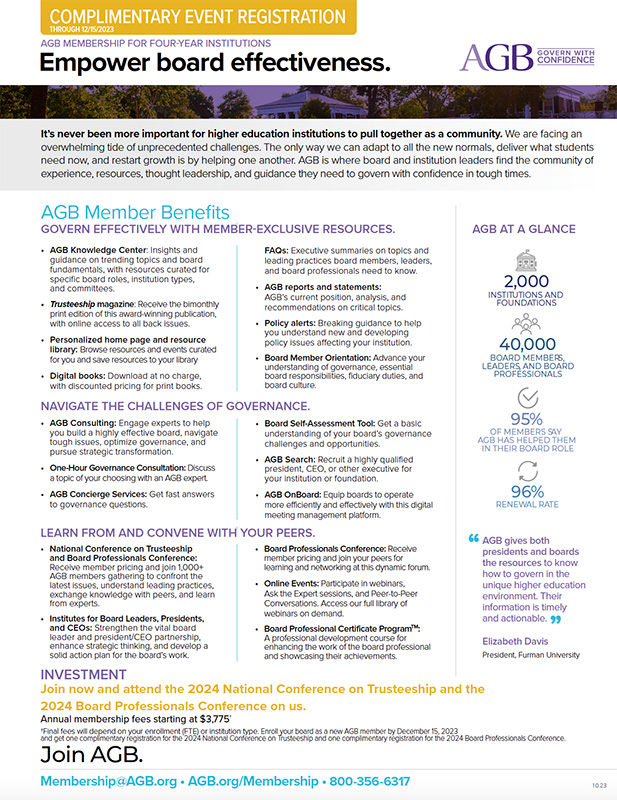 Download a quick introduction to AGB Membership: