Justice, Diversity, Equity, and Inclusion
Map out your justice, diversity, equity, and inclusion journey.
Justice, diversity, equity, and inclusion (JDE&I) are now imperative for the sustainability and vitality of higher education institutions. Boards must promote student success, institutional integrity, openness, and respect. They can only provide that leadership when they fully integrate JDE&I into their roles, responsibilities, agendas, policies, and practices. Becoming a champion for JDE&I is a complex, demanding journey. But it is completely essential to fulfilling the roles of higher education in supporting democracy, contributing to society, and serving the public good.
Recommended resources.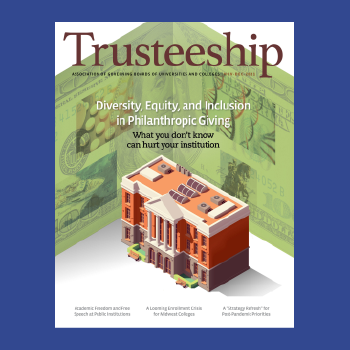 Trusteeship Magazine article from November/December 2021
by Kathy Johnson Bowles
Questions for boards.
These are key questions for your board to consider.
Does your board have a validated view of its current status on the issues of JDE&I?
Has the board conducted a policy audit to assess relevance and impact of key policies on different campus populations?
What JDE&I policies and practices have your board and campus leaders successfully enacted? Which ones were unsuccessful?
Does the board receive data on students, faculty, and personnel on key performance indicators disaggregated by race, ethnicity, and gender that allow the board to understand and assess equity?
Does the board have clear goals and benchmarks in place for measuring JDE&I? Does this include baseline campus climate measures?
Has the board made the elimination of gaps in student success by race and gender a priority and committed adequate resources to this goal?
Has the board reviewed its investments and investment managers from an environmental, social, and governance (ESG)/JDE&I perspective?
AGB supports boards and leaders building capacity for JDE&I.
Our experts will help you assess how your history, culture, assumptions, and biases are shaping your policies, practices, operations, and impacts. Then we'll help you identify priorities, define an action plan for incorporating JDE&I into your boardroom operations, develop your board members and leadership, measure your progress, and make adjustments so you can stay on course.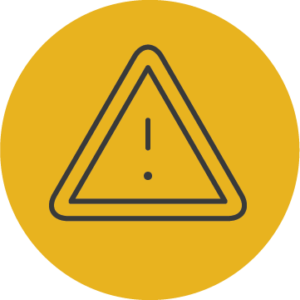 Immediate Crisis Assessment
Review contemporary actions by stakeholders and others leading to crisis.
Assess initial institutional responses.
Plot short-term crisis response, including a path to cooling and dialogue initiation.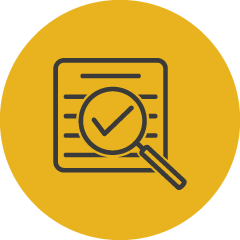 Situational Analysis
Review policies, documents, communications, and the strategic plan.
Assess how campus resources are applied (or not applied).
Review board and leadership teams for diversity.
Analyze data for equity issues and conditions.
Conduct targeted stakeholder interviews.
Provide a situational assessment and recommendations for short-term and long-term actions.
Meet one of our JDE&I experts.
Carlton Brown, EdD
Senior Consultant
Expertise: Justice, Diversity, Equity, and Inclusion
Carlton Brown, EdD, served as president of Clark Atlanta University for seven years. Prior to that role, he served as executive vice president and provost at Clark Atlanta and as the special assistant to the chancellor of the University System of Georgia. From 1997 to 2006, Brown served as president at Savannah State University after spending the previous ten years in the administration of Hampton University as a dean of education, dean of liberal arts and education, dean of the graduate college, and vice president for planning. Known as an agent of change and a builder of institutional communities, Brown has successfully developed new programs and re-engineered programs and schools throughout his career. He has led the development of strategic plans at all three institutions and the reclamation of cultural history.
Learn more→
"The education session provided for our board was received very positively, and many trustees felt much better equipped to make a decision related to a proposal to de-name a building."
Rebecca Coupland
Director, Office of the University Secretariat and Legal Counsel Queen's University
Discover where you are, where you can go, and how to get there.
AGB helps boards and institutions map out their individual journeys toward improving JDE&I.
Each will walk a different road in determining where it currently stands, where it needs to go, and what barriers might impede progress.