Susan Whealler Johnston
Susan Whealler Johnston, PhD, passed away on August 12, 2022, after a battle with cancer. Many of you may know Susan either from her time as CEO of the National Association of College and University Business Officers (NACUBO) or when she served as executive vice president and chief operating officer at AGB.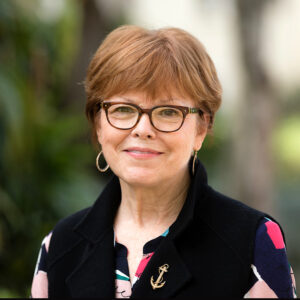 Susan was a dear friend to many AGB staff, consultants, partners, and college and university leaders. She worked tirelessly to demonstrate that institutional finances, academic quality, and board responsibilities were all deeply interwoven, and her perspectives on a host of higher education issues still echo in AGB's work today. Susan was an expert voice on the value—and challenges—of shared governance in the rapidly changing landscape of higher education. During her time at AGB, she directed and contributed to multiple national projects that helped boards better understand their responsibilities for educational quality, fiscal integrity, presidential leadership, college completion, and more. She cared deeply about all segments of postsecondary education, but especially the small nonprofit colleges that opened their doors to students who might not be welcome elsewhere.
Susan served as board chair at Rollins College in Florida, a board member at Radford University in Virginia, and a board member for the John N. Gardner Institute for Excellence in Undergraduate Education, among other appointments. Prior to her 18 years with AGB, Susan worked at Rockford University in Illinois, first as a professor of English and then in multiple administrative capacities: including dean of academic development. Her talents and hard work also earned her a position as associate dean at Regent's College in London, England. Her scholarship focused on governance, higher education, and Jane Austen.
Beyond her professional expertise, Susan was a kind and welcoming individual. She served as a mentor for many students, recent graduates, and peers. Her keen mind and empathy made her a valued confidant and friend, and she was adept at leading her teams when times were easy and when they were hard. Diet Coke in hand, Susan was not afraid to roll up her sleeves to take on a challenging topic, and she could stand her ground in any conversation.
She dedicated her professional career to higher education, leaving a long-lasting impact that will continue to be felt for years to come.
She will be deeply missed.
"I reported to Susan and had the pleasure of collaborating with her on a variety of meaningful initiatives for the first several years of my AGB career. She was known for her leadership of AGB's Institutes for Board Chairs and Presidents of Independent Colleges and Universities for some 13 years, alongside her good friend, Doug Orr. She was the driving force behind AGB's agenda on board oversight of educational quality and shared governance, and it was good work if I say so myself.
"Susan was whip-smart, and she was a champion for higher education. She was aspirational about the need for colleges and universities to change the world. She was also a good person.Susan is gone too soon, and she will be missed."
Andy Lounder, PhD
Associate Vice President of Programs, AGB
"Susan was a leader in higher education, a mentor, and a friend. The role I think she valued most was professor. She helped others learn and make sense of new ideas as a writer, editor, co-worker, consultant, and facilitator. In a group, she often held her thoughts until others weighed in, and when she spoke others listened intently. Her wisdom and humor were worth the wait."
Merrill P. Schwartz, PhD
Senior Vice President, Content and Program Strategy, AGB
"I first met Susan when I attended an AGB Institute for Board Chairs and Presidents in June 2019, and I found her to be both insightful and funny—a disarming champion of effective governance and higher education broadly."
Henry Stoever
President and CEO, AGB
"Susan was a valued colleague for well over the 10 years she and I overlapped on the AGB staff, and then for my time that followed as an AGB senior fellow and consultant. To me and many others, Susan was more than a colleague. She was a friend.
Susan was smart, charming, witty, insightful, incisive, and poised. Susan was genuine—I've never met anyone with less pretense. She had a good sense of humor and a great laugh. We joked many times about her not-so-secret desire to operate heavy construction equipment—a bulldozer, dump truck, or backhoe.
We got together only a couple of times over the past few years. I regret that—even though it was because of the demands of her NACUBO presidency, COVID-19, her husband's illness, and then her own. It's hard to believe she's no longer here. Seeing her photo on the AGB web page really brought her absence home to me. She'll be missed by many, but her contributions to higher education—to students, co-workers, and colleagues—will endure.
Someone said that no matter the age when one dies, for the living who care deeply about them, the end, whenever it may come, is always too soon. For those of us who knew Susan, the end came much, much too soon."
Rich Novak
AGB Senior Fellow and Consultant
Almost 14 years ago, Susan hired me to work at AGB. Immediately, I saw how her passion for higher education and board governance radiated throughout the association. Susan encouraged staff members to discuss and understand higher education as a public and private good, especially during Q School sessions (staff professional development programs), which continue today.
My favorite memories are working with Susan on AGB's board oversight of the college completion project. After debating principles and recommendations for governing and coordinating boards, we landed on several that we knew would change conversations and decisions in boardrooms.
I admired Susan for not being afraid to address challenging topics or sticky governance issues. She could stand her ground in any conversation, and doing so led the way for others. I am forever grateful for her wisdom and encouragement. She is gone too soon, and she will be missed.
Cristin Toutsi Grigos
Associate Vice President for Content Strategy and Development, AGB
Tributes and gifts.
NACUBO is collecting tributes about Susan's impact on its website. If you would like to have a message included, please email rememberingsusan@nacubo.org. In lieu of flowers, contributions may be made to the Valley Conservation Council in Staunton, Virginia.
MAIL GIFTS TO:
The Valley Conservation Council
In memory of Dr. Susan Whealler Johnston
P.O. Box 988
Staunton, VA 24402
ONLINE GIFTS:
https://valleyconservation.org/donate-online/
(write "Susan Whealler Johnston" in the COMMENTS box)