Philip L. Dubois, Ph.D., Senior Consultant, AGB Consulting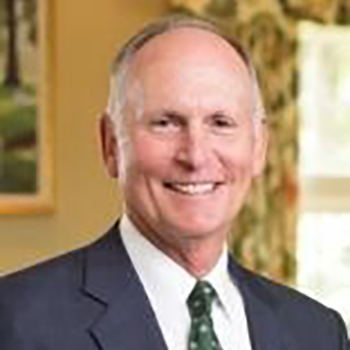 About
Dr. Phil Dubois began his academic career in 1976 at the University of California, Davis. Over the next 15 years, he rose through the faculty ranks to full professor and held various administrative posts, including associate vice chancellor for academic affairs. In 1991, Dubois was recruited to UNC Charlotte to be its chief academic officer, the provost and vice chancellor for academic affairs. He left UNC Charlotte in 1997 to serve as President of the University of Wyoming, a post he held for eight years until returning to UNC Charlotte in 2005 to serve as its fourth chancellor.
During his 15-year tenure as Chancellor of UNC Charlotte, Dubois focused his efforts on building the University's visibility and support in the Charlotte region; long-range planning for an expected enrollment of 35,000 students; completion of key capital construction projects including UNC Charlotte Center City, the Energy Production and Infrastructure Center (EPIC), and industry partnership hub PORTAL; implementation of an intercollegiate football program starting in the fall of 2013; and, as of March 2018, the expansion of light rail onto campus. He retired from UNC Charlotte on June 30, 2020.
Among the recent community recognitions for Dr. Dubois and UNC Charlotte are: Charlotte Mecklenburg County Commission "Order of the Hornet" (2020), State of North Carolina "Order of the Long Leaf Pine" (2020), American Council on Education (ACE) Council of Fellows/Fidelity Investments Mentor Award (2020), City of Charlotte Mayor's Award (2019), Charlotte Magazine Charlottean of the Year (2019), Inclusion on the Charlotte Business Journal's list of "Most Admired CEOs (2019) and on their list of "Who to Watch in 2019" (2018), inclusion on the North Carolina Power 100 list (2018 and 2019), the Eileen Tosney Award for Career Service in Higher Education Leadership (2018), the Higher Education Civic Engagement Award from the Washington Center (2016), the World Affairs Council of Charlotte's World Citizen Award (2016), the CASE III Inclusion and Diversity Leadership Award (2015), the Leo M. Lambert Engaged Leader Award (2014), the Belk Innovation in Diversity Award (2013), the Charlotte Energy Leadership Award (2013), the Charlotte Cornerstone Award (2012, for positive economic impact), the Creative Thinker's Award (2012, for UNC Charlotte—Center City), and the Charlotte Regional Partnership "Jerry" Award (2009, for public sector contributions to economic development).
Professional Credentials
A native of Oakland, California, Philip L. Dubois attended the University of California, Davis, where he graduated with highest honors in 1972 with an undergraduate degree in political science. He then earned master's (1974) and doctoral (1978) degrees in the field from the University of Wisconsin-Madison.