A President's Guide to Effective Board Leadership
PRINT EDITION
$45.00
(Member Price $32.00)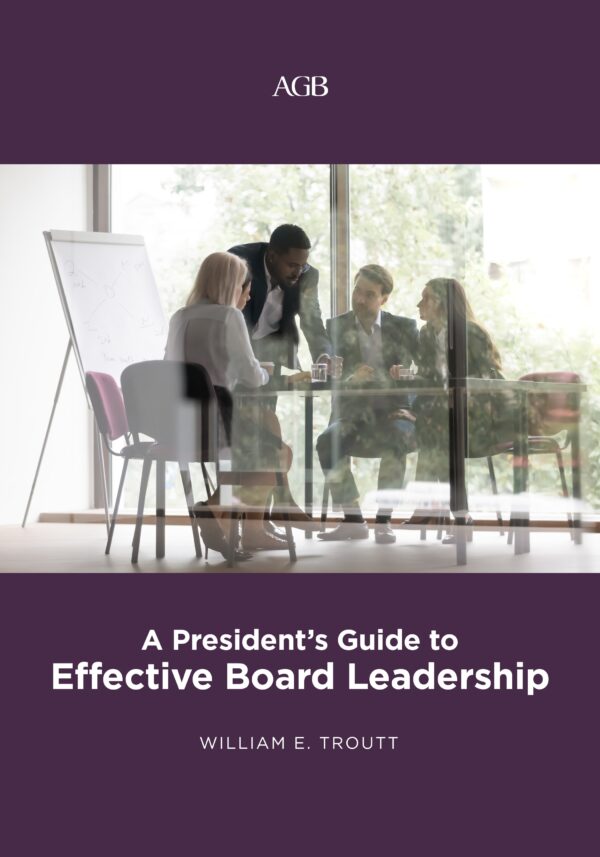 PRINT EDITION
$45.00
(Member Price $32.00)
About:
College and university presidents work for and serve at the pleasure of their governing boards, but board members often look to their presidents for leadership and direction. Presidents help mold and shape boards; trustees help mold and shape their presidents. Ideally, it is a reciprocal relationship built on mutual respect and trust. When presidents learn how to fully engage trustees and partner with them as thought leaders, they can invigorate board service and transform the institution. In this practical and concise AGB guide, William Troutt shows presidents and board leaders how to achieve this higher level of effective board leadership.
Regrettably, presidents have often tried to "manage" their governing boards rather than engage them. So much talent and wisdom are underutilized when campus leaders lack the know-how to mobilize all the intellectual capital and collaborative skills trustees have to offer—abilities that can make a difference for institutional vitality by making trusteeship more meaningful and fostering better decision-making.
Troutt frames the choices presidents must make about the level of board engagement they want, the amount of time they are willing to commit, and the level of candid conversation they are ready for. He explains the benefits of having a fully engaged board and how being able to tap into their leadership talent is well worth a president's time and effort. And he offers practical guidance about the elements of board composition, structure, and culture that presidents and board leaders must be intentional in optimizing.
Contents
Foreword by Henry Stoever
Preface
Prologue
Trustee Leadership Matters So Much
Three Basic Questions Presidents Need to Ask
Trustee Recruitment and Retention
Dealing with Difficult Trustees
Trustee Education and Leadership Development
Governing Board Organization
Governing Board Culture
Trustee Meeting Design
Trustees as Thought Partners
Building the Partnership
Title Information
A bulk discount is available for orders of 10 or more copies.
Publication Year: 2021
ISBN: 978-1-951635-09-1
64 pages
About the Author:
William E. Troutt, PhD, is a nationally recognized leader in education and served for 35 years as a college president. In July 2017, he became the president emeritus of Rhodes College, having led the college as president since 1999. Prior to Rhodes, Troutt served as the president of Belmont University for 17 years. Troutt was named one of America's most effective college presidents, and in 2009 received the Distinguished Alumnus Award from Vanderbilt University's Peabody College. In 2017, he received the National Association of Independent Colleges and Universities' highest honor, the Henry Paley Memorial Award for his service on behalf of independent higher education.
He has chaired the American Council on Education, the National Commission on the Cost of Higher Education, the National Association of Independent Colleges and Universities, and the Jacob K. Javits Fellowship Program. He currently serves as a trustee of the St. Jude Graduate School of Biomedical Sciences.
Testimonials:
"Bill Troutt was an exceptionally successful college president with more than 30 years of experience. His thoughtful, incisive guidance about the critical relationship between campus leaders and their governing board is a master class of clear and cogent advice. It's chock full of specific, practical, and valuable recommendations that will help build positive and constructive president-board relations and avoid missteps. It deserves to be widely read."
– Ted Mitchell, President, American Council on Education
"Bill Troutt has distilled from his extraordinary 35 years as a college president the central, vital role of trustees as "thought partners" in the future success of an institution of higher education. This concise, thoughtful, and compelling book provides presidents and trustees with the principles and practices to guide them thru the rocks and rapids which lie ahead for higher education. A President's Guide to Effective Board Leadership can be the North Star for the successful navigation of these uncharted waters."
– David L. Warren, Ph.D., President Emeritus, National Association of Colleges and Universities