Crisis Leadership for Boards and Presidents
Anticipating, Managing, and Leading Beyond Pandemics, Disruptions, and Ethical Failures
PRINT EDITION
$76.00
(Member Price $54.00)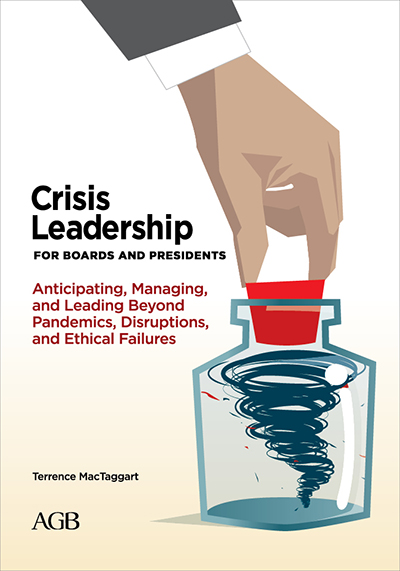 PRINT EDITION
$76.00
(Member Price $54.00)
About:
This new book is a how-to guide designed to enable boards of trustees and presidents to lead their institutions through major crises. Terrence MacTaggart describes the kinds of crises common in the higher ed sector and offers practical advice to boards and leaders on how to anticipate crises before they occur, how to prepare for the unavoidable ones, and how to navigate crises once they appear. And as his use of illustrative cases makes clear—they will inevitably appear. Ultimately, the key takeaway: make the best use of a crisis to build a more alert, sensitive, and resilient board and leadership culture moving forward.
Contents
Introduction
Anticipating Your Next Crisis
Preparing in Advance for High-Probability and Major-Impact Crises
Diagnosis—Why is This Happening?
Crisis Strategy and Board Leadership
Managing and Navigating—When to Lead and When to Follow
Good Governance Equals Wise Crisis Leadership
Title Information
A bulk discount is available for orders of 10 or more copies.
Publication Year: 2020
ISBN: 978-0-926508-94-1
About the Author:
Terrence MacTaggart
, Ph.D. is an experienced leader and scholar in higher education. His research and consulting work focus on higher education leadership and policy, strategic planning, board development, issues of shared governance, and leadership evaluation. He has held the chancellor's position at the Minnesota State University System and on two occasions at the University of Maine System. His previous book with AGB is
Leading Change: How Boards and Presidents Build Exceptional Academic Institutions
.