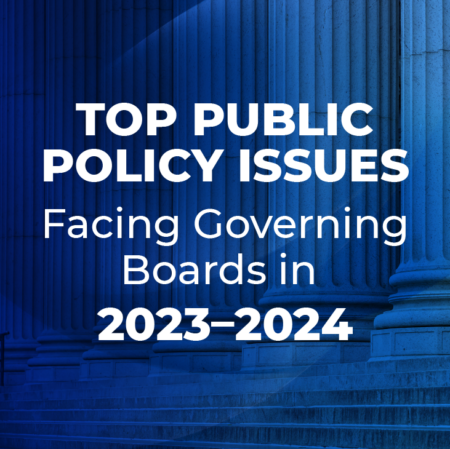 Executive Summary
Updated August 30, 2023
The most pressing public policy issues facing college and university boards of trustees and foundation boards in 2023 and 2024, in the estimation of the Association of Governing Boards of Universities and Colleges and a higher education advisory panel, are the following:
These issues are gaining strength in a tumultuous context that is very likely to continue over the next several years and beyond.
Governing boards and institutional leaders will be called upon to make decisions at a time of acute economic uncertainties, divisive partisan politics, declining enrollment and diminished public confidence in higher education. The long-term effects of the COVID-19 pandemic will still ripple through the system as institutions hope for a return to normalcy, including a rebound from the widespread enrollment drops that began in 2019. But whether that hope will be fulfilled remains a question, as recent polls show growing public skepticism over whether expensive college degrees are worth the cost when it comes to outcomes in the job market. And inflation, fears of recession, and a standoff between Republicans and Democrats over raising the debt ceiling are adding significant economic uncertainty to the environment in which colleges and universities will have to recruit and educate students in the future.
Meanwhile, the country's political divide, manifested in Washington, D.C., and state capitals, has sparked controversies especially in the public sector over diversity, equity, and inclusion efforts and, in some states, what can be taught in classrooms about race and racism. The Supreme Court ruled against the use of race-based admissions policy in June 2023. A day later, it ruled that President Biden's plan to wipe out $400 million in student debt could not move forward.
These challenges make it more urgent than ever for those who govern and lead colleges and universities to make their voices heard about the importance of higher education not only to the economy but to the country's civil discourse and cohesion, as well as its vital role as an engine of opportunity and advancement.
We provide a brief introduction of the major issues below, followed by a description of the context in which colleges and their boards will be grappling with them. We then take a deeper dive into each issue and how it is playing out in higher education today.
College affordability and crushing student debt loads are twin issues that affect millions of American families—both those deciding where to send their children and those still struggling to pay off loans from years and even decades ago. Private, nonprofit, four-year institutions, in particular, face growing resistance to tuitions that average nearly $40,000, not counting tuition discounts. Students, families, and the public at large are questioning the fundamental value of a college degree, and government auditors have criticized as confusing the information colleges give prospective students about financial aid and net costs. Meanwhile, proposals by the Biden administration to increase college affordability—such as larger Pell Grants and tuition-free community college—are hitting roadblocks in the Republican-controlled U.S. House of Representatives.
Despite the political divide in Congress, some measures related to affordability and accountability may attract bipartisan support, including an excise tax on and further scrutiny of the returns of billion-dollar endowments. Other areas where the government may demand greater accountability or impose new regulations are:
Title IX. These regulations remain in flux, with the Biden administration seeking regulatory changes to the 1973 law against sex discrimination in education to further protect the rights and gender identity of LGBTQ students. The U.S. Department of Education has also submitted a proposed separate rule on Title IX's application to sports, including criteria for determining students' eligibility to play on male or female teams.
Gainful employment. The Biden administration is reestablishing the Obama administration's gainful employment rule for programs at career colleges and certificate programs at all other higher education institutions. It is also seeking to make student aid eligibility dependent on whether those who complete such programs earn as much as high school graduates.
Accreditation. The U.S. Department of Education said it will seek to amend its standards for accreditation agencies. In addition, after Florida passed a law requiring its public institutions to switch accreditors every five years, the department stepped in to offer guidance, warning it would not allow switches "to lessen oversight or rigor, or evade inquiries or sanctions." Further, some Republican lawmakers are considering changes to accreditation, including requiring accreditors to focus more on student outcomes.
Intellectual property and China. Colleges and universities will be tasked with enforcing new CHIPS and Science Act rules to lessen America's reliance on foreign semiconductor suppliers and prevent China's theft of high-tech intellectual property. Those institutions applying for National Science Foundation grants must disclose agreements and gifts from China and "other countries of concern."
Student outcomes. Both the federal government and state governments are requiring higher education institutions to provide more information about the tuition they charge as well as their students' job prospects, post-college incomes, and other measures of student success. The U.S. Department of Education has proposed and is seeking to finalize "fair value transparency" rules that would label programs not covered by the gainful employment rule, including four-year degree programs, as "high debt" if they fail the gainful employment regulations metrics.
A number of cases that could significantly impact colleges are on the dockets of not only a conservative-leaning Supreme Court but also various appellate and state courts, including the following:
Race-based admissions. The Supreme Court ruled that the use of race in admissions decisions at the University of North Carolina (UNC) and Harvard College was unconstitutional, violating the Equal Protection Clause of the Constitution's Fourteenth Amendment. In the 6–3 ruling, the Court overturned more than four decades of legal precedent in how race can be used in higher education admissions practices. While most colleges do not use race as a factor in their admissions decisions, a high court repudiation of affirmative action could have wide ripple effects, impacting any educational institution that relies on federal student aid.
Deferred Action for Childhood Arrivals (DACA). The legal challenge to DACA, which protects undocumented young people from deportation, is still at the appellate level, with no new students accorded that status and no likelihood that the divided 118thCongress will strike a comprehensive deal on immigration reform and border protection. Thus, the odds are that, in the coming months, the Supreme Court will ultimately determine DACA's future.
"Divisive Topics." Disputes also are being waged in state legislatures and the courts on bills, statutes, and executive orders that restrict what may be taught in college classrooms about race, the legacy of slavery, and other hot-button issues—notably state efforts to outlaw or curtail legal abortion following the Supreme Court decision to overturn a constitutional right to terminate pregnancies. With long legal battles likely to ensue in state and federal courts, none of these issues will be settled soon.
Real or perceived challenges to independent board governance, institutional autonomy, and academic freedom are likely to intensify as state lawmakers debate funding for diversity programs and what public schools and colleges can teach about race and gender. Dozens of state bills have been introduced, and some enacted, to counter what some lawmakers view as ideological "indoctrination" of students by faculty members and to protect the free speech rights of those who assert infringement on their rights. Expect higher education to remain a source of contention in the run-up to the 2024 elections.
There was some good news on the financial front for college and university presidents and their governing boards at the outset of 2023. While it took years for state spending on higher education to rebound after the Great Recession of 2008, the near-term outlook for state budgets is positive. A survey by the State Higher Education Executive Officers Association found "cautious optimism" among public higher education leaders.
The outlook for federal funding, however, is cloudy. The federal omnibus spending bill for fiscal 2023, enacted while both houses of Congress were still in the hands of Democrats, raised funding across the board for programs that benefit higher education, including Pell Grants and scientific research. House GOP lawmakers led the charge to restrict spending in fiscal 2024 as part of the Fiscal Responsibility Act of 2023 (FRA), which also lifted the federal debt ceiling. However, House Republicans have been advancing appropriations bills at fiscal 2022 levels while the Senate has been producing bipartisan spending bills at the levels agreed to in the FRA, which also seeks to add some additional spending. As we approach the fall, the federal appropriations picture is uncertain as bills in both chambers continue to be finalized, and agreement over total spending amounts remains elusive.
College sports will also most likely continue to be the subject of legislative activity and legal decisions. As a result of a 2021 decision by the National Collegiate Athletic Association to allow students to be paid for marketing their name, image and likeness, some student athletes are now being compensated. Numerous states also have enacted variants of California's 2019 Fair Pay to Play Act, and Congress may soon want to jump into the regulatory act, as well, and enact legislation to supersede those state statutes.
Meanwhile, the National Labor Relations Board office in Los Angeles in December 2022 ruled that college athletes can be classified as employees with the right to unionize. In addition, on yet another athletics-related front, presidents and boards will be forced to grapple with the rapid-fire spread of legalized sports gambling on both collegiate and professional games.
And the jump by football teams to conferences far from home demonstrates how intent universities are on maximizing television ratings and revenues, despite subjecting players to more transcontinental flights and time away from campus. Such moves could expose the vulnerabilities of big-time collegiate sports to further political or judicial scrutiny.
Acknowledgments:
AGB thanks the following  advisory group members who added value to the manuscript through their questions and comments, which proved invaluable in strengthening the final report.
Chris Connell, writer, freelance
Sarah Flanagan, vice president of government relations & policy development, National Association of Independent Colleges and Universities (NAICU)
Tom Harnisch, vice president for government relations, State Higher Education Executive Officers Association (SHEEO)
Vic Klatt, principal, Penn Hill Group
Richard Novak, senior fellow and senior consultant, AGB
Tim McDonough, vice chancellor for communications and marketing, University System of Maryland
Barmak Nassirian, vice president for higher education policy, Veteran Education Success
Matt Owens, president, Council of Governmental Relations (COGR)
Sarah Spreitzer, assistant vice president and chief of staff of government relations, American Council on Education (ACE)
Natalie T. Sinicrope, deputy CEO & executive director of legal resources, National Association of College and University Attorneys (NACUA)