Risk Management: An Accountability Guide for University and College Boards
Second Edition
By Janice M. Abraham with Sarah Braughler, Liza Kabanova, Justin Kollinger
PRINT EDITION
$76.00
(Member Price $54.00)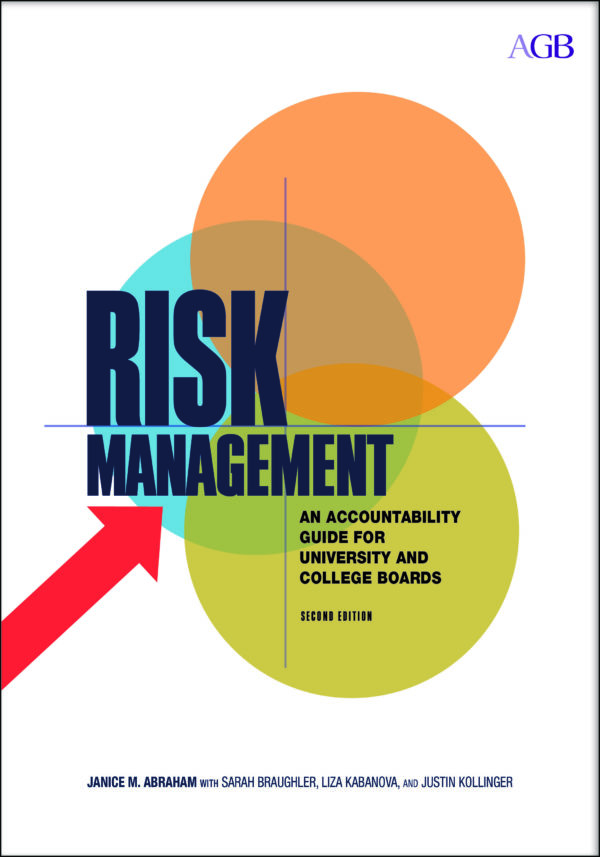 PRINT EDITION
$76.00
(Member Price $54.00)
About:
The first edition of this AGB best-seller made the case that board members must collaborate effectively with institutional leaders to assess and manage an array of operational and strategic risks. The new edition from United Educators CEO Janice Abraham and three colleagues explores how higher education risk management efforts should evolve toward greater maturity and sharpens the focus on reputational, student experience, and compliance risks—growing areas of concern for colleges and universities.
Contents
Risk Management, Second Edition covers critical topics such as:
Financial stewardship and stability;
Emergency preparedness and safety;
Student experience—including sexual assault, intercollegiate athletics and alcohol;
Faculty and staff employment;
Financial aid and enrollment management;
Academic quality and results;
Information technology;
Entrepreneurial ventures and new programs; and
Regulatory compliance; and
Reputation
Part I: Fundamentals of Risk Management Chapter 1: Good Risk Management Is Good Governance Chapter 2: Enterprise Risk Management: A Guide for Administrators Chapter 3: External and Internal Stakeholders in Risk Management Chapter 4: Enterprise Risk Management Maturity
Part II: Risk from the Board's Perspective Chapter 5: Risks to Effective Governance Chapter 6: Risks to Strategic Direction (and Shared Risks) Chapter 7: Risks to Institutional Resources Chapter 8: Risks to the Student Experience Chapter 9 Advancing Reputation
Conclusion—Lessons for Boards: Chapter 10: A Call to Action
Appendices Appendix A: AGB/UE Enterprise Risk Management Risk Registers Appendix B: Sample Universitywide Risk Management Committee Charter Appendix C: Sample Lists of Insurance Policies for Colleges and Universities
Title Information
Publication Year: 2020
Number of Pages: 252
A bulk discount is available for orders of 10 or more copies.
Testimonials:
Praise for Risk Management, Second Edition
"The new edition of Janice Abraham's highly praised Risk Management is a welcome update. It casts fresh light on the necessity of anticipating and managing financial, compliance, and reputational risk in addition to many other vulnerabilities for higher education institutions. Abraham's work is exceptional not only for its timely content, but for the clarity of its guidance. This is a must-read for every trustee and president in this volatile era."

           –Terrence MacTaggart, AGB Senior Fellow and former chancellor at the Minnesota State University System and the University of Maine System. 
"Risk Management provides an outstanding guide for institutional leaders and governing boards to the increasingly essential function of enterprise risk management. The second edition is clear, low on jargon, practical, and comprehensive. … The advice could not be more timely, given the known, unknown, and emerging challenges to our colleges and universities."

           –Barbara Brittingham, President, New England Commission of Higher Education
"Risk Management provides excellent benchmarking and invaluable insight into the characteristics of a mature risk management program. We look forward to sharing the book with members of our board of trustees, audit committee, and president's cabinet as we all work together to advance the enterprise risk management program."

           –Fran Bouchoux, Chief Compliance Officer, Stevens Institute of Technology
"Janice Abraham's classic book is simply the best available resource on academic risk management for governing boards. I am excited to see this impressive second edition packed with updated information for both institutions with mature risk programs and those who need guidance on how to begin."

          –Paula Vene Smith, former vice president for academic affairs, Grinnell College and author of Engaging Risk: A Guide for College Leaders
"Higher education is facing unprecedented challenges, seemingly from all sides. As we see our crisis planning and preparedness stretched beyond what we could have previously imagined, the number one key to retaining the trust of our most important stakeholders is communication. Those boards and leadership teams that have invested in and modeled a culture of transparency and honesty are the best prepared to weather whatever comes at us next. This book is a vital resource to guide their work while managing institutional risk."

           –Erin Hennessy, TVP Communications