AGB Mission Sponsor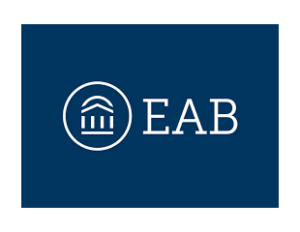 EAB's Advancement Services division helps colleges and universities to strengthen core revenue streams, achieve enrollment and fundraising goals, and build long-term relationships with students, parents, and alumni through innovative, data-enabled marketing services. Our best practice strategies are founded in comprehensive and rigorous study. We conduct over 300 field tests annually across more than 350 partner institutions.
Join EAB in supporting AGB.
To learn more about these opportunities to support AGB, please contact our partnerships team by submitting the form below, or call us: 
Steve Abbott, senior director of partnerships, (202) 776-0842
Glory Onwuka, partnership manager, (202) 776-0828
AGB's Corporate Engagement Prospectus 2023–2024 has further details on sponsorship opportunities.