AGB Mission Sponsor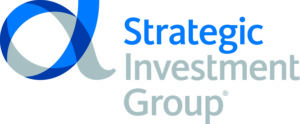 A pioneer in dedicated Outsourced CIO (OCIO) solutions since 1987, Strategic offers a comprehensive service platform for managing customized portfolios for institutional investors, with the objective of delivering sustainable net-of-fee excess returns. Our proprietary process combines active portfolio management, rigorous risk management, and open architecture manager selection. We function as our clients' investment partner and co-fiduciary, effectively becoming an extension of their resources. Clients are then free to focus on their core missions, while we focus on providing the highly specialized portfolio management services that clients need to meet their investment goals. We strive to build enduring partnerships with our clients by strengthening their investment programs through a dynamic, value-enhancing investment process, sound governance framework, and world class client service.
Join Strategic Investment Group in supporting AGB.
To learn more about these opportunities to support AGB, please contact our partnerships team by submitting the form below, or call us: 
Steve Abbott, senior director of partnerships, (202) 776-0842
Glory Onwuka, partnership manager, (202) 776-0828
AGB's Corporate Engagement Prospectus 2023–2024 has further details on sponsorship opportunities.