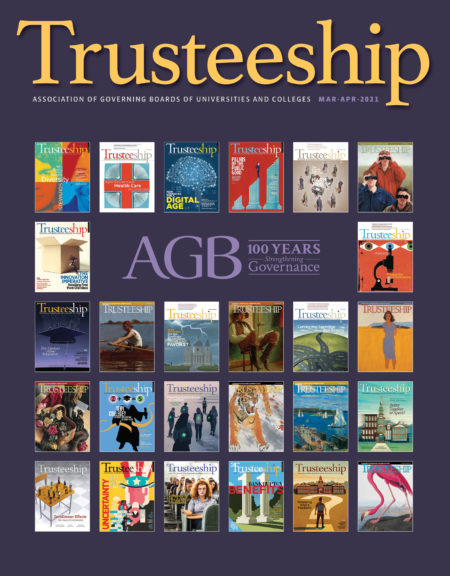 From its founding in 1921 until the early 1960s, the Association of Governing Boards of Universities and Colleges was a loose affiliation of board members who took turns providing leadership and direction necessary to hold the organization together. The early organization operated as the Association of Governing Boards of State Universities and Allied Institutions, and its membership was open only to boards of public institutions. With the purpose of promoting contact among members, and without a salaried staff, the association's activities were limited to annual meetings of its various committees. Judge Ora Wildermuth, a trustee of Indiana University and one of AGB's presidents during the 1930s, was partial to AGB because "we have no ideals or objectives except to benefit by our contacts with each other."
Voting Delegates
At the annual meetings, a quasi-legislative tone prevailed, and proposals were voted upon by the "delegates" in attendance. The delegates did not represent their boards or institutions in an official capacity, and the resolutions they passed carried no weight outside the meetings.
During the 1950s, recurring resolution topics included pledges of support for preserving the "American way of life" and preparing our colleges and universities to be leaders in civil defense. At the 1960 annual meeting, it was resolved that the U.S. would "achieve ultimate victory over communism if we properly educate America's youth." Some other examples:
"Be it resolved that it is urged that governing boards encourage better organization of public information emanating from their administrative offices."
"Be it resolved that boards of trustees and regents stand firmly for recognized courses in the major fields of general education as necessary parts of preparation for specialization, especially in the fields of agriculture, engineering, and their related branches."
Some of AGB's standing committees in 1960 reflected an odd dichotomy of issues: Space Utilization, Entrance Requirements, Legislative and Intergovernmental Relations, Public Relations, Regent Responsibility for University Participation in Education Abroad, Scholarship and Tuition Studies, and Television in Higher Education.
Members were concerned about the movement to consolidate existing institutionally based governing boards into statewide boards. AGB's Committee on Legislation and Intergovernmental Relations resolved that the trend was "inimical to the best interest of higher education." Members vowed to go "directly to highly placed officers of government to explain and justify our mission," even though Article I of the AGB constitution at the time mandated that "no substantial part of the association's activities…shall involve the carrying on of propaganda or otherwise attempting to influence legislation."
AGB's executive committee then resolved to "fight the movement to destroy local governance of higher education, elect a few leaders in each state who understand higher education, and will be willing to fight for it in the state legislatures."
New Headquarters
Following the death of AGB secretary and Iowa State Board of Education member Richard Plock in 1959, University of Colorado Regent Virginia Blue assumed the newly created position of executive director. With membership at a new high of 76, AGB's headquarters were moved from Plock's home in Burlington, Iowa, to Blue's in Denver. AGB was incorporated in Colorado in 1960 with the purpose of operating "exclusively for educational, scientific, and charitable purposes."
In 1963, the AGB Executive Committee voted to move the association's headquarters to Washington, D.C. AGB President and Texas A&M Regent John Newton said, "We believe that the growth of AGB during the past few years has brought the association to the point that it can take its place with leading education agencies and organizations in our nation's capital." He cited three advantages in moving to D.C.: the presence of federal agencies concerned with higher education, many leading higher education agencies, and the executive offices of numerous philanthropic foundations.
At the same time, committee members voted to relocate in Washington, D.C., a proposal to open AGB membership to boards of independent institutions was voted down. Soon after, it was pointed out that the Carnegie Corporation "might be more interested" in assisting AGB if it changed its membership policy. A unanimous vote to open membership to independent institutions followed.
To quell concerns that boards of independent institutions would in time "dominate" the association, it was agreed that only six of the 15 executive committee slots be made available to them.
Ironically, AGB's first member from the independent sector, Athens College in Athens, Alabama, soon became "too big of a financial burden" on the Methodist Church and was turned over to the state of Alabama. Athens State College enrolls 2,100 students.
After receiving a $75,000 grant from the Carnegie Corporation, AGB made the move to D.C., and J.L. Zwingle, a vice president at Cornell University, became AGB's executive vice president.
Building Optimism
The early 1960s stand out as an especially significant period in AGB history. It was a time when the association's continued existence was in doubt, but with the help of foundation money, membership and productivity blossomed.
Building legitimacy for AGB with Washington's higher education community was a priority. Zwingle, however, encountered "the disturbing cynicism about the value of the lay board at any level of education, but particularly higher education. According to Zwingle, the feeling among colleagues was that "the concept of lay trusteeship is fundamentally sound, but it is better not to make much of it."
Initial efforts to establish cooperative programs with other higher education associations were unsuccessful. In a meeting with American Council on Education (ACE) President Logal Wilson, Zwingle outlined ways ACE could help "in a great new venture," but he was told he was on his own. The next issue of AGB Reports nevertheless announced that Wilson and ACE "look forward to close cooperation with AGB and Dr. Zwingle…"
The speeches and debates held at annual meetings and reprinted in the newsletter in the early 1960s were vague and ceremonious, lacking much practical information board members could use to formulate effective policies for their institutions.
Reports chronicled, at great length, appointments to the various committees and the social activities of members. If AGB was to survive and become a viable organization a "seriousness of purpose" needed to supplant the "reunion atmosphere" of AGB's activities.
The stony reaction AGB received in the nation's capital produced little optimism for the association's future. Zwingle asked the executive committee if he should "plan an orderly demise or wait for the sheriff."
Helping Trustees
A step toward becoming an educational resource for trustees was taken with the development of the "School for Regents" in 1961. AGB promised the "school" would offer a wealth of practical advice with participants' "own interest." The four program sessions included fiscal and legislative matters, administrative responsibilities, academic responsibilities, and public relations.
A significant shift in the association's approach was about to occur. Zwingle and others realized that people were not really interested in AGB as an organization; rather, they wanted information that was not available elsewhere. The gatherings of "delegates" became "conferences" and "workshops." A calculated movement away from being an organization of trustees and toward becoming an organization for trustees was afoot.
AGB's first published book, Handbook for College and University Regents, was released in 1964. Its intent was to "serve as a stimulus to all board members to ferret out and verbalize the policies and practices of their board and institution." The handbook described meeting formats and agendas and discussed the board's role in academic, financial, and student affairs, as well as athletics.
At the 1964 annual meeting, University of North Carolina President William Friday announced that for AGB "the door was opened for a more autonomous, more useful, and more productive and significant possibility of service." He proclaimed that "the world of American higher education looks to this association with new hope and expectancy.
Activism Spurs Service
AGB's emergence among higher education association coincided with the growth of activism on America's campuses. Trustees were under scrutiny as never before, and a forum to exchange information on how to respond to these new challenges was in demand.
Attendance at the annual meetings grew, as did membership. Campus unrest became the central focus of the association's activities through the 1970s. From 1966 to 1970, annual meeting themes included: "The Changing Student Mood," "Crisis on the Campus: Import for Governance," "Boundaries of Academic Freedom," and "The Trustee Role in Stabilizing the Campus."
Board members were urged to redefine the purposes and goals of their institutions to help "nurture academic freedom and repel the attacks of society on academic institutions."
Following Zwingle's retirement in 1973, Robert L. Gale, a former Carleton College vice president and Peace Corps official, was appointed president of AGB. At the same time, a four-year grant in excess of $1 million arrived from the Lilly Endowment. New programs and publications increased, and the association blossomed.
The centerpiece of the Lilly-funded effort was the development of the Board-Mentor Program, a board self-assessment workshop utilized by more than 350 boards. Other important projects of the 1970s included the studies on the board's role in financial affairs, presidential selection, and presidential assessment; filmstrip on tenure, budgeting, and fundraising; and publications on many other important topics, as well as the first-ever nationwide survey of the composition and characteristics of governing boards.
The momentum created by the Lilly grant continues today. By the early 1990s, virtually all of AGB's available publications at that time were produced during the 1980s. Other products of the 1980s included the establishment of AGB's Office of Public Policy, the Institute for Trustee Leadership, the National Center for Nonprofit Boards, which is now named BoardSource—a now-independent organization for trustees of nonprofit organizations—and numerous workshops, seminars, and panels.
Until the 1960s, the public took little interest in academic trusteeship, and little was written or known about the subject. The enormous jump in college and university enrollment as the Baby Boom generation reached adulthood and the activism during the Vietnam era increased the exposure of college and university management and the public's interest in it.
It could be considered luck that a few committed individuals managed to hold AGB together until board members and presidents needed or wanted to be part of such an organization. One could say that AGB's survival and subsequent explosion of activity is attributable to the emergence of controversy and accountability in college and university governance.
It is difficult to say whether an organization like AGB ever would have been formed had AGB dissolved before the 1960s. Because AGB was an organization of volunteers, not professionals, it is entirely possible that the development of programs and research on lay governance may have ended up dispersed among the sector-based higher education associations.
Share on LinkedIn