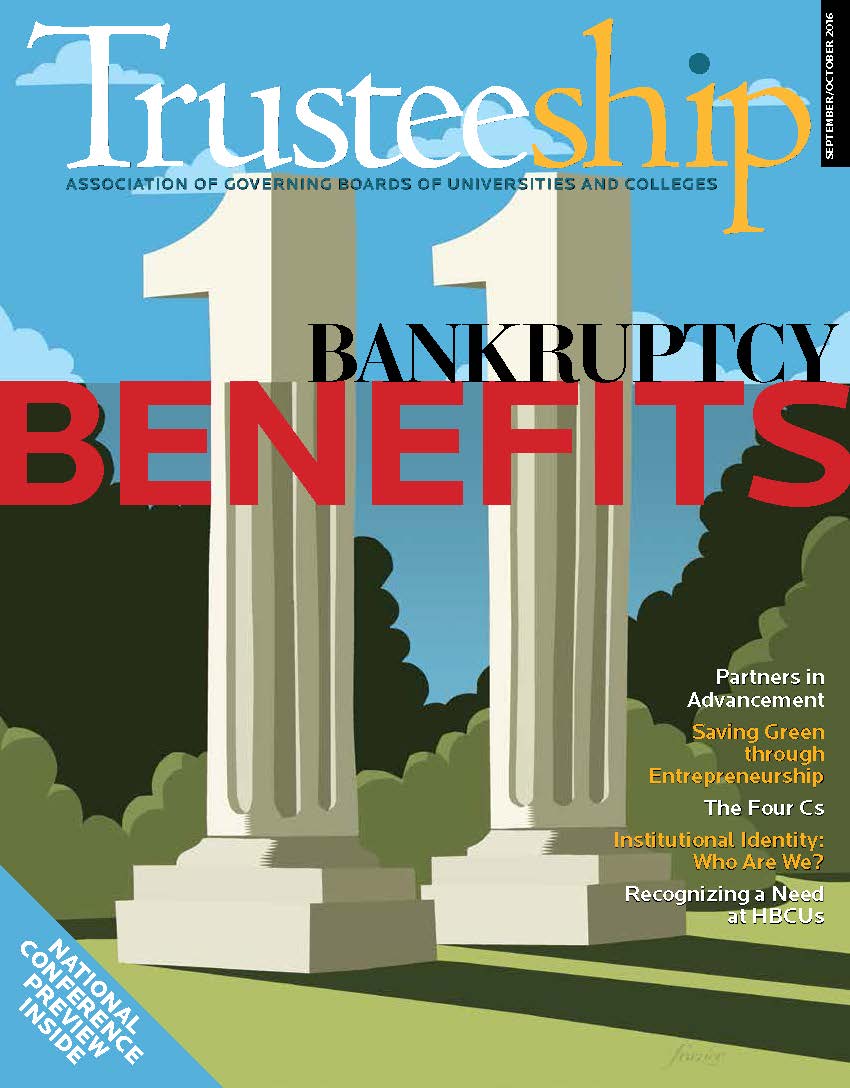 Scores of independent colleges have shut their doors since 2000. One hundred sixty institutions in all, 62 since 2010, and a dozen just last year. The president of one regional accrediting commission recently said 60 more would be gone in her region alone in 10 years. Nonprofits, and usually small, these institutions have been forced to abandon their heritage, students, faculty, and alumni for a variety of reasons. But for a large proportion, there is one underlying cause: debt, often incurred to improve antiquated facilities so as to better compete in an increasingly challenging academic marketplace or to generate cash to meet enrollment shortfalls.
But this could be not just a story of debt, but one of second chances, in the form of bankruptcy. Surprised? You'll be even more so when you learn why nobody is taking advantage of this opportunity.
The Amenities Arms Race
For a long time, no one seemed to care about these failing institutions. Certainly there was hand wringing and the occasional conference session—usually sparsely attended— about a college that was forced to close. But for the most part, what attention was paid was directed to factors such as falling enrollment, too many low-demand programs, and increasing operating and compliance costs. Those are not by any means irrelevant issues, and in fact they are, collectively, the immediate cause of most institutional deaths.
But these factors ignore another important economic issue. Changing demographics and sharply increased competition among colleges and universities pushed a growing number of institutions to increase spending—specifically, spending on amenities. Cinder block dormitories with communal showers gave way to suites; dining halls with long tables were replaced with food courts in resplendent student centers. Dark corners in libraries became vibrant learning centers, and many millions of dollars were spent—very properly—responding to laws requiring accommodation for students with different needs. As tuition inexorably crept upwards, pressure to provide institutional scholarships—also known as discounts—became irresistible for more and more colleges and universities as a last-resort effort to maintain enrollment. Last year, average tuition discounting reached a record 50 percent.
All of this required capital, a scarce commodity for nonprofit institutions. Remember that, unlike businesses that can raise capital by selling equity, nonprofits have but three alternatives—not quite beg, borrow, or steal, but close: earn it through tuition, beg for it through contributions, or borrow it. Increasing tuition has become an unsustainable proposition, and the Great Recession stymied giving. Borrowing was the remaining option, and for a long time lenders were more than willing to make funds available to institutions to build out their campuses or to increase debt on their existing land and buildings.
The predictable result is an escalating burden of debt, which voraciously eats into operating income to satisfy its interest appetite. This is not, of course, a phenomenon unique to American private higher education: Too much debt frequently drives businesses to the brink of financial disaster. The solution is often reorganization under the protection of federal bankruptcy law. Airlines do it, car makers do it, even presidential candidates do it. Under the supervision of a federal bankruptcy court, an entity can restructure—and significantly reduce—its debts so that it can climb out of imminent failure and avoid a value-destroying liquidation.
Chapter 11 Reorganization
Chapter 11 of the Bankruptcy Code enables an entity, a "debtor" in bankruptcy lingo, to seek the protection of a federal bankruptcy court to spread out, reduce, or even eliminate enough of its obligations to enable it to continue operating. A "plan of reorganization" that is "confirmed" by the bankruptcy court generally results in creditors agreeing to accept less of what the debtor owes, over a longer period of time, in return for the reasonable assurance that the debtor will meet its newly reduced obligations while it is protected from wildcat attacks by a few creditors. Even the angriest creditors usually understand that half a loaf is better than none.
There are good reasons a Chapter 11 reorganization is attractive:
Access to a specialized bankruptcy court that provides a disciplined forum and a single judge to oversee and adjudicate all disputes and compromises. This enables a debtor to work with all of its creditors and stakeholders in one place, as opposed to negotiating and litigating in forums in multiple jurisdictions.
The opportunity to secure collective action. Outside of Chapter 11, loans, mortgages, contracts, leases, and even collective bargaining agreements generally cannot be modified without the consent of the creditor/counterparty. Debtors not only have little leverage in these negotiations, but they have no mechanism to deal with holdouts, and the result is that a single recalcitrant creditor may be able to stand in the way of an arrangement that can not only keep the entity alive, but allow it to recover. Under Chapter 11, all creditors, dissenting and otherwise, are bound by the terms of any plan of reorganization approved by the bankruptcy court.
Preventing one creditor from shutting the doors through the automatic stay. Once an entity files for Chapter 11 reorganization, all litigation, lien enforcement, and other actions attempting to enforce or collect a debt are stayed, as are certain other actions that would affect or interfere with a debtor's property. This provides a debtor with the "breathing space" necessary to ensure that it is not carved to pieces by angry creditors while it works to maximize the opportunity for a recovery that would benefit all stakeholders, including employees, customers, and partners, and not just its most litigious creditors.
Disposing of excess assets through value-maximizing sales. Under the Bankruptcy Code, assets can be sold "free and clear" of all liens, claims, encumbrances, and interests. Moreover, assets purchasers in bankruptcy cases are generally protected from subsequent suits for fraudulent conveyance and successor liability. By contrast, outside of Chapter 11, a debtor may not be able to sell property without the consent of its secured lender and, even when the requisite secured lenders consent to a sale, the prospective purchasers may be unwilling to pay top dollar because they are concerned that they will be stuck with unwanted liability.
Rejecting or assigning onerous contracts and leases. In bankruptcy, a debtor is given additional rights (subject to certain limitations) to assign executory contracts and unexpired leases of real property, even where such an assignment may not be possible outside of bankruptcy. In addition, a Chapter 11 debtor is given rights to reject contracts and leases that are a drain on the company, allowing the debtor to escape onerous agreements that could not be avoided outside of bankruptcy.
All of this gives the enterprise—the debtor—a "second chance" to continue to operate. It is fundamental to our legal system. It is a right available to virtually every American business.
It is also a right that is—uniquely— denied American institutions of higher education. Well, not exactly "denied." A college can declare bankruptcy. It just commits assisted suicide by doing so, with the U.S. Department of Education as Dr. Kevorkian.
Institutional Suicide
Until the early 1990s, institutions did, in fact, rely on Chapter 11 of the federal Bankruptcy Code to restructure their debt and recover from financial ruin. But in 1990, Congress amended the Bankruptcy Code to exclude participation in the Title IV student aid programs from what is called "property of the estate," which meant that the Department of Education could cut off an institution's access to federal grants and loans even if it secured bankruptcy protection. Two years later, Congress amended the Higher Education Act to make any institution that filed for bankruptcy protection instantly ineligible to provide its students with federal grants and loans.
The rationale for the legislation was set forth in the accompanying Senate Report, which complained that "[d]ue process constraints" were preventing the department's ability to crack down on problem colleges and universities:
By securing the protection of the [bankruptcy] court, which has an interest in seeing that the schools survive through reorganization, even a school that cannot make loan refund payments to former students may continue to admit new students who in turn incur student loan obligations [even though that] school may well close or otherwise cut back its educational program….
[W]hile students and taxpayers have paid dearly, unscrupulous school owners, accrediting bodies, lenders, loan servicers, guaranty agencies, and secondary market organizations have profited handsomely, and in some cases, unconscionably.
Part of what motivated Congress was the belief that the Department of Education appeared to be incapable of adequately policing troubled schools.
Clearly, the department took the legislation, and the accompanying congressional tongue-lashing, to heart. It interpreted the law to make the bankruptcy prohibition absolute and permanent. A college or university that declares bankruptcy—even if it could be reorganized and stabilized through a court-supervised Chapter 11 reorganization—would be forever barred from Title IV programs.
It is the "forever" aspect that is particularly devastating. The regulation states that this loss of eligibility "is permanent. The institution's eligibility cannot be reinstated." Ever. No way.
Of course, this is not the only action that could cause an institution to forever be excluded from participating in Title IV programs. There is one other action that results in the same eternal banishment. That occurs if an "institution, its owner, or its chief executive officer (i) Has pled guilty to, has pled nolo contendere to, or is found guilty of, a crime involving the acquisition, use, or expenditure of Title IV, HEA program funds; or (ii) Has been judicially determined to have committed fraud involving Title IV, HEA program funds."
The irony is striking: An institution that avails itself of a statutory right (derived from Article I, Section 8, Clause 4 of the Constitution, which authorizes Congress to establish uniform laws on bankruptcy) to regain its financial stability under the supervision of a federal judge is treated in precisely the same way as a college or university that has been convicted of (or pled "no contest" to) committing fraud involving Title IV funds. Perfect symmetry.
Withholding the Cure
What Congress did in 1990 and 1992, and the department exacerbated by its draconian interpretation of the law, is to deny sick institutions medicine that is available to virtually every other American enterprise: reorganization under Chapter 11 of the Bankruptcy Code. Now, a Chapter 11 reorganization is not a panacea. Not every financially ailing institution can be restored to health through restructuring of its debt obligations, any more than every sick patient responds to medication. But for many of the 160 independent colleges that have closed since the start of the 21st century, and for the hundreds more facing such a fate, withholding the opportunity for a cure makes no sense.
Over the years, the Chapter 11 process has preserved thousands of companies and saved millions of jobs. There is no reason that this system can't serve institutions of higher education just as ably. Americans fly on airlines that have been kept aloft by Chapter 11. They drive cars produced by auto manufacturers that have shifted into and out of bankruptcy reorganizations. The teaching, studying, and learning that occur at a great institution that took on too much debt should be no different. Sometimes businesses overreach and overestimate their ability to meet their obligations. When that happens, Chapter 11 can give them the opportunity to survive. Institutions of higher education should be given the same chance.
Why, one must ask, are colleges denied this fundamental right? There is a hoary saying in the law: Bad cases make bad law. The anti-bankruptcy provision of the HEA is the perfect example of this effect. Some institutional operators did bad things. Yes, both students and the federal treasury suffered. But no, there was never a flood of such cases and yes, before the law was changed, institutions were successful in reorganizing under Chapter 11 protection.
But that was then. And, interestingly, the notion that American colleges are denied this fundamental right has escaped notice from even the most sophisticated observers. During the travails of Sweet Briar College, a long article in Forbes was headlined, "More U.S. Colleges Poised to Go Bankrupt." But there is not one word about the consequence of such action—that, unlike any other enterprise, a college bankruptcy is institutional suicide.
The rationale for continuing this otherwise inexplicable discrimination is that lifting the ban would enable bad actors to do bad things. But that does not stand up to examination.
First, the ability of an institution to continue to participate in Title IV programs during a Chapter 11 reorganization would be closely supervised by not only the Department of Education but also the bankruptcy court. The department is an interested party, and both law and regulation could be adjusted to ensure that the federal interest is properly protected.
But even without congressional action—which at this moment appears improbable—there is a simple solution. While the law itself is clearly unfair to institutions and their communities, it is the permanency of the exclusion from the federal student aid programs that is so devastating. And that permanent exclusion is not written into the statute: It is the interpretation of the department as enshrined in regulation. There are many ways a college or university can lose eligibility to participate in Title IV programs. Among other causes, it can lose its accreditation or its state authorization, or it can be terminated because of high default rates or as a result of a finding of a lack of administrative capacity or financial responsibility. But in every such case, an institution can resume participation in Title IV programs after a certain waiting period, usually one or two years.
Surely the regulation can be revised so that the department could enable an institution whose eligibility is terminated by a Chapter 11 filing to resume participation under close supervision, with monitoring not only by the agency itself but also the college or university's accrediting commission and state authorizing agency, to ensure that Title IV funds are properly applied and students' interests protected. Likewise, the safeguards built into the Chapter 11 reorganization process are themselves substantial, with the opportunity for the department to be an active participant in the judicial proceeding. The result would be that for some distressed institutions, there could be a light at the end of the tunnel. The passage would be difficult, but it is the height of unfairness to deny institutions— and their students, faculty, and alumni—the opportunity to try.
First, Doing No Harm
In a very thorough 2015 article published in the American Bankruptcy Institute Law Review, Scott Norberg of Florida International University chronicles the evolution of the anti-bankruptcy stance of Congress and the Department of Education. He closes with a clear statement of the case for reform:
Why should a higher education institution not have access to bankruptcy reorganization as any other enterprise? The same policies that underlie the reorganization of businesses in general also support reorganization for higher education institutions. Chapter 11 enables preservation of the going concern value of an enterprise and thereby the maximization of recoveries for creditors. In addition, it enables the resolution of creditor versus creditor disputes over entitlements to the debtor's assets; establishes certain preferences in the distribution of value to creditors; and makes possible the preservation of jobs, local tax bases, and supplier relationships.
Norberg credits the summary of the value of Chapter 11 reorganization to no less than then-law professor, now Senator, Elizabeth Warren (D-Mass.), a leading advocate for student consumer protection.
College boards of trustees are almost without exception populated, at least in significant part, by people who understand, in their own businesses and professions, the benefits that are provided by federal bankruptcy law. Yet in conversation with trustees and presidents, there is uniform surprise that the same benefits they understand to be available to their own enterprises are denied their beloved institutions. Indeed, in a few cases, colleges have filed for Chapter 11 reorganization only to discover—too late—that they had signed their own death warrant.
A quarter century ago, Congress reacted to what it saw as an inability of the Department of Education to adequately police colleges and universities by enacting legislation expelling an institution that sought Chapter 11 protection from Title IV programs. The department took that a step further by making the expulsion a virtual death penalty. It is time that those responsible for the future of independent colleges challenge the premise that preserving an institution through a Chapter 11 reorganization is equivalent to having been convicted of criminal conduct involving federal loans and grants.
There is more than ample opportunity for the Department of Education, accreditors, and state regulators to protect the interests of students and the public without denying institutions the ability to resolve their financial problems in the same fashion as virtually every other American organization. Arguably, the law and the implementing regulation were overreactions when they were enacted. In an era in which independent colleges are becoming an endangered species, these laws are affirmatively harmful to our pluralistic higher education system.
Share on LinkedIn