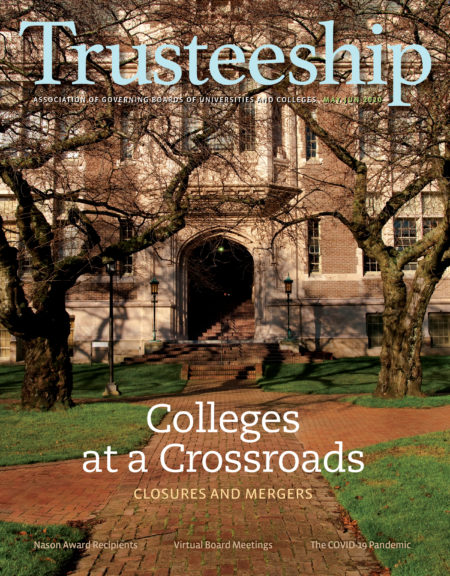 This article is part of the Finance Committee Chair Toolkit, a resource that highlights a variety of perspectives, including how to assess disruptive scenarios and what types of actions to consider.It is also a part of the Mergers and Affiliations Toolkit, which includes resources that enable board members to learn, evaluate options, and develop a strategy that makes sense.
As competition for students increases due to changing demographics of the traditional college-age population, some colleges and universities have closed, merged, or affiliated with other institutions. Boards of trustees that find their higher education institutions in a financial position that seems unsustainable long term may have to make a decision to close their campus or affiliate or merge with another.
The date was February 21, 2018.
James Lyons, then president of Concordia College Alabama, remembers looking out at the 400 faculty, staff, and students who had been gathered that fateful day in a gymnasium and proceeding to share the heavy news that this indeed was the end of the line for the Selma, Alabama-based institution. The historically African American college would be closing its doors after a nearly 100-year existence.
"It was the most difficult moment in my more than 50 years in higher education," Lyons says. "After professionally having spent a whole career trying to build institutions and make them more academically competitive and sustainable, I had to stand in front of the entire campus community, and tell them that there would be no school to go to, or place to work or teach, after June 30," Lyons says. "There was a range of emotions; some people were crying; some were resigned because they knew this was coming. It was particularly hard because even though people in that audience had already suffered greatly, they were working hard to the last minute. They didn't sit there and ride out the time."
The long-term challenges at Concordia College Alabama had existed for a while: desegregation opened up educational options elsewhere; a community college had opened up down the street at half the cost; and a campus was located in a poor community with few resources that deterred investors. And then there was a debt tally that exceeded $8 million.
And Concordia College Alabama is only one of hundreds of higher education institutions that may be forced to merge or close in the years to come by the adverse winds facing many of these institutions: falling domestic enrollments, reduced state financial support, ebbing flows of international students, greater competition, reduced patronage by religious and other major donors, and unhealthy internal financial fundamentals.
The good news is there is a host of resources, including books on the subject and experts on mergers and even closures, to help boards to make and execute those difficult decisions.
A Familiar Pattern
Many higher education institutions with weak financial, demographic, and strategic attributes are facing similar challenges that, for many, amount to three basic long-term choices: either merge, affiliate, or close.
A total of 92 nonprofit colleges and universities have closed or announced future closures since 2016 through February 2020, according to a running tally maintained by Education Dive.
A 2019 study found that based on an analysis of eight years of Integrated Postsecondary Education Data System (IPEDS) data for just over 2,300 institutions, nearly 10 percent face market stresses severe enough to make them candidates for either closing or merging, according to The College Stress Test: Tracking Institutional Futures Across a Crowded Market, a new book by academics that offers higher education institutions a way to measure their own health in the context of broader market trends.
"Ten percent are likely to close and another 30 percent are bound to struggle," says Susan Baldridge, a Middlebury College professor and a coauthor, with Robert Zemsky and Susan S. Shaman, of The College Stress Test. "For that 30 percent, the question of whether it is better to merge than continue to struggle should be on the table for boards."
The Importance of Being Proactive
As with many currently challenged higher education institutions, Lutheran Church-affiliated Concordia College Alabama had been shedding assets and students for years and as of 2017, when Lyons joined, had only 400 students and about 90 faculty and staff. Lyons was brought in with two masters and two mandates: the Lutheran Church Missouri Synod had slated the institution for closure, had ruled out further cash injections, and the Concordia University System Board expected Lyons to close the institution and dispose of its assets. But Concordia College Alabama's local board continued to hold out hopes that it could be saved and had met with many potential investors.
Lyons worked with a potential investor from Taiwan until the investor could not line up enough partners, causing the deal to unravel. Concordia College Alabama's assets were later bought at auction by a Korean minister to be used for Christian missionary activities.
If there was a single lesson Lyons says other executives at challenged higher education institutions should learn to maximize the opportunities for good resolutions, and which many others interviewed reiterate, it is to monitor their institution's fiscal and operational health early and to purposefully think early about what for some institutions is the unthinkable: merging or closing their institution.
"One of the challenges of an institution that has financial challenges is when do you decide to call an all hands on deck and make a significant effort to address financial issues," Lyons asks. "When I came in, we needed $8 million to $10 million to be viable to pay off our debt and put money into operation to remain viable. I had a woman call me and say, 'If I gave you a million dollars, would you be able to stay open?' I had to tell her, "No ma'am, not unless you have seven other friends who can do the same thing.' I would have to add that once the Lutheran Church made its decision not to inject more money, that also discouraged a lot of potential donors."
"I would say 90 percent of the time mergers are not viewed as a strategic alternative until it is too late," says Rick Beyer, a senior fellow and mergers and private system affiliation practice area leader at AGB Consulting. "Institutions looking for a long-term partner usually start the process late in their life cycle and thus have little to offer another institution, whereas, if they had started 18 months earlier, they would have been in a much better environment. I am, however, starting to see some consciousness among board members that it is not business as usual. Institutions are now starting to call us to explore options a couple of years in advance."
Institutions should ideally integrate merger and closure analysis as a standard board practice, say authors of a new book on mergers, Strategic Mergers in Higher Education. "Boards need to understand that considering the possibility of mergers and acquisitions should be part of their strategic planning at all times," says Ricardo Azziz, a research professor at the University at Albany, State University of New York. Azziz previously led a University System of Georgia merger that created Georgia Regents University (now Augusta University) and served as its founding president and, with his co-authors, now consults on mergers. "They need to consider the potential of mergers on a recurring basis as part of their basic board duties. We think boards should consider this every second year. This should not just be about saving themselves but also looking for opportunities to grow the institution and how to create a better value proposition for students."
Still, there are powerful forces that often prevent optimal actions by boards.
Boards are often wedded to the status quo or managing institutions, not to helping to guide them through dynamic change. Dealing with such change is often outside most or all of their members' experiences and skill sets.
Board members can allow personal feelings to cloud their judgments, particularly in cases in which they are alumni with strong visceral emotions concerning changing the basic DNA of the institutions they attended or closing them.
Various stakeholders, including students, staff, faculty, and alumni can, for similar reasons, push back on such options even when they are in the best interests of all involved. The closure of a higher institution can, particularly in a small city or town, be a dramatically negative development for the entire community. The challenges can be even greater for public institutions, given that state authorization must be sought for major strategic actions and a wider pool of stakeholders must be consulted.
The demands of such strategic change are enormous and long-lasting. It takes long-range planning and attention to innumerable details to consider, plan, and execute a closure of an institution. They may extend beyond the tenures of many board members.
When Mergers Make Sense
When it comes to mergers, mergers that are problematic tend to gain headlines; it is harder to point to mergers that are definitive successes, in part because of the long tail of executing them. The University System of Georgia consolidation is an example of a successful merger that has been closely examined with academic rigor. A top-driven wave of consolidations reduced the number of higher education institutions in the system from 35 to 26 from 2011 through 2018.
"The University System of Georgia case study shows that mergers can generate economies of scale that allow institutions to take cost savings and reinvest in other areas of education to improve retention rates and graduation rates," says Lauren Russell, an associate professor of practice at the Fels Institute of Government at the University of Pennsylvania.
Russell studied five mergers within the University System of Georgia that occurred from 2013 to 2018 for her dissertation. She found that the mergers decreased the first-year dropout rate by eight percent and increased the on-time, four-year graduation rate by 29 percent. A second paper Russell authored that examined all M&A activity at all public and private nonprofit higher education institutions in a 15-year period found evidence that mergers increased sticker prices paid by students, but these higher sticker prices appear to be offset by greater financial aid for students receiving institutional grant aid. The study also documented a great deal of heterogeneity across mergers in their effects and revealed that not all mergers have been similarly successful in improving student retention rates.
"I think what has made the consolidation [at University System of Georgia] successful is that the board of regents planned to leverage consolidations to improve student outcomes," Russell says. "Though USG vice chancellors managed the overall process, members from each of the merging institutions were involved in implementation decisions. Furthermore, cost savings from the consolidations were reinvested in students, for example, by hiring more academic advisers."
John Fuchko, University System of Georgia vice chancellor for organizational effectiveness, agrees. "For example, we combined Georgia State University, an R1 research university, and Georgia Perimeter College, a state college, and one of the things we did was we maintained the admissions standards to get into Perimeter College for the combined institution, so if students started there they could get into GSU more easily and, prior to entering, pay a tuition that is one-third of the cost of an R1 university," Fuchko says. "That allows many students to finish two years at Perimeter College and roll in the Georgia State four-year program. That way, they save money, we don't reduce access, and we increase the graduation rate of those from Perimeter College. What has helped to facilitate that outcome is that Georgia State is a national leader for effective interfacing with students from day one, with almost every academic event involving student participation tracked at some level. If you don't show up for class or get a 70 grade on a paper, the Georgia State administration knows. If, after four weeks, they identify a student who is having problems, there will be outreach to the student. Georgia State is remarkable because there are no large disparities between races and socioeconomic status. And the merger cost savings allowed us to apply that to Perimeter College students and to hire additional advisers to support that."
While planning for potential mergers ideally is part of general planning, it sometimes takes new leadership to implement change. "Former Chancellor Hank Huckaby was a new chancellor who looked around and recognized that the state looked differently and that there was an opportunity to improve the system through university consolidations," Fuchko says, noting the consolidation also followed reduced state funding following the 2008 recession. "But we did it because we wanted to better serve students and be good stewards of the state's resources; not because we had to."
When to Pursue Mergers
There has been a proliferation of books and consultants to help higher education institutions and their leaders determine just how seriously challenged their institutions are and evaluate options.
Baldridge's book, The College Stress Test, contains analyses of market trends and a set of formulas that boards, executives, trustees, and institutions' quantitative staff can perform to determine just how challenged their institutions are.
"We've given a step-by-step methodology that allows schools to calculate the scores we used in our market analyses for themselves," says Baldridge, who also consults on strategic decision making. "Based on the findings we report, they can get a sense of where they are in the larger distribution. Our job was not to predict what any particular institution's likelihood of closure is. Schools can take our methodology as a starting point and take into account factors important for their particular institution and include them. Everything an institution needs to run the model is in the book."
"Most institutions should already have someone in house who can run the analysis, likely the person who generates the IPEDS data," says Baldridge, who was also provost at Middlebury when it acquired the Monterey (now Middlebury) Institute of International Studies. She notes that one key measure for institutions is the retention rate. "The lowest cost student to get is the one you already have. If you have a retention rate of less than 70 percent, that means that three of every 10 students you worked so hard to enroll are leaving within a year."
Third-party financial analysts also typically perform similar analyses using public and some private sector data, notes AGB's Beyer.
Baldridge says that her book shows that the characteristics of students at risk paints a picture of greater disadvantage for students who are African American and those with limited financial resources. "If those are the schools most likely to close, we have to ask where will these students go?" Baldridge asks.
Beyer says that many institutions, particularly private, not-for-profits, are weathering the current financial storm by underinvesting, a strategy that ultimately renders them uncompetitive and/or unviable.
A good starting point for an institution is to perform a "quality of earnings" analysis on the current operating budget, Beyer says. The quality of earnings exercise—which can be accomplished over a 30-day period of review—will quantify an institution's prosperity gap, which is the distance between current financial performance and a prosperous future. This financial modeling exercise allows an institution to add back expenses in areas where underinvestment is present (such as new programming, technology, people, marketing, support services, headcount deficiencies, etc.). The output is the quantification of additional annual operating margin necessary to fully invest in critical areas.
"I calculate their prosperity gap by reviewing underinvestment in areas such as technology, staff wages, product development, marketing, student success," Beyer says. "This leads to the quantification of annual investment and then revenue growth requirement. I have not seen a prosperity gap that requires less than $10 million of investment per year. The prosperity gap helps to tell you if an institution has a 20-mile journey or a 2,000-mile journey to prosperity. From there the board can determine if a build, buy, merge, or affiliate mode makes sense. This sets the context for the board to examine its options."
Beyer says that strategic affiliations are vastly different from mergers. A private affiliation may make sense when higher education institutions have three to five years of financial runway from problems, but not if an institution is in the late stages of its life cycle.
The number of students can be a critical marker. "When there are fewer than 1,000 students, it is more difficult to present a sustainable future," Azziz says, noting his book studied 100 mergers and featured interviews with 30 higher education leaders. "Some institutions can continue at that enrollment level and be strong, but for the vast majority that is difficult."
How to Execute Mergers
Fuchko says that the University System of Georgia mergers were successful in part because they were governed by six core principles that were adopted by the board.
Increase opportunities to raise education attainment levels.
Improve accessibility, regional identity, and compatibility.
Avoid duplication of academic programs while optimizing access to instruction.
Create significant potential for economies of scale and scope.
Enhance regional economic development.
Streamline administrative services while maintaining or improving service level and quality.
For trustees in the middle of the situation, addressing some of the softer sides of mergers, which are often charged with emotion, may be a logical role.
"Anytime there is a change of this magnitude, there is going to be skepticism, fear of the unknown, and turf protection," says Philip Wilheit, Sr., a 10-year regent of the University System of Georgia who has seen the entire trajectory of that system's consolidation. "What is the mascot going to be? What is the surviving institution's name going to be? These are things that don't really affect the students but are still important."
Wilheit, from the City of Gainesville, says such concerns were operative for the first USG consolidation between North Georgia College and State University and Gainesville State College. "Governor Nathan Deal was from Gainesville and after an hour and a half of talking about consolidations with the board, it seems so obvious that the right thing to do, and to make the statement we needed to make, we needed to do it in our home town first and allow Gainesville State to be merged into North Georgia State," Wilheit says. "It worked out well because the president of Gainesville State was retiring, and most people let go from Gainesville found employment elsewhere in the [University System of Georgia]. We handled the mascot situation, too. North Georgia was the Saints. Gainesville was the Lakers. We put it up to the students for nominations and let the student body vote on the mascot and they came up with something completely different, the Nighthawks. It probably also helped that these two institutions were the same size. On the other hand, the retiring president felt like we should not change the name—she loved "university" and I can't blame her. Still, these are things that within six months after the merger no one was talking about it. There is pain with any change you make, and education is the poster child for that."
And sometimes things don't blow over but there are still fixes. One common solution to the naming problem is to use a new name apart from either of the original universities. But that doesn't always work.
One USG merger was between Augusta State University and Georgia Health Sciences University. "We changed the name to Georgia Regents University and that didn't go over well with the Augusta community, so after 18 months the City of Augusta came to us and said 'if you change the name to Augusta University, we will pay for the naming costs,' which was not a small sum given the signage, stationery, and other costs that topped $3 million," Wilheit says. "We agreed, and they used their private money to pay for that."
It takes strong executive leadership to drive change. "Most of these interactions are driven forward by the leadership, often the president, who pushes for a vision to the board," says Lloyd Jacobs, the president emeritus of the University of Toledo, where he led the merger of University of Toledo with the Medical College of Ohio and coauthored the book Strategic Mergers in Higher Education. "It rarely arises spontaneously amongst the board."
Whether boards or presidents initiate the conversation, boards play a critical role in supporting successful mergers. "If you do not have a committed governing board, you are dead in the water," says Azziz.
There is general agreement that going public with the need to merge or the possibility of closure can be a mistake that can reduce support for an institution and that can raise obstacles to potential deals. Conversations in this realm usually begin confidentially within boards and between boards and their executive leadership.
It is usually critical that a smaller subcomponent of the board and administration explore merger and closure options to provide a team with the right skill sets and to ensure the confidentiality of such discussions. "This needs to be done confidentially; you should only go public when the basic parameters of a deal are done," Beyer says. "There is no benefit to a higher education institution announcing your intention to look into a partnership or merger. It is a sign of extreme weakness."
One advantage of creating an ad hoc strategic committee is to allow the institutions to review long-term strategic options, Beyer says.
Institutions that may require mergers may need to realize that there is a 20-to-1 ratio of sellers to buyers, Beyer notes. Boards and leadership must work to examine their competitive positions deeply to determine how they will play into an institution's attractiveness to others.
Beyer says higher education institutions leaders also need to be realistic about the relative speed at which deals can be executed. "Once a decision has been made to explore a potential merger, it can take six months to get the board prepped and at a sufficient consciousness level," Beyer says. The search itself can take 6 to 12 months. Once a candidate is selected, it will take at least six months to develop a relationship between the two institutions and up to another year to execute a definitive agreement, and additional time to obtain regulatory approvals. You are looking at a two-year window to do it right, which can be a problem if an institution is late in its life cycle," Beyer says.
Patterns of Mergers and Closures
The pace of mergers has picked up, with 94 total combinations from 2010 through 2019, compared to 32 combinations from 2000 through 2009, based on data from IPEDs and analysis by EY-Parthenon. The vast majority of merging institutions, more than 95 percent, have had fewer than 5,000 students and more than 80 percent of such mergers have occurred between institutions within the same state. These mergers involve all classes of institutions, including private, for-profit, private liberal arts, and public institutions. Many predict a further wave of consolidations driven by weak state support (for public institutions), a slowing flow of international students, and a smaller domestic cohort of students.
More higher education leaders are at least considering mergers, says Kasia Lundy, a principal at consultancy EY-Parthenon. "The conversation is much different from three years ago, when this was a taboo matter among board members and institution leaders," Lundy says. "People didn't want to talk about it, were nervous attending panel discussions of mergers, and didn't want to leave their names behind because it might signal trouble. The conversation and dialogue around this has changed, as measured by the sheer level of interest in the topic, the frequency with which it pops up, and the number of attendees at panel discussions."
Not all mergers are successful, notes Jacobs. "The creation of a stronger surviving institution is the goal, but that sometimes does not happen," Jacobs says. "Some acquired institutions remain balkanized. The measure of the success of a merger is not just whether it happened but also whether you get the gains you expected."
In choosing partners, institutions must look beyond cost savings to more strategic factors as a reason for merging.
"Many institutions premising merger values on realizing synergies and reducing back office costs savings find such savings are not enough," Lundy says. "Strategic considerations can be more effective drivers. For example, if a small niche arts school comes together with a larger university the programming of the small art school might complement a weak programmatic aspect of the larger institution while the smaller niche school gets more resources and widens its programmatic offerings. That can be a win-win."
Proximity of campuses can play a key role in the feasibility of mergers notes USG trustee Wilheit. "There is considerably more flexibility if students can just drive or take public transportation to access programming offered at the other institution," Wilheit says.
Strategic Affiliations
The greatest opportunity for private institutions seeking long-term strategic partners may be through formal system affiliations, notes Beyer. Those arrangements are distinct from mergers, with important implications for boards, Beyer notes.
"One of the biggest differences between a merger and private affiliation is the legal structure," Beyer says. "In a merger, the sell-side institution legal entity is typically dissolved along with the board, president, and senior staff positions. Thus, mergers have not been widely well-received by sell-side institutions and, as a result, most mergers take place late in the life cycle of the sell-side institution. Private affiliations allow institutions to keep their legal entity along with their board, president, senior cabinet and degree granting status. As a result, sell-side institutions are now becoming more aware of, and interested in, private affiliations."
One example, he notes, is TCS Education, which has created a nonprofit community system of colleges over the past 10 years that six independent institutions have joined.
"Post-affiliation enrollment has grown from 3,000 to 9,000 students and these institutions together have successfully leveraged centralized services and each institution has gained access to higher quality resources," Beyer. "We can anticipate additional private system affiliations to be developed over the next five years."
TCS, National University System, and Saint Leo University are the three most active on the buy-side, says Beyer. "It takes vision and leadership and strong financials to be a buyer," Beyer says. "You can't do it from a weak situation. The focus of all three institutions is that they are trying to transform their model. There are great opportunities for other higher education institutions to join on the buy side but they need to understand that this is a long-term commitment of perhaps 10 years."
The Importance of Institution Cultures
Belmont University is another institution that has been on a trajectory of growth. In January, it announced that the Christian institution would merge with small Watkins College of Art in August 2020. Belmont earlier merged with O'More College of Design. Both Watkins and O'More had fewer than 200 students.
But considerable opposition to the deal has arisen in some quarters, given the religious orientation of Belmont—students take required religion courses and the institution has a policy against hiring non-Christians to its faculty. In January, more than 1,600 Watkins students and faculty signed an open letter calling for transparency about the proposed combination and maintenance of free speech on campus.
Soon after the announcement, Belmont's provost told listeners at a town hall after the merger announcement that the university's policy against hiring non-Christians would cause non-Christian Watkins faculty and staff to not to be able to work at the surviving institution. A few days later, Belmont announced its official position that Watkins employees would receive special consideration for jobs at the merged institution regardless of faith.
"This is a fascinating case study of a clash in respective missions and core values, showing that when you are merging institutions, you are not just merging budgets and brands," says Paula Vene Smith, the former chief academic officer and vice president for academic affairs at Grinnell College and the author of Engaging Risk: A Guide for College Leaders, a book on risk management at higher education institutions. "Watkins is a small art college with a mission of inclusiveness, creativity, and independence. Belmont has a whole different approach. There has been a huge wave of anxiety and rage about the merger among alumni and people in the Watkins community. It appears the potential clash here was not foreseen by the trustees. It suggests that consultations hadn't taken place by top leadership with those who would be most affected by the transaction. Often in these situations, there is a rush to rebrand without sufficient consideration about what the underlying purpose and mission of this newly merged institution should be. Maybe some effort should have gone into agreeing upon a joint mission statement. For leaders of nonprofits and public institutions, there are risks beyond financial weakness that require attention to core academic mission and values."
"Belmont aims to provide a welcoming and inclusive community for all students," says Belmont spokesperson Greg Pillon. "It is our goal for every single one of our more than 8,400 students to feel loved, accepted, and supported. Belmont already has more than 1,000 students who are currently pursing performing arts, fine arts, or other arts-related programs like motion pictures and songwriting on our campus. We're excited that that community of creative students might further expand as Watkins students consider joining us."
Negotiating a Merger
If the answer to what trustees are doing with respect to considering the options of merging or closing is, on average, probably too little, there are exceptions.
An extreme example of an aggressive role by a trustee was that of James Tuschman, a litigation attorney who was a member of the Ohio Board of Regents, the oversight body for higher education in Ohio, and a past trustee and chairman of the University of Toledo (UT) board.
For years, Tuschman and trustee colleagues at the UT board pondered whether a merger with a nearby institution might make sense. The University of Toledo was a middle-size, middle-reputation, public four-year institution, Tuschman says. Elsewhere in the city of Toledo was the Medical College of Ohio (MCO), a four-year medical teaching college that Tuschman says also was middle in reputation and size, and that stood out as one of the few stand-alone medical colleges not affiliated with a major university, despite clear financial synergies that had led to many such affiliations elsewhere.
If the two institutions were combined, one could envision that overhead could be massively reduced, an institution could be created that would be one of the largest in the state, UT's prestige would likely increase with inclusion of a major teaching hospital, and the MCO could amortize its costs over a larger university. Many entreaties had been made by UT leaders over the years and had met with the polite decline of MCO executives, in large part due to powerful community interests that preferred that MCO remain independent, Tuschman says.
In 2003, the opportunity that Tuschman had been looking for arose. A new president had taken the helm of MCO, a former marine and vascular surgeon, Lloyd Jacobs.
"Soon after he was appointed, Lloyd and I met and he said, 'I know [UT President Dan Johnson] is interested in pursuing a merger of our institutions and I am interested in exploring that, as well. I don't think my school can survive without a merger. You need to help me'," Tuschman says. "I said, 'the only way that this could work would be to hammer this out in private meetings between the presidents and not even tell the boards, until you come up with a memorandum of intent.' So the next week Lloyd and Dan met and pounded out an agreement and settled upon a strategy. It took us one year before we had the thing done and approved, including by the legislature and the governor's office. The board members were not upset at all by being left out; they were academics."
"I came to [MCO] with the notion that the model of a free-standing health sciences institution was not the best model," Jacobs says. "There were only six or so in the country that were left and none of the top 10 highest ranked medical institutions were free-standing. I told that to the board."
Still, perhaps the toughest negotiating issues remained. "We held off until the end on the critical questions of who would run it, what it would be called, and how the board would be structured," Tuschman says. "At the end, after everything else had been worked out, we held a meeting between Lloyd, Dan, whom I'd hired five years earlier, and a few others. Then, as we kicked off the meeting, Dan said, 'Let me say something. This merger is important for the community and state. Lloyd Jacobs is a medical doctor and a marine and this will not be an easy amalgamation. I will step aside and suggest he take over as president.' I thought to myself, 'the toughest decision has already been made.' I said, 'Lloyd, there can be no question that the surviving institution must be the University of Toledo, and not a bastardized version of it,' and he agreed. Now we had two of the three key decisions, leadership and surviving institution name, down. I then said, 'since the MCO president will be the president of the combined institution, I will suggest that the chairman of the board be the UT chairman and that the board be composed of 18 members, including 9 of each, and each year one will go off until we eventually scale down to 9 board members.' Everyone agreed. And at that point we had a deal. We received a 100-percent vote approving the merger in both the [Ohio State] House and Senate."
Subsequent execution was critical to the success of the merger, Tuschman says. "What Lloyd did after the merger was smart," Tuschman says. "He went to MCO within the first month of the merger being signed and put up University of Toledo signs. He made clear that the merger was being implemented as clearly as he could. Part of what made this work was the speed of implementation. If this thing had languished before and after the merger, it might not have been successful."
"At a large institution, all its individual subunits have individual cultures," Jacobs says. "The culture of a medical school is different from that of an English department. While you have to respect heterogeneities, it is the job of senior leadership to create an inclusive vision and direction for the overall institution under which all these subunits can function. Unless you do this early, it may not survive future strains. It takes a lot of time and money to build a culture and is hard to do with a lot of red ink on the ledger. The UT-MCO merger took five years to align and redo hundreds of policies—there was a standing committee dedicated to doing that. I am a detail guy and took charge of resolving those thousand little details."
Closing at the Right Time and in the Right Way
Sometimes even when an institution is not in financial distress, its long-term prospects for survival are so unpromising that a dignified closure is the best option. Such was the case with Marylhurst University, a small, Roman Catholic liberal arts institution near Portland, Oregon, that had already lost nearly one-third of its enrollment by the time Melody Rose became its final president in 2014 and that closed in 2018 after a 125-year run.
"I arrived as someone who had done work with distressed institutions with some success and who was being asked to diagnose the situation and provide recommendations for the future of the institution," says Rose, who is also a senior consultant at AGB Consulting who is writing a book on strategic decision making for higher education institutions that may wish to consider mergers and closures. "After examination, what I found was an institution with a history of innovation around online learning and serving nontraditional students that had not had a big, new bold initiative in some time. Marylhurst was losing market share, had low brand recognition, sat nine miles away from Portland in an area with very poor transportation infrastructure, lacked adequate housing, had some but little cash, and a reversionary clause that gave it little flexibility in the use of its church-owned land. I and the board concluded that we had no real good long-term options and that the right decision was to end the institution in a way that minimized harm to all stakeholders."
"It's a point of pride that we transferred or graduated 92 percent of the body enrolled after the board made its [May 2018] vote to close," Rose says. "Within two days of the vote, we had provided individualized plans of completion and official transcripts for all enrolled students and within one week of the announcement, we had hosted onsite a transfer fair with 30 institutions present. We also taught one additional term and reworked class schedules in that final term to finish off the degrees of as many students as possible.
"We also transferred whole programs to other institutions, which we did because we had distinctive programs that students would have had a hard time finding replacements for," Rose says. "We moved our master's degree in food systems and society program to Oregon Health & Science University and a master's of art therapy to Lewis and Clark College. We transferred both the students, about 25 for art therapy and 20 for food systems, and faculty, which required us to negotiate the transfers with the regional accreditor (NWCCU). We were fortunate that these programs were highly desirable to the acquiring institutions because of their distinctiveness and the fact they complemented their other offerings. We did our best to make sure relevant revenue went along with those programs to support them, as well as our relevant library holdings and equipment in the case of art therapy. This was also a benefit of deciding to close while we still had cash reserves and no debt: a university in the midst of closure cannot gift resources to other institutions if they have outstanding obligations to creditors.
"And with respect to our staff, we extended a severance package to all regular employees and provided very robust outplacement service. Again, part of the reason our board made the decision to close was that we did not want to find ourselves in a place where our cash was eroded and we couldn't take care of our loyal staff."
Rose also finalized a deal with nearby Saint Martin's University as the custodial institution for Marylhurst's student records and to provide communication with its more than 12,000 living alumni.
In return, Marylhurst received approval to transfer $3.14 million of its endowment to Saint Martin's, which is expected to generate more than $100,000 a year in scholarships for Saint Martin's students.
"It is vital in closing an institution to ensure that the mission continues through the life of the alumni and that student experiences and degree attainment can be verified in perpetuity," Rose says.
But Rose's and the board's work is still not done. "Even as an institution closes, the board may stay on," Rose says. "We are approaching the two-year mark of the vote to close and we still have residual resources and a small board of the final four board members with whom I consult to oversee the wind-down of the corporation. You cannot close a corporate entity if any debts or assets remain to the corporation. We oversaw the final audit in January 2020, which was clean, as have been all past audits. We also settled a small lawsuit, and the board needs to be in place in order to pay out residual unemployment claims. They will stay on until we ultimately disburse all remaining assets."
"It [serving as a trustee of a closing university] is challenging work that has none of the joy that typically comes from being a university trustee," Rose says. "Our trustees don't interact with students anymore or get to enjoy the university's offerings. Yet they have all the challenging work that comes with being a trustee. They are doing the work to complete and honor the mission of the order of the Sisters of the Holy Names of Jesus and Mary that founded the institution in 1893. It is the work of the angels."
David Tobenkin is a freelance writer based in the greater Washington, D.C. area.
Recommended Reading
The College Stress Test: Tracking Institutional Futures Across a Crowded Market
By Robert Zemsky, Susan Shaman, and Susan Campbell Baldridge Johns Hopkins University Press, 2020 Strategic
Mergers in Higher Education
By Ricardo Azziz, Guilbert C. Hentschke, Lloyd A. Jacobs,
and Bonita C. Jacobs Publisher: Johns Hopkins University Press, 2019
Engaging Risk: A Guide for College Leaders
By Paula Vene Smith Rowman & Littlefield Publishers, 2015
AGB Webinars on Demand about Affiliations and Mergers
Tactical Advice for Higher Education Mergers
https://agb.org/events/webinars/webinar-on-demand/tactical-advice-for-higher-education-mergers-affiliations-and-partnerships/
What You Need to Know About Affiliations and Mergers in Higher Education https://agb.org/events/webinars/webinar-on-demand/what-you-need-to-know-about-affiliations-and-mergers-in-higher-education/
Exploring Long-term Strategic Affiliations, Mergers, and Partnerships
https://agb.org/events/webinars/webinar-on-demand/exploring-long-term-strategic/
Considering an Affiliation or Merger?
Internal growth strategies, partnerships, and affiliations are all critical considerations for growing enrollments, revenues, and preventing stagnation or failure. AGB Consulting can help you conduct a situational assessment and explore institutional quality of earnings, then find and implement the strategies that will enhance prosperity and support your overall growth strategy. Contact Consulting@AGB.org to learn more.
TAKEAWAYS
Many institutions are finding themselves facing challenges that lead them to deciding if they should merge, affiliate, or close. Ninety-two universities have closed or announced future closures since 2016 through February 2019, according to Education Dive. From 2010 to 2019, there were 94 total mergers. Institutions must be proactive and monitor their fiscal and operational health and start to think early on about hard choices they might have to make in the future.
Mergers can be a good choice for institutions if executed correctly. Mergers can be used to improve student outcomes and save money and resources. Strategic affiliations are another route some institutions take and make sense when there's three to five years before major financial problems. One major difference between a strategic affiliation and a merger is the legal structure. Private affiliations allow institutions to keep their legal entity. Affiliations can lead to higher quality resources for the institutions.
For boards to successfully complete a merger, there are several factors to keep in mind. One factor is for boards to address things such as the name of the merged institution and the mascot. These things are important to the students and community. Another factor is that these discussions about closures and mergers also need to be done confidentially to ensure continued support. An institution must also keep in mind that a merging process takes time and is difficult to pursue at the end of an institution's life cycle.
Sometimes a closure is necessary when there are no good long-term options. Marylhurst University, which closed in December 2019, was an example of this. Even with the closure, Marylhurst was able to develop plans to take care of their students. They transferred or graduated 92 percent of the enrolled students after the vote to close. Marylhurst also transferred distinctive programs with their accompanying students and staff to nearby institutions. Boards stay in place after a closure to oversee residual resources and assets.
Share on LinkedIn