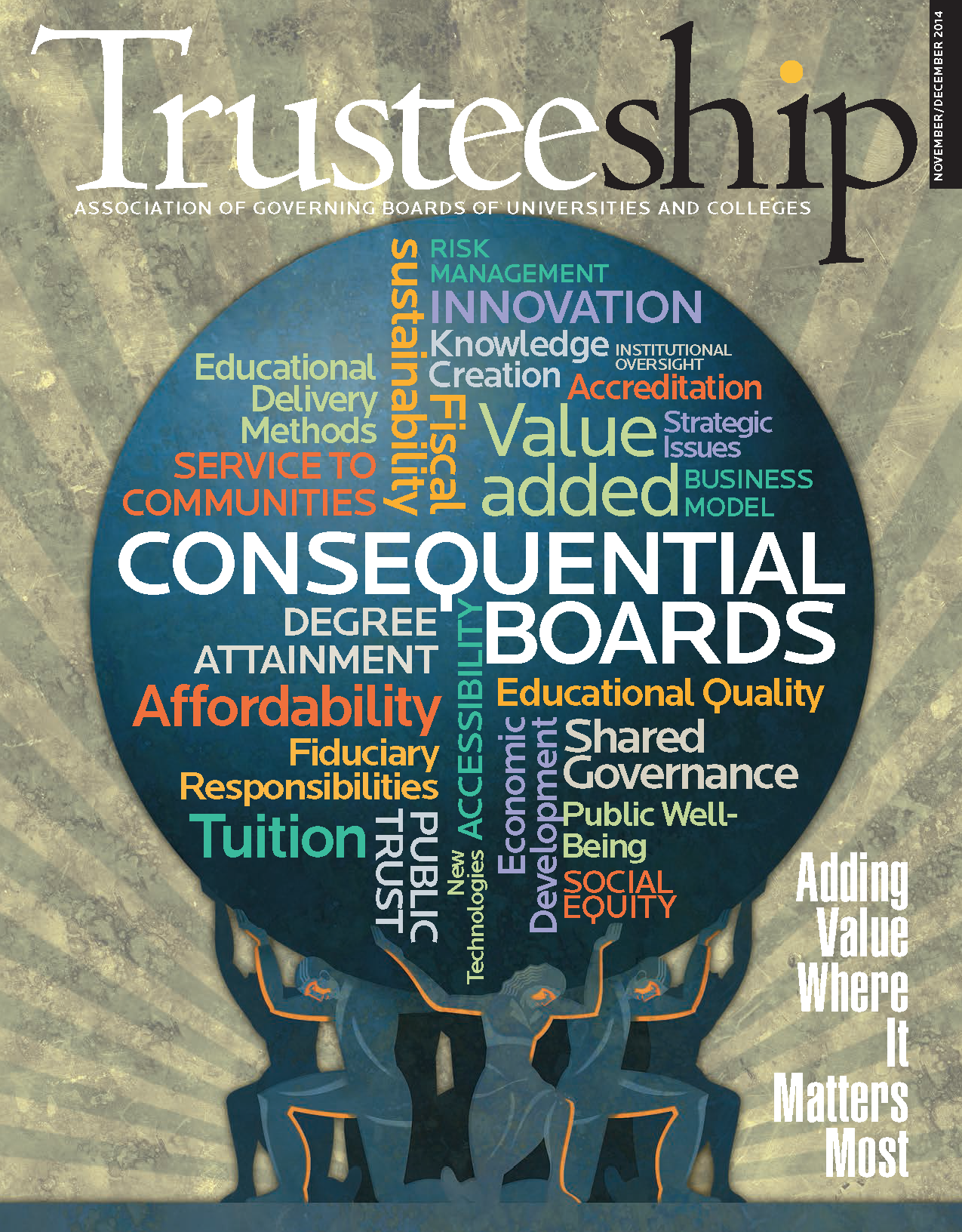 This blog post is part of the Board Chair Toolkit, which includes a host of resources that enable board chairs to understand essential responsibilities for board leadership and establish an inclusive board culture.
While America's distinct model of board governance in higher education reflects how we have overseen the direction of colleges and universities for well over 300 years, history has shown that landmark moments in the country's history have caused board governance to shift focus as the times require. The Morrill Act in 1862, the post-World-War-II period, the Cold War, the Vietnam era, the recent Great Recession—all have caused our institutions to hit the refresh button on board oversight and engagement. Once again, we face one of those compelling moments.
Until fairly recently, colleges and universities could be confident that they had the fullest support of the public and policy makers, that they had room to grow their tuition, and that public investment in higher education would be sustained and sufficient for them to offer a high-quality and affordable product that met students' needs and public expectations. Institutions had to compete with each other for students and faculty members, but overall the demographics were working in their favor.
Today, that paradigm has fundamentally changed—higher education institutions are now struggling to sustain their business model and, at the same time, retain the respect of a more skeptical public. Since the economic recession of 2008–2009, public scrutiny has heightened over concerns about college and universities' cost model and quality, as well as the delivery of their academic programs, student completion, and the success of their graduates. Public resistance to tuition hikes has been hardening, and an unprecedented number of people are now questioning the value proposition of the enterprise. They are skeptical about not only the retention and success of students and the earning power of a degree, but also the value of the assets that boards steward in their role as fiduciaries. Policy leaders, especially, are seeking assurances that there is a fair return on the public's investment in higher education. Federal regulations and calls for enhanced accountability, while understandable, further demonstrate a new relationship between our institutions and the public. Plans to "rate" institutions at the federal level are but one indicator of the heightened debate over demonstrated value.
In addition, technologies that impact how students learn and professors teach are rapidly emerging, profoundly altering how we think about and deliver an academic program. The surge in interest over the last three years in massive open online courses, or MOOCs, was emblematic. While MOOCs, at least to this day, have perhaps not proved to be the game-changer they once were expected to be, they represent the disruptions that boards must consider when it comes to the delivery and competitiveness of an academic degree.
These and other forces have led to fundamental questions about whether higher education is demonstrating current and future value, and whether it can broadly reclaim the public's support. While our institutions of higher learning have long been respected as leaders in continuous improvement and knowledge development, doubts about the willingness to change to meet public expectations have become central to public concerns. How can those of us in higher education—whether at an independent or public institution—make sure that our institutions are meeting their missions, as well as achieving the public's goals and expectations?
Part of the answer involves America's distinct form of board governance. The leadership of our system of higher education oversight—a model dependent on some 50,000 citizens who are primarily from outside the institutions—must be refreshed and strengthened to meet current and future challenges. Today's environment requires boards to be more intentional in their decision-making processes, moving their deliberations and engagement from one of process to one of strategy. Boards must be structured in a manner facilitating a system of governance that emphasizes the policy issues that matter most to the future of their institutions and their stakeholders.
To ensure that governing boards are prepared to engage in governance at a more strategic level, the Association of Governing Boards, in September of 2013, established a national commission on higher education governance, comprising 26 individuals with extensive experience in governance from within higher education as well as from the corporate, nonprofit, and public-policy sectors. The commission's charge was to consider whether our board governance model was sufficiently up to the task of addressing the complex challenges impacting higher education and to develop recommendations specifically aimed at improving the effectiveness of college and university boards and institutional governance. Conducting its work through four plenary sessions augmented by a series of public forums throughout the country, the commission sought advice from experts both inside and outside of higher education about how governance is working today and whether the current challenges mandate a renewed system of leadership and decision making.
The commission explored how best to challenge boards and institutional leaders to focus on the link between strategy and governance. That is, boards must add value where it matters most—meeting the challenges of today and being prepared to address those yet to come.
Key Areas of Concern
The result of the commission's year of work is a report that presents seven recommendations for stronger board governance. (See box below.) Consequential Boards: Adding Value Where It Matters Most makes clear that in meeting their leadership responsibilities, the most-effective boards work collaboratively with institutional leadership and other stakeholders. The report focuses predominantly on boards (campus and system boards across all of higher education), their leadership, their structure and culture, and their engagement. The report also underscores the fact that institution and system chief executive officers have substantial influence in how boards are engaged and should seek to facilitate full and necessary board leadership. Board leadership, in turn, should accept ultimate responsibility while properly delegating authority. And, effective chief executives should recognize that governing boards expect full and strong engagement.
The commission report also notes that boards should acknowledge and respect the realities of today's model of institutional governance—in particular the makeup of the faculty and its role in governance and institutional change. The faculty's involvement in institutional governance and the significant decline in the number of tenured faculty offer both challenges of tenured faculty offer both challenges and opportunities. Boards should embrace these new realities and seek ways to engage with faculty members on meaningful issues. Only through a refreshed commitment to shared governance will boards be able to reinvigorate those inherent values of teaching and knowledge development that lie at the heart of the academic enterprise.
Another issue that the commission touched upon was the appointment and orientation of board members. The process of selecting board members for service to public and independent boards, while emphasizing a breadth of expertise, too often fails to benefit from the specific strengths that board members bring to their service, or it focuses on the capacity of trustees to offer financial support over other essential leadership traits. Institutions often fail to provide early orientation for new members as to the scope and expectations of the commitment they have accepted as citizen stewards.
The report also highlights several other central leadership challenges for boards:
Fiduciary principles. Fiduciary standards are defined by state law and clarify the expectations of board members; they are the legal basis of board service. Each state recognizes its own fiduciary standards, although those standards are fairly consistent across the country. New board members frequently hear about their fiduciary obligations when they're recruited to serve; however, far too many spend far too little time focused on their responsibilities—even though such principles should be the starting point for service as a board member.
At the same time, the commission appropriately commented on the important expectation that once a decision is made by a board, acting in its corporate decision-making role, it is the decision of that body, and all board members should publicly support it. There should be little or no room for second guessing on the part of individual board members following a board's formal action. Board members who continue the debate after board action may inadvertently send disruptive signals to institutional stakeholders.
The board relationship with semi-independent or fully independent auxiliaries. Institutions' auxiliaries have proliferated on our campuses, and the commission spent considerable time reflecting on oversight of those important organizations. Often, governing bodies are either not fully aware of the responsibility for their oversight or have limited processes or mechanisms in place to demonstrate that oversight. Such auxiliaries include academic medical centers on 120 or so of our campuses, institutionally related foundations that populate most of our public institutions, museum auxiliaries, and housing authorities, as well as a number of other organizations that carry the name of the institution and operate in its name. They are complex, are responsible for substantial finances, have senior staff members (often highly compensated), and fall under state and/or federal regulations.
The commission looked at the scope of institutional governing board oversight and jurisdiction of those entities. It recommended that boards should establish clear lines of oversight while recognizing the appropriate independence of the auxiliary organization and urged that additional work be done by AGB. (See this article for an in-depth discussion.)
Board culture. The commission spent considerable time discussing the hallmarks of a positive boardroom culture: inclusiveness, engagement, and respect for every board member's input and questions. (See this article for more on this topic.) The report offers specific guidance to ensure that boards don't become dysfunctional by virtue of enabling a culture that is not welcoming of divergent views. A culture that is intentionally developed is more likely to result in a more strategically engaged board that is focused on the most essential issues.
The commission report isn't about boards moving into management; we all know the problems that can arise when that occurs. Rather, it is a clear statement that boards must know how to address the issues that matter most and which, in the end, only a governing body can attend to. They need to engage in truly consequential governance.
The commission report is unambiguous: Board leadership is essential at a moment of heightened calls for college and university accountability. We need to refocus boards and reposition them to be able to contribute through a lens of leadership that links strategy and governance. Our system of board governance is crucial for ensuring a vibrant future for higher education.
7 Recommendations for Ensuring Consequential Boards

In a recently released report, Consequential Boards: Adding Value Where It Matters Most, The National Commission on College and University Board Governance encouraged all boards to take seven specific steps:

1. Boards must improve value in their institutions and lead a restoration of public trust in higher education itself.

2. Boards must add value to institutional leadership and decision making by focusing on their essential role as institutional fiduciaries.

3. Boards must act to ensure the long-term sustainability of their institutions by addressing changed finances and the imperative to deliver a high-quality education at a lower cost.

4. Boards must improve shared governance within their institutions through attention to board-president relationships and a reinvigoration of faculty shared governance. Boards additionally must attend to leadership development in their institutions, both for presidents and faculty.

5. Boards must improve their own capacity and functionality through increased attention to the qualifications and recruitment of members, board orientation, committee composition, and removal of members for cause.

6. Boards must focus their time on issues of greatest consequence to the institution by reducing time spent reviewing routine reports and redirecting attention to cross-cutting and strategic issues not addressed elsewhere.

7. Boards must hold themselves accountable for their own performance by modeling the same behaviors and performance they expect from others in their institutions.

(For a copy of the full report, go here.)
A Call to Action
AGB plans to promulgate the commission's recommendations; our meetings, publications, and other communications vehicles will emphasize board leadership, engagement, and collaboration. We also intend to use our opportunities to be in boardrooms or in state-wide board education programs to urge institutional leaders and boards to challenge themselves to focus on the commission's specific recommendations. And, we will conduct new research as well as collaborate with other organizations on initiatives related to some of the report's urgings.
In addition, we are planning to work with specific higher education institutions that will commit to adopting most or all of the recommendations. We will consult with them over the next few years as they proceed, track the results of their work, and establish models of best practices that can be broadly applied.
We will know that the report had an impact through the overall performance of institutions in the sector. Are they addressing the essential strategy issues that will define and ensure their respective futures? Are they strengthening their financial models? Are they reclaiming the public support in the values debate? Are policy makers cheerleading the higher education sector rather than continuing to criticize it? Are corporate leaders recognizing the quality of our graduates and the academic programs we're delivering? When most or all of those questions are answered in the affirmative, we will know that boards are focusing on the issues that matter most and that strategy and governance are working together.
Ultimately, the AGB commission report is a healthy reminder that governance is serious work. Our governance model connects the general public to institutions that are among this country's most sacred resources. But times have changed, and board members must step up their awareness of their responsibilities and their engagement. Trusteeship is no longer the merely honorific job it once was. Getting governance right will be the product of boards focusing on doing truly consequential work.
Members of the National Commission on College and University Board Governance

Honorable Philip Bredesen, Chair, Governor, Tennessee (2003–2011)

Richard D. Legon, ex officio, President, Association of Governing Boards of Universities and Colleges

Roberta Achtenberg, Member and Former Chair, Board of Trustees, California State University

Gloria Aparicio Blackwell, Member, Board of Trustees, Montgomery College (Maryland)

Molly Corbett Broad, President, American Council on Education

Patrick Callan, President, Higher Education Policy Institute

John Casteen, III, President Emeritus, University of Virginia

Kent John Chabotar, Professor of Political Science and Retired President, Guilford College

Richard Chait, Professor Emeritus, Harvard Graduate School of Education

Mary Graham Davis, Chair, Board of Trustees, Mount Holyoke College

José Fernández, Member, Board of Trustees, University of Notre Dame

Honorable James E. Geringer, Co-Founder and Chair, Board of Trustees, Western Governors University

William E. (Brit) Kirwan, Chancellor, University of Maryland System

Albert Maury, Chair, Board of Trustees, Florida International University

Charles Miller, Former Chair, Board of Regents, University of Texas

Scott Pattison, Executive Director, National Association of State Budget Officers

Martin Payson, Trustee Emeritus, Howard University and Tulane University

Russell Ramsey, Chairman Emeritus, George Washington University

John W. Rogers, Jr., Board Member, University of Chicago

Gary Rhoades, Professor and Head, Center for the Study of Higher Education, University of Arizona

Ann Daley Ryherd, Former Executive Director, Washington Higher Education Coordinating Board

Alex Shumate, Member and Chair, Governance Committee, Board of Trustees, The Ohio State University

Jeffrey Sonnenfeld, Senior Associate Dean, Yale School of Management and Founder, Chief Executive Leadership Institute

James Stern, Chairman Emeritus, Board of Trustees, Tufts University

William Trueheart, President and Chief Executive Officer, Achieving the Dream

Georgia Yuan, Former General Counsel and Secretary of the Corporation, Smith College, and Former Deputy Undersecretary, U.S. Department of Education
Share on LinkedIn