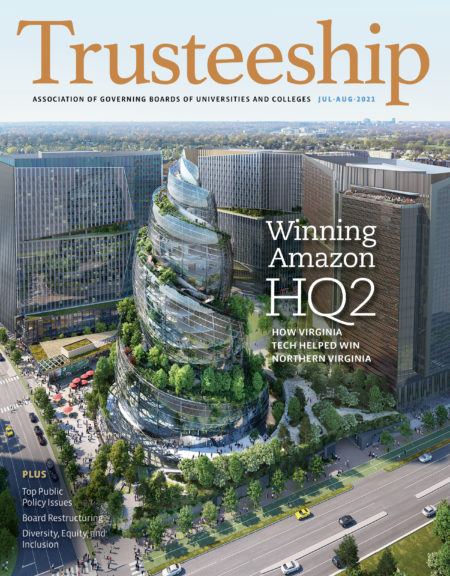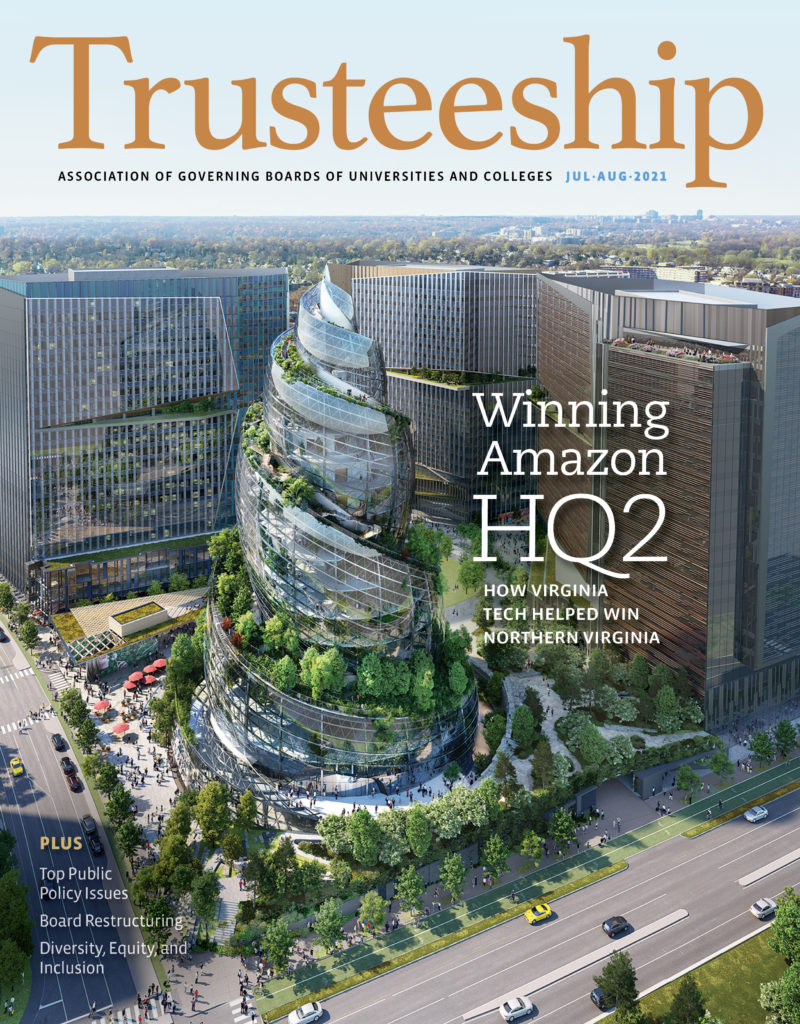 This article is part of the Finance Committee Chair Toolkit, a resource that highlights a variety of perspectives, including how to assess disruptive scenarios and what types of actions to consider.
Leaders in higher education are facing an array of pressures to deliver more affordable education offerings while experiencing mounting operating deficits. Lost revenues, COVID-19-related expenses, and anticipated future declines in state funding for higher education associated with the pandemic are estimated at $183 billion, according to figures recently published by The Chronicle of Higher Education. Structural deficits threaten institutional efforts to improve affordability. Now more than ever, trustees and campus leaders need to challenge the status quo to address both the growing financial and affordability crises.
The COVID-19 pandemic exposed the fragility of many institutions' financial plans amid increasing concerns about the financial sustainability of higher education prior to the pandemic. According to the AGB 2020 Trustee Index, the number of trustees concerned about the future of the higher education sector over the next decade increased by 12 percentage points—from 73 percent in 2018 to 85 percent in 2019— with financial sustainability and pricing for students being the primary areas.
Redesigning the higher education business model to increase affordability, access, and completion is a call to action for governing board members and institutional leaders to help key stakeholders understand the underlying need for change. Many academic leaders and faculty members are not sufficiently informed about the complexity of their institution's business model and the drivers of the increasing cost of education. More transparency of the current economics will help all constituents arrive at a common understanding of the facts and a rational basis for achieving a more sustainable operating and financial model.
The Affordability Mandate
Tuition pricing is an ongoing area of criticism. According to a 2020 Gallup survey, only 27 percent of U.S. adults believe that education beyond high school is affordable. When it comes to the question of access—or if education beyond high school is available to those who need and want it— only 46 percent of U.S. adults aged 18 to 29 believe college is within financial reach.
With tuition rising at rates often well above inflation and uncertainties about the value of educational outcomes, students and families have reason to question the projected return on their investment. Many students and families are not aware of institutional efforts to offset posted tuition with aid. With increasing financial aid budgets, the current model of affordability adopted by many schools is likely not sustainable.
Financial sustainability and affordability are inextricably intertwined. The focus on "affordability" is as much the student sense of affordability as it is about how a campus thinks about its external audience's reactions to pricing and messaging.
Historically, many institutions have focused on discrete financial issues, wary that dramatic changes to an academic model can affect brand and culture—and in turn, negatively impact enrollment and retention. Now institutional leaders are increasingly recognizing that broader strategic enterprise-wide change is both necessary and possible to achieve while protecting the reputation and culture of an institution, and proactively improving both financial performance and affordability rather than resorting to reactive measures. Institutions can fundamentally plan and transform to put themselves on a path to drive even greater success and address social imperatives that include access, affordability, and equity.
Demonstrating Commitment to Affordability Goals
Trustees and institutional leaders must be prepared to confront these financial and affordability challenges head on. To do so, they will need pertinent data and facts— starting with a critical evaluation of the elements that impact the financial sustainability of the institution. Using a High Performing Institution (HPI) framework© can help institutions better achieve affordability and other strategic goals.
The High Performing Institution (HPI) framework© is based on work with more than 500 colleges and universities and helps board members and leaders assess and evaluate institutional performance across key dimensions and metrics of success, and establish the desired commitments to affordability—all while keeping the institutional brand, mission, and value proposition front and center.
The HPI framework encompasses several key elements that all governing boards and higher education leaders should consider—strategic positioning, resource alignment, financial health, operational efficiency, organizational effectiveness, and technology digital and analytics capabilities. While these elements represent important components, it is also critical to look at these elements holistically to optimize sustainable change in support of the mission.
As affordability is a critical and necessary imperative, this framework can help focus crucial conversations and identify impact measures that can spark change for individual institutions. We have provided two examples—both a public and a private institution—to illustrate how the HPI framework can help colleges and universities achieve their goals surrounding affordability. Throughout the elements, we will highlight some key takeaways from our work with these and many other institutions.
Evaluating Elements of High-Performing Institutions
Strategic positioning: Does the institution have a well-defined plan and set of actions in place that align to advance its strengths?
An institutional strategy should be more than just a plan that sustains the status quo. It should be a bold, long-term aspiration to innovate and advance the teaching, research, and community service mission. Institutions can advance their academic and research mission by prioritizing actions that best leverage their differentiated assets and value proposition. This includes understanding the alignment between academic strengths and key market segments, uniting and aligning the entire community; aiding students in achieving their academic and personal goals; and recruiting, retaining, and supporting a passionate faculty that delivers in support of the mission. Strategic positioning can also involve external partnerships to serve as a catalyst to address the affordability and financial sustainability challenges of institutions. Several recent public-private partnerships have helped institutions make significant investments in advancing the mission.
Examining and evaluating academic portfolios is one way to improve strategic positioning and resource alignment (see next section). The Academic Portfolio case study at the sidebar of the article outlines how one small private university positioned its academic portfolio and cost structure to better meet the needs of its students and faculty.
Resource alignment: Are the institution's resources (budget, people, assets) aligned to optimize performance and contributions to achieve strategic goals?
Financial resources are scarce at nearly all colleges and universities. When reviewing programmatic investments and other resource deployments, institutions need to provide sufficient investments and resources to programs and initiatives that will help best achieve strategic goals and desired outcomes. When implementing a resource allocation model (i.e., budget model), leaders should make data-informed decisions about the highest priority, most critical investments to ensure funds are appropriately allocated in support of those investments. As noted, a key step in the process is understanding and refreshing the academic portfolio. Doing so can help ensure the greatest alignment of investments, resources and student interest.
Financial health: Does the institution's near-term and long-term financial health trajectory adequately support its strategic goals?
While financial health for colleges and universities has been especially challenged by the pandemic, a deteriorating fiscal outlook is not a new problem. Just as it is important to align resources properly, there are several factors to consider in maintaining a healthy balance sheet and operating statements to support an institution's mission into the future. The factors include but are not limited to retaining and leveraging funds to strategically invest; managing financial risk through robust, diversified revenue sources and enrollment strategies; controlling expenses and long-term commitments judiciously; and reporting and evaluating institutional and unit-level financial returns. These considerations can help institutions design sustainable financial models while achieving longer-term strategic objectives.
A successful example of this can be seen with a midsize public university in the Midwest that experienced declines in in-state and out-of-state first year, transfer and international student cohorts—lacking appropriate recruiting and enrollment data to analyze the reasons why. In solving for the issue, they both designed for affordability and transformed for financial sustainability (see figure 2).
Figure 1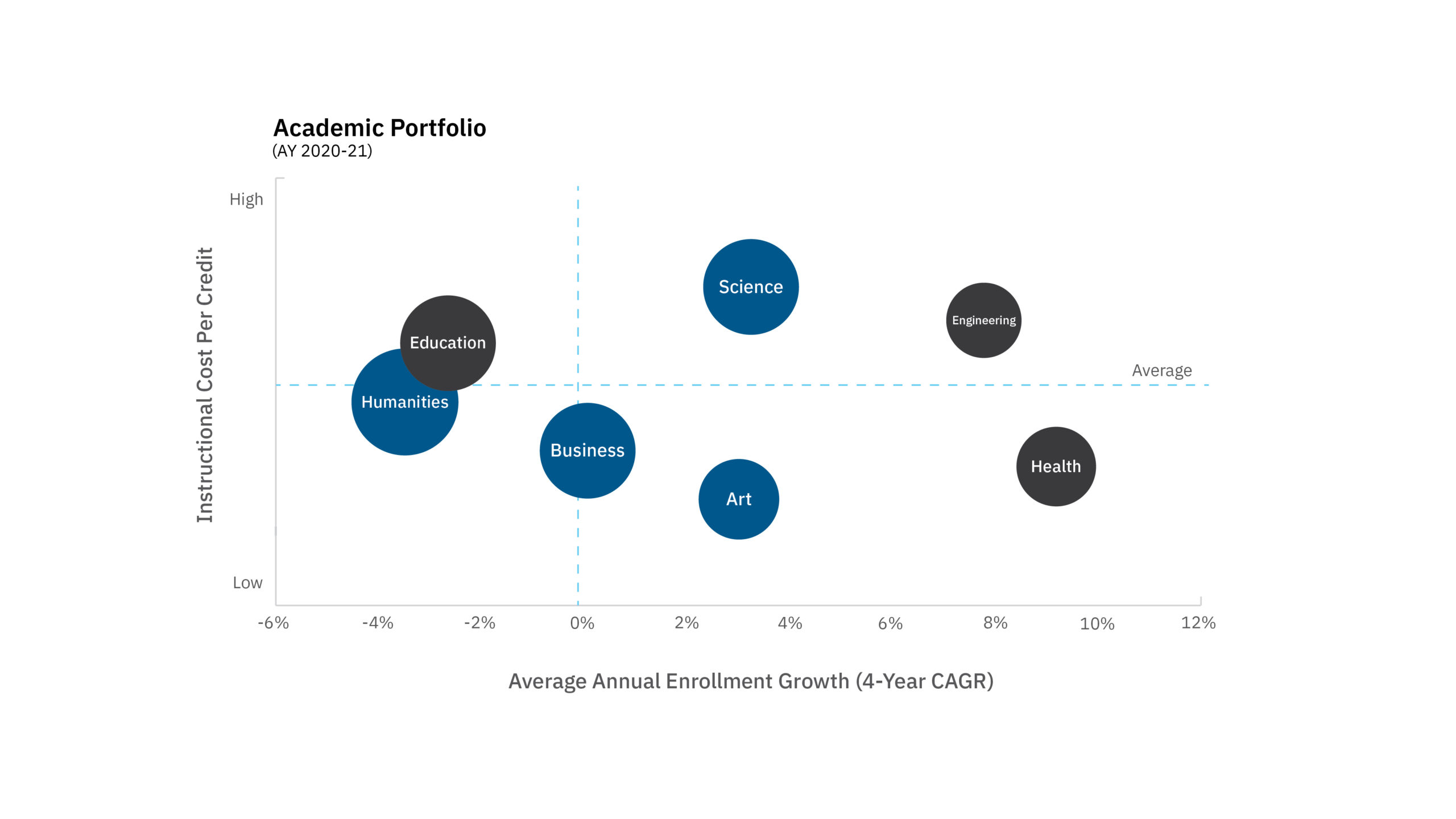 Figure 2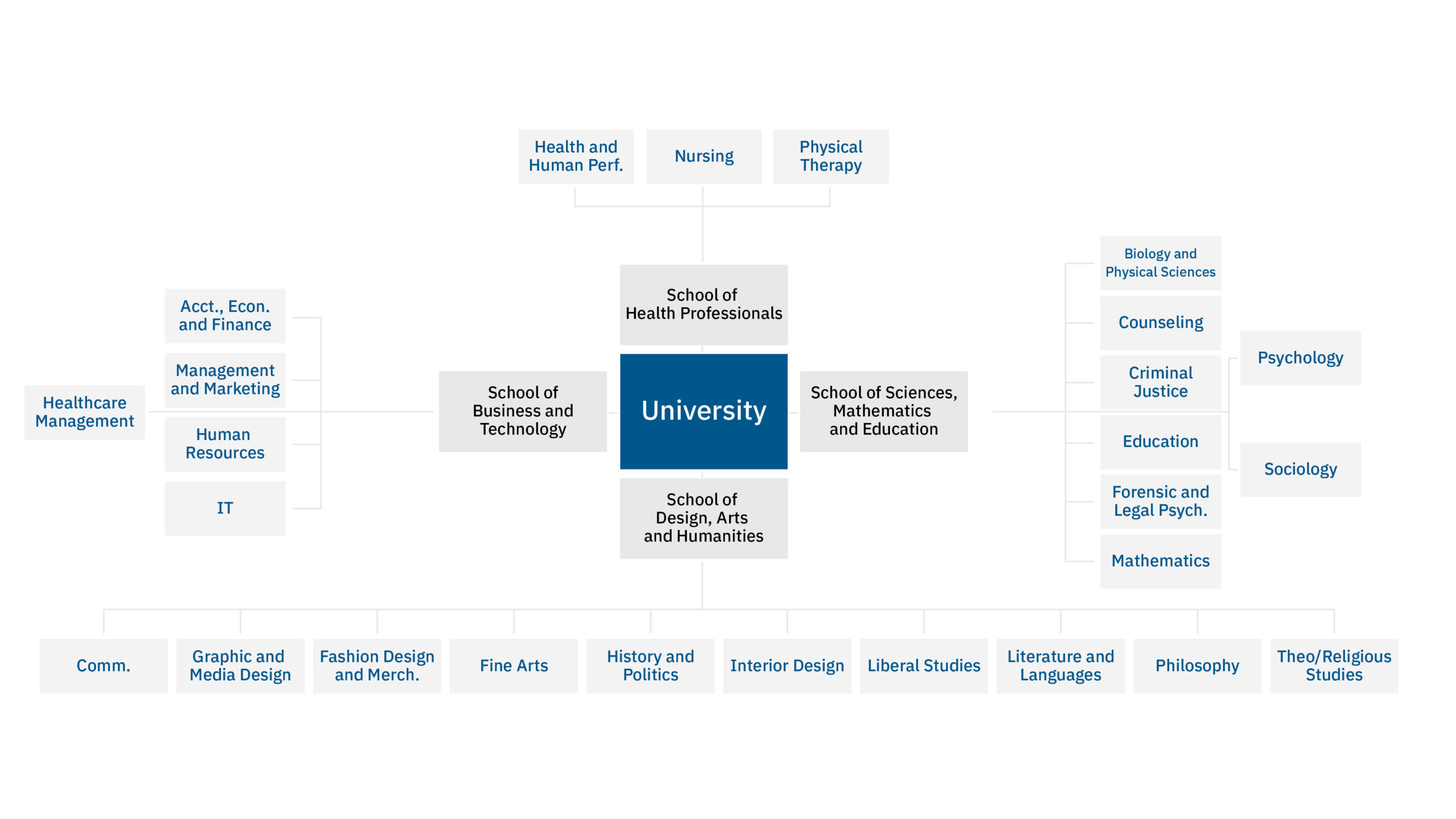 Figure 3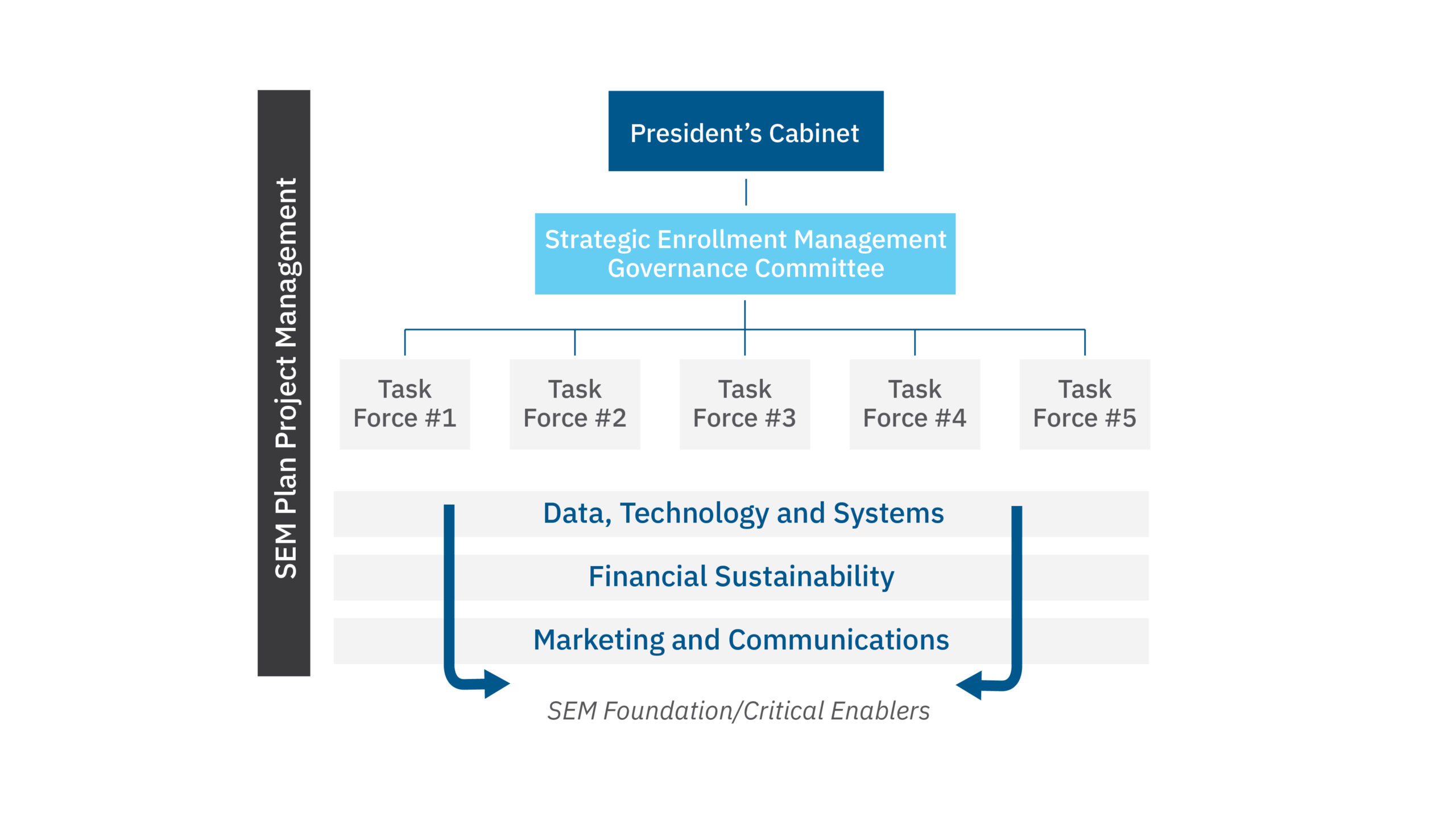 Figure 4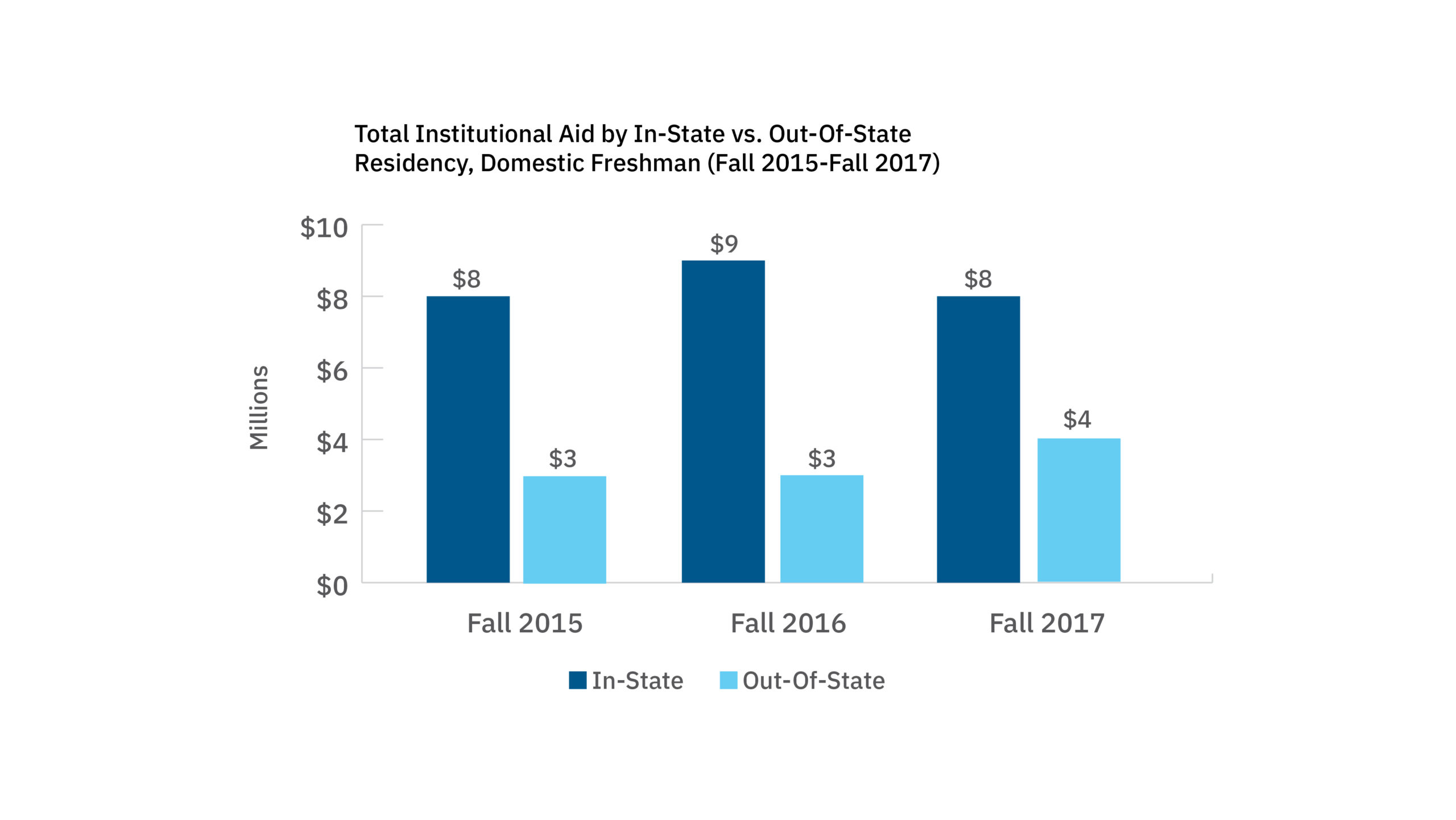 Operational efficiency: Are policies, processes and systems aligned to advance institutional priorities in an efficient way?
While institutions should make every effort to maximize investment in the mission, having efficient and effective operations is important to enabling mission delivery. One aspect of operational planning should be to reduce the complexity of operations and optimize efficient service delivery. Institutions' policies, processes, and systems need to evolve to support the strategy and mission, understand and systematically evaluate key metrics, and manage risk with pertinent regulations Focusing on even one area of operations can help other areas of the institution achieve greater efficiency. Several institutions have successfully started with areas such as supply chain or information technology transformation that can provide a significant, positive financial impact as well as enhanced service critical to faculty, students, and staff.
Organizational effectiveness: Is the organization optimally structured, aligned, and incentivized to meet the institution's goals?
An institution's ability to achieve its mission is largely influenced by the behaviors of its faculty, students, staff and other key stakeholders. Underlying some of the more tangible and measurable areas of high performance are these components of an effective organization: organizing people to maximize the institution's ability to deliver on its mission, aligning individual and unit incentives with institutional strategy, reinforcing desired behaviors across the institution, and effectively making and implementing decisions through clearly delineated processes. Since community behavior is such a key component in achieving an institution's goals, it is critical to follow through on stated promises and sustain the institution's reputation and brand to internal and external stakeholders.
Technology, digital and analytics: Is the institution advancing its technology and analytic capabilities to achieve scale?
Institutions need to establish mechanisms to continuously plan, adopt, and leverage technology advancements to support the rapidly evolving academic and administrative support needs. Doing so will enable the institution to be better equipped to scale administrative and academic programming for a more diverse group of students, faculty, and staff whose needs require varied responses and support. This has become increasingly important given the migration to more physically disaggregated support models, which will continue well beyond the pandemic. As institutions move to new cloud-based platforms, heightened attention to data quality and governance will provide more reliable information and insights for leaders to utilize and keep pace with the growing needs of its stakeholders.
Advancing Affordability and Financial Sustainability Goals
Through evaluating opportunities and challenges within these key elements individually, and then strategizing on the collective and interactive impacts, trustees, and campus leaders can make decisions to make their institutions more affordable without sacrificing the institution's quality or mission. By focusing on what it will take to become a higher performing institution and by tackling transformational change in a coordinated manner, institutions can emerge from this pandemic stronger than before while also better positioning the institution to meet affordability and other strategic objectives.
Trustees and leaders have a responsibility to be assertive in the transition to a post-COVID-19 period to think, plan and act differently. This includes addressing how the institution's culture needs to evolve to promote enterprise-wide stewardship and accountability. A critical component in positioning an institution for lasting transformation is planned evolution from a "departmental" mindset to comprehensive understanding and decision-making for the best interests of key stakeholders. Enacting change at universities often presents challenges, but COVID- 19 is serving as a catalyst for necessary change and innovation, including a more transparent response to concerns about affordability and financial sustainability.
Higher education will face formidable challenges in the coming months and years. With board support, institutional leaders can lead more boldly to reimagine a future operating model that has the agility to meet both the realities of today, and the new ones that will emerge tomorrow. The futures of many universities and their students' success will depend on it.
Laura Yaeger is a managing director, founding member, and Huron's higher education client service leader and has been consulting in higher education and in the healthcare industry for more than 30 years. She specializes in helping large research universities, university systems, and academic medical centers become better-positioned to achieve strategic and financial goals, manage risk and prepare for the future.
Mark Finlan is a managing director at Huron and leader of Huron's higher education strategy and operations service area. He has more than 20 years of experience in consulting, including deep expertise in higher education and the public sector and has partnered with dozens of institutions leading complex, organization-wide programs to align strategy, improve performance, and optimize operations for some of the most well-known universities.
Enrollment Strategy
Case Study
A midsize public university used enhanced data insights and a new collaborative governance structure to lay the foundation for a strategic enrollment management plan to reverse enrollment declines and stabilize tuition.
Challenge
Enrollment Pain Points
Declines in-state and out-of- state first year, transfer and international student cohorts
No single "source of truth" for recruiting and enrollment data
Disagreement among leaders, faculty, and staff regarding a path forward
Goal
Data Clarity & Governance
Improved data stewardship and a clearer understanding of tuition price elasticity laid the foundation for an elimination of institutional siloes, reorganization of the enrollment management function and a collaborative governance approach aligned more closely with schools and colleges.
A solution involved reorganizing the institution's enrollment and financial aid infrastructures to break down organizational siloes and promote collaboration.
Outcome
The SEM framework enabled a rapid "pivot to the future" and sophisticated insight into the disruption. The university was able to adjust tuition to be competitive for out-of-state students and increase financial aid for in-state students.
Academic Portfolio
Case Study
A small private university recently developed a comprehensive academic cost-to-educate model to inform resource allocation decisions, reduce administrative costs, and increase interdisciplinary activity.
Challenge
Operating Expenditure Alignment
Rising overhead costs within the academic affairs unit
Increased faculty workload necessary to support administrative activities
Lack of clarity regarding the cost of delivering the university's curriculum
Goal
Advance Teaching & Research
Establish a comprehensive cost- to-educate model to streamline the academic structure, improve program economics, focus faculty effort, and reduce administrative overhead costs to fund short and long-term strategic planning initiatives related to teaching and research.The university's leaders worked with Huron to develop a comprehensive academic cost-to-educate model to inform resource allocation decisions.
Outcome
Academic Alignment
Introduced a new structure to enhance interdisciplinary activity
Reduced overhead costs by more than 50 percent
Developed a framework to create a relevant, adaptable, and in-demand curriculum