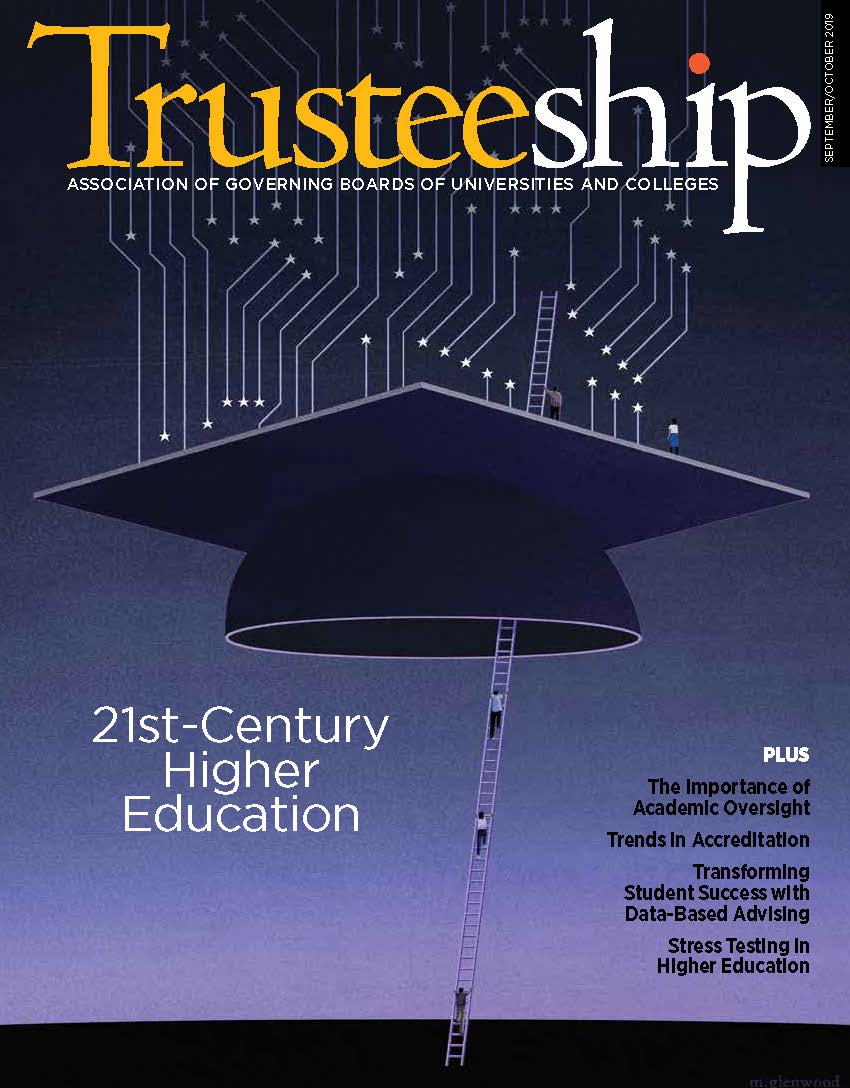 The new academic year is upon us and colleges and universities are in full swing. It's an exciting time for board leaders as well as students and faculty for another fresh start for another year of learning and leadership.
Over the last few months, I've been honored to learn all about the AGB membership experience from you and other members, our senior fellows, the Council of Presidents and Board of Directors, our partners, and many other volunteer leaders. There is no time like the present to continue improving AGB. In an effort to kick off the new academic year, here are areas we will deliver to optimize the AGB member experience.
By the end of 2019, AGB will:
Include more individually focused benefits in your AGB membership. These benefits will include AGB's digital solutions spanning our new trustee orientation and topically focused Governance Notes products.
Provide access to the entire AGB library. We are digitizing all relevant thought leadership content and organizing it by topic, board fundamentals, institution type, board role, and resource type for easy navigation.
Provide annual governance reviews for each board. With nearly a century of experience working with higher education boards, we will review your current practices and share opportunities for improvement or refinement based on leading practices.
Respect your inbox and time. Relevant and timely insights to help you lead with confidence in the boardroom will be the focus of emails you receive from AGB going forward. Please let me know if we do not live up to this commitment.
Keep you informed about public policy and advocacy. AGB will continue to serve you as the "Voice of the Trustee" with federal and state legislators, regulators, and policymakers. Further, our team will augment key programs such as the AGB Guardians Initiative to elevate society's perception of higher education.
Provide in-depth solutions. AGB stands ready to help you dive deep into the issues impacting your institution's practices.  Whether that be board development or consulting on a specific topic or finding top talent for key positions, our Consulting and Search services use seasoned higher education experts to provide members with innovative solutions.
Of course, there is no a magic wand that can accomplish all of these new member-improvement strategies overnight, but rest assured, the AGB team of volunteer leaders and staff will be working diligently to make these improvements in short order and will continue to be committed to these and future improvements continuallyYou, our members, are the lifeblood of AGB, and we are committed to empowering you to govern with knowledge and lead with confidence in your boardrooms. We appreciate your support and partnership to make AGB membership the best it can be. We are proud to be on this incredible journey together.
Share on LinkedIn