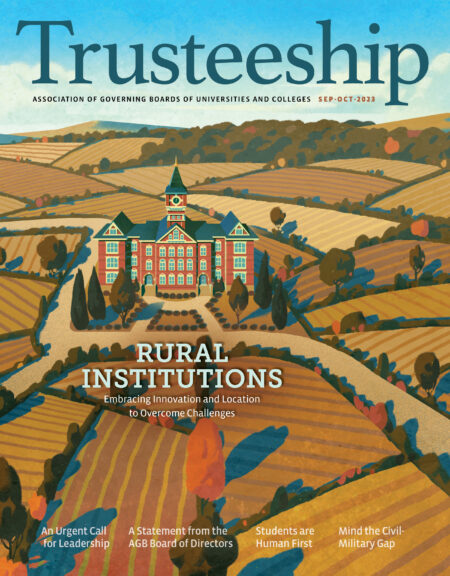 In today's rapidly evolving world, we are faced with the challenge and opportunity of incredible innovation and transformation. This requires a change in how we govern to meet current and future challenges. The impact of factors such as the pandemic, social media, technology, and race relations cannot be underestimated. In the book, Think Again: The Power of Knowing What You Don't Know, Adam Grant reminds us that our desires and aspirations may change over time and fixating our life's path on a single target can lead us in the wrong direction.
When we think about change and innovation, we must strive to make it tangible and meaningful. Higher education, in particular, serves a higher purpose, and it is essential for leaders in this field to commit to connecting to a greater possibility. This is a time that calls for a rethink to effectively address the challenges of today—a time for institutions to revisit and revise their governance models to ensure they are equipped to tackle both present and future obstacles.
The world has experienced significant changes in recent years, driven not only by the COVID-19 pandemic but also by broader societal shifts. The way we conduct everyday activities such as grocery shopping, working, and even going to the doctor has transformed. Moreover, the way we communicate and interact with each other has evolved, largely due to advancements in technology. Given these profound changes, it is important to question why we would expect education to remain the same.
Higher education institutions play a critical role in shaping the future of corporate America and the industries they serve. The demand today is not solely for students to fill classrooms; it extends to the need for thinkers, leaders, and innovators who can find solutions where there are no textbook answers. Technological advancements, such as artificial intelligence, cybersecurity, and machine learning, require institutions to anticipate the demands of the ever-evolving digital landscape.
Society's needs have shifted towards job skills that make students career-ready and capable of adding immediate value to the workforce. While institutions provide students with knowledge, there seems to be a slight gap between what society requires in terms of skills and what colleges currently offer. Therefore, a transformation in higher education is warranted. But it must be purposeful. Institutions must strive to bridge the gap between knowledge and skills through effective governance.
AT&T, for example, has a purpose to connect people to greater possibilities through expertise, simplicity, and inspiration. Creating a purpose gives meaning to our customers. Connectivity is a fundamental requirement for every decision and action made by AT&T. Similarly, in higher education, institutions have the potential to impact not just students and families, but entire communities and countries. To understand success in this context, it is crucial to define and measure student success, and that might be based on enrollment, engagement, graduation rates, employment outcomes, community involvement, or institutional investment. Adopting a data-driven approach allows for course correction and adaptation when failures or shortcomings are identified.
When we make the necessary changes and turn the corner, bold actions become possible. Evaluating what truly needs to be changed based on the needs of society becomes paramount. The value lies not only in knowledge but also in skills. Students with mental flexibility are essential in contributing to industry jobs awaiting them. It is vital to discard views that are no longer relevant or effective and instead embrace fresh perspectives. Leaders should immerse themselves in their institutions, walking the halls alongside students, gaining insight into the current state of affairs. This firsthand experience helps ensure that the defined purpose of the institution remains meaningful, effective, and tangible.
In summary, there are a few key takeaways. First, institutions/leaders should establish a clear purpose. Second, institutions/leaders should build partnerships. Third, institutions/leaders should preserve unique offerings and strengths while enhancing collaboration and cooperation.
In the corporate world, we often discuss supply and demand, stakeholders, shareholders, and the value of products and services. Similarly, institutions of higher education should examine what they produce, what their product or service is, and ultimately what their value is. Students have high expectations from institutions, and in turn, institutions have expectations from students. Businesses also rely on institutions to produce skilled graduates. It is a reciprocal relationship that requires continuous nurturing and alignment.
I encourage higher education leaders to paint a meaningful connection between higher education and purpose, to embrace innovation, transformation, and change, and to govern with a mindset of resetting and rethinking. By doing so, institutions will elevate their value and see their stock rise in the form of increased relevance, impact, and success.
---
Altresha Burchett-Williams is the vice president of compliance oversight for AT&T's Chief Compliance Office.
Share on LinkedIn