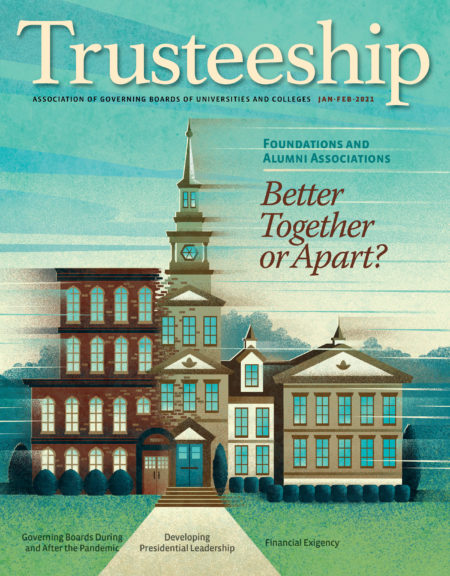 Whether for efficiencies, greater efficacy, or financial survival, alumni associations and foundations are evaluating opportunities varying from sharing operations to fully integrated alumni association- foundation models. Some institutions are taking steps to align the foundation and alumni more closely while some embark on a merger of both entities.
Imagine a true-blue alumnus or alumni: loyal, generous, a booster of both athletics and research, a fixture at reunions, first name friends with the president. Now picture this: On Monday he or she gets a call from the alumni association soliciting for the annual giving fund. On Tuesday someone calls from the foundation, hoping to secure a major gift for a nine-figure capital campaign. On Wednesday, it's the director of athletics trying to keep the football coach from jumping ship. And on Thursday, it's someone from the business school, the wellspring of this alum's success, wanting to talk about a named gift opportunity. No matter how true-blue, this loyal son or daughter can be forgiven for scratching their head and asking, "Don't they talk to each other?"
Higher education was feeling financial pressures long before the COVID-19 pandemic closed campus gates, cutting enrollments and revenues and forcing institutions to adopt remote instruction almost overnight. It's a quandary for small private colleges and multi- campus public universities alike. But at most private schools, there is no line between their alumni offices and fundraising arms. They operate under the same umbrella. It's different in the public sector, where it is not uncommon for a university to have separate 501(c)3 organizations for the alumni association and the foundation, each with its own board of directors or trustees. The separation works well in many places where the alumni association is the central point of contact for the tens of thousands and sometimes hundreds of thousands of alumni who may be spread across the globe. Whether the alums have to pay membership dues to belong or it's come one, come all, they consider the association a living link to their college days and a welcoming host when they visit, not just on football Saturdays but year- round. The foundation, they know, builds and oversees an endowment that is a cornerstone  of their alma mater's financial strength. Even if they are not themselves in a position to  write seven-figure checks, the alums take pride in knowing there is a robust endowment to safeguard the institution's future.
Whether the mission is alumni engagement or fundraising and financial stewardship, both require significant attention and resources, which is why some large institutions—not all—have moved toward integrating their separate not-for-profits or, at a minimum, uniting their administrative operations such as human resources, benefits, and payroll so two people aren't doing the job that one could do.
AGB is agnostic on which model works best, but it has facilitated discussions and provided insights on the experiences of institutions that went down this path or decided not to. Trusteeship shone a spotlight on these questions in the January/February 2020 issue in an article headlined, "Stronger Together: Building Better Relationships Between Foundations and Universities." A panel that took place at the AGB Foundation Leadership Forum in San Diego on January 27, 2020, is still sparking conversations. AGB Senior Fellow George P. Watt, Jr., the panel moderator, observed at the time, "We are seeing more and more campuses go to some type  of (unified) model where they either go all the way and the foundation actually absorbs the alumni association and they merge their boards or they move together to a place somewhere along the continuum of integration." Trusteeship followed up with key players at all three large foundations represented on that panel, Western Michigan University, the University of Iowa, and Oregon State University, for a closer look at the direction each took and why.
The Western Michigan University Foundation 
Western Michigan University (WMU) occupies the middle ground. Back in 2012, at the instigation of its president, it combined some back-end functions of its alumni association and foundation, but otherwise kept them separate and independent. "In the very simplest sense, the president was tired of phoning either the alumni association or advancement to ask about a particular upcoming event only to be told, 'That's not us. You have to call the other guys.' He thought that seemed odd, and if it wasn't convenient and seamless for him, it certainly wasn't for the alumni and donors," said Kristen DeVries, the vice president and executive director of the WMU Foundation.
"We are not fully merged. We still have two distinct boards but we have one staff," she said. "The board's functions do not overlap. The foundation board is the fiduciary, but the philanthropy, marketing, and engagement committees are solely with the alumni association board. But the staff, the space, everything else, is singular." The boards each have about 25 members, who select their own board presidents.
DeVries, who joined Western Michigan in 2019 from Lawrence Tech University in Detroit where she also led fundraising, prefers the twin board arrangement with each having its own distinct purpose. "It makes board meetings much more focused for both groups. It also lets us engage a lot more [volunteers]."
"You get so many efficiencies from HR, budget, and staffing, and much better alignment regarding communications," she said. "The alumni association is no longer giving out completely different messaging than we want for a fundraising purpose. And I don't have two separate teams of event planners. I have one set who can do both donor or alumni events. It makes so much more sense for everybody to be in alignment."
"One of the big challenges but successes in the long run was the differentiation of duties between the boards. Certainly there were members of the alumni association who did not like that the foundation would take over all investment management because they had their own opinion about how investments should be managed," she said.
There were emotional issues to sort through. "They had each gotten very comfortable doing their own thing independently. Now they are independent but they also have to rely on each other to do their (own) job well. The foundation board doesn't get to have an opinion about our marketing and there are people on it who would like to. It goes both ways," she said.
Western Michigan counts 275,000 alumni, many far afield from the Kalamazoo campus. Prior to the reorganization, alumni had to pay dues to belong to the association, and only a fraction did. Now every alumnus belongs and no dues are charged. The endowment stands at $400 million with the university raising $35 million in a typical year. (DeVries said the number of donors has risen during the pandemic although the amount raised is the same.)
DeVries oversees a staff of 42 plus 25 student assistants. The two organizations used to be in separate buildings, but now share the newly renovated, stately Heritage Hall Alumni Center across the street from the football stadium. "Everyone moved in together. It's fantastic," she said.
She echoed what she and others said on the panel in San Diego: "For our institutions, we think we have exactly the right model. It's as much about staying true to who your institution is and the direction you want to go as it is about there being one right model."
The Oregon State University Foundation
Not a long after completing a billion-dollar capital campaign  in 2014—nearly double the original goal—the Oregon State University Foundation set in motion a plan to integrate the Oregon State Alumni Association into the Oregon State University Foundation. Patricia Kenney, longtime vice president for talent management and chief administrative officer, worked with Mike Goodwin, the foundation's president, on the complicated mechanics of making the integration happen, which it did on schedule in July 2017. Apart from the complexities of melding different pension, payroll and other benefit systems, they also had to deal with emotional issues among some on the smaller staff of the alumni association who "felt like they were being taken over (in) a hostile takeover, which wasn't the case at all," said Kenney.
Making sure to follow the legal requirements of merging retirement and health benefits isn't simple, but in some ways it's easier than convincing everyone to get on board. "In change management, with any type of change like this, you've got different elements and aspects. The legal side is one, but how people feel about it emotionally and psychologically, that's a whole other ballgame," Kenney said. "To me that is the area where communication, openness, and transparency are so important. People [need] a chance to understand what's going on and ask their questions. Resistance is very natural."
Even late in the process, some long time alumni association employees would ask, "Do we have to do this?" she recalled. And board members, too, had concerns.
Tiffany Dean, who was the foundation's director of board relations at the time, said one thing that helped was the extensive board engagement throughout the process, culminating in a joint meeting on a topic of interest to both organizations: advocating on behalf of higher education in the wake of the continuing decline in public support and reduced state funding. "That was a great way to bring the boards together," said Dean, now AGB's senior director for institutionally related foundations. Both executive committees continue to meet together on an annual basis.
In the end, the alumni association became a wholly owned subsidiary of the foundation, but maintained separate boards.
Kenney said about 40 percent of the alumni association turned over. The rest joined the foundation staff that was in a growth spurt, planning to add 48 positions over five years to the existing 150. That's been slowed by belt-tightening during the pandemic, but with the nearly two dozen additions from the alumni association still stands at 165.
Both Dean and Kenney believe strongly the game was worth the candle, especially when it comes to ratcheting up alumni engagement, which was the alumni association's forte.
"What the alumni association is doing to interact with alumni now has more strategic focus, and there's more connective tissue between the alumni events and the fundraising events. They don't feel so separate," said Dean. "The alumni association is connecting with all alumni. It becomes easier to track who keeps coming to alumni events but haven't given yet and why not. How do we transition them from attendees to donors? That's where that closer alignment brings you more opportunity."
"The database is in the foundation," she added. "We need to make sure we're getting all the info the alumni association has so we can … send messages that will resonate with alumni (and vice versa)."
"Really what the integration is about is (tapping) unrealized potential for both organizations," said Kenney. Now, everybody  is on the same team and they understand the advantages of close coordination including as they approach the launch of a new, comprehensive campaign.
This time, addition to a fundraising goal, she said, "We will have a goal for increasing alumni engagement and the meaningfulness of that engagement will become a goal in the campaign. That's new." They plan much more use of digital strategies and social media. "The ability to have this connection between what goes on in the fundraising side and what goes on in the engagement of people who may become future donors is really important. You  want to be able  to see it from all angles. Being integrated makes that all possible."
"Efficiency is a piece of it, but integration really gives you this ability to leverage your talent and achieve a lot more," said Kenney.
But "it isn't the only way to work," said Dean. "Regardless of whether you officially integrate, there are really great opportunities to work together and collaborate and engage with donors and alumni in a more strategic way. You only win when you work together."
The University of Iowa Center for Advancement
In 2017, the State University of Iowa Foundation absorbed the alumni association and rebranded itself the University of Iowa Center for Advancement (although legally it is still the State University of Iowa Foundation). The genesis of the change came from University of Iowa President Bruce Harreld, who said the purpose was to generate "more meaningful alumni engagement and increased philanthropic support."
The move had the strong support of Kathleen Dore, who was then chair of the foundation and now vice chair of the center's board. When Harreld took the helm of Iowa's flagship university, "he saw the whole external relations, communications, and alumni relations functions somewhat disparate and not as well coordinated as they could be," said Dore. She and Lynette Marshall, longtime president and CEO of the foundation and now the center, took on the task of making it happen.
"The goal was to do it in a way that the surviving organization would be efficient and effective, but also do it in a way that left all of the constituents feeling good about it, which is quite hard," said Dore, a Phi Beta Kappa alumna and broadcast industry leader who early in her career did a stint as the associate director of the alumni association.
One of the most important steps they took was to arrange listening sessions for university community members and alumni volunteers to speak their mind, said Erin Thomas Lewis, university vice president of alumni and donor engagement, "This was not about the foundation taking over the alumni association. This was building a new advancement organization … that was not just going to focus on fundraising 100 percent of the time.
We really wanted to be clear that we were changing our mission to incorporate (both) engagement and philanthropy," she said.
The foundation and its successor tend a $1.6 billion endowment and customarily raise upwards of $200 million to $250 million a year.
The two boards formed a merger committee composed of three officers from each and over six weeks hammered out a formal contract for the merger.
"As is normal in these kinds of circumstances, there was a sense that the foundation was the surviving entity" so it was important that alumni association board members were actively involved in designing a successful blueprint for a truly merged organization, Dore said.
"The structure we ended up with expanded our board by three seats, from 30 to 33, and we invited 3 AA board members to join the board of the consolidated entity," Dore said. "Then we formed an Alumni Leadership Council which was not a governing body" but would advise the new board on alumni engagement. All the remaining members of the alumni board were invited to serve on the council along with university constituencies. "The vast majority did," said Lewis.
The two organization already shared a database and were housed in the same building. One thing that changed was that the alumni membership program ended, as membership had been in decline for years.
The idea was "that if an alum wants to support the institution, let's have their dollars support not an alumni association structure and membership model, but rather support their area of passion within the university through philanthropy," said Lewis. "And the new organization would solicit not just alumni but "friends, arts patrons, athletic fans and people who love our children's hospital. They may not have graduated, but they love the institution."
Harreld also wanted the new entity "to create an advancement culture across campus… and work better with the external relations people in colleges and the strategic communications office," Lewis said. "Now there's an extraordinary amount of content sharing that didn't exist before."
Dore, who grew up in Iowa City, said serving on the board has heightened her concern about public higher education's "survival and ability to flourish." She's been impressed by the center's use of data analytics to see how best to engage alumni of various ages and "encourage and ensure loyalty, commitment and involvement with the institution."
Already, working with in-house data scientists, it's come up with an alumni engagement score using metrics that aren't just about their ability to make donations, she said. "Are they reading the emails or digital articles we send? Are they active on social media? Are they attending events? Those kinds of things are independent of fundraising activities."
They've increased the reach of the alumni magazine, both in print and digital, into the hundreds of thousands. It had been going only to association members.
"Every university, every culture is different … It's (not) a cookie-cutter approach for anyone," said Lewis. "The merger is working well for us, and our approach was unique to our culture and institution; other institutions may warrant a different approach depending on their circumstances. I believe all universities would benefit from greater collaboration between development and alumni offices regardless of specific structures."
Nonetheless, they keep getting calls from colleagues across the country curious to learn about the new center in Iowa City.
Dore, the veteran broadcast executive, said, "There's a tendency on the part of higher education to do things gradually, but I think what we ended up with is optimal. At the end of the day you save time and money and you're a more effective organization." That's more important than ever especially for resource-challenged public universities that are looking to private philanthropy for badly needed dollars, she added.
Christopher Connell, a longtime education writer, authored AGB's Top Strategic Issues for Boards 2020–2021.
Takeaways
Institutionally related foundations are increasingly considering the benefits and drawbacks of foundations absorbing alumni associations. For some institutions, merging their boards leads to more streamlined communications with alumni and enriches their alumni engagement.
In 2012, Western Michigan University decided to keep their foundation and alumni association boards separate but share a singular staff. This twin board arrangement more effectively aligned the university's HR, budget, staffing needs, and communications plans while still allowing each board to pursue their distinct purposes.
In 2014, Oregon State University's (OSU) alumni association became a wholly owned subsidiary of the Oregon State University. Navigating the legal requirements merging and dealing with internal politics was no small feat. Yet, the payoff was worth it for OSU because the newly merged organizations now tap into unrealized potential and conduct more strategically focused alumni engagement initiatives.
In 2017, the State University of Iowa's foundation merged with the alumni association to form the University of Iowa Center for Advancement. This restructure included listening sessions, expanding the board by three seats, and creating an Alumni Leadership Council to advise on alumni engagement. In time, the center achieved its goals of deeper engagement and increased philanthropic support and ultimately opened membership to all alumni by ending their dues requirements.