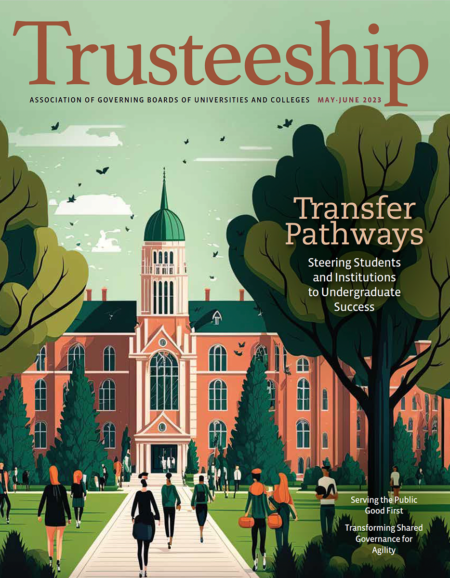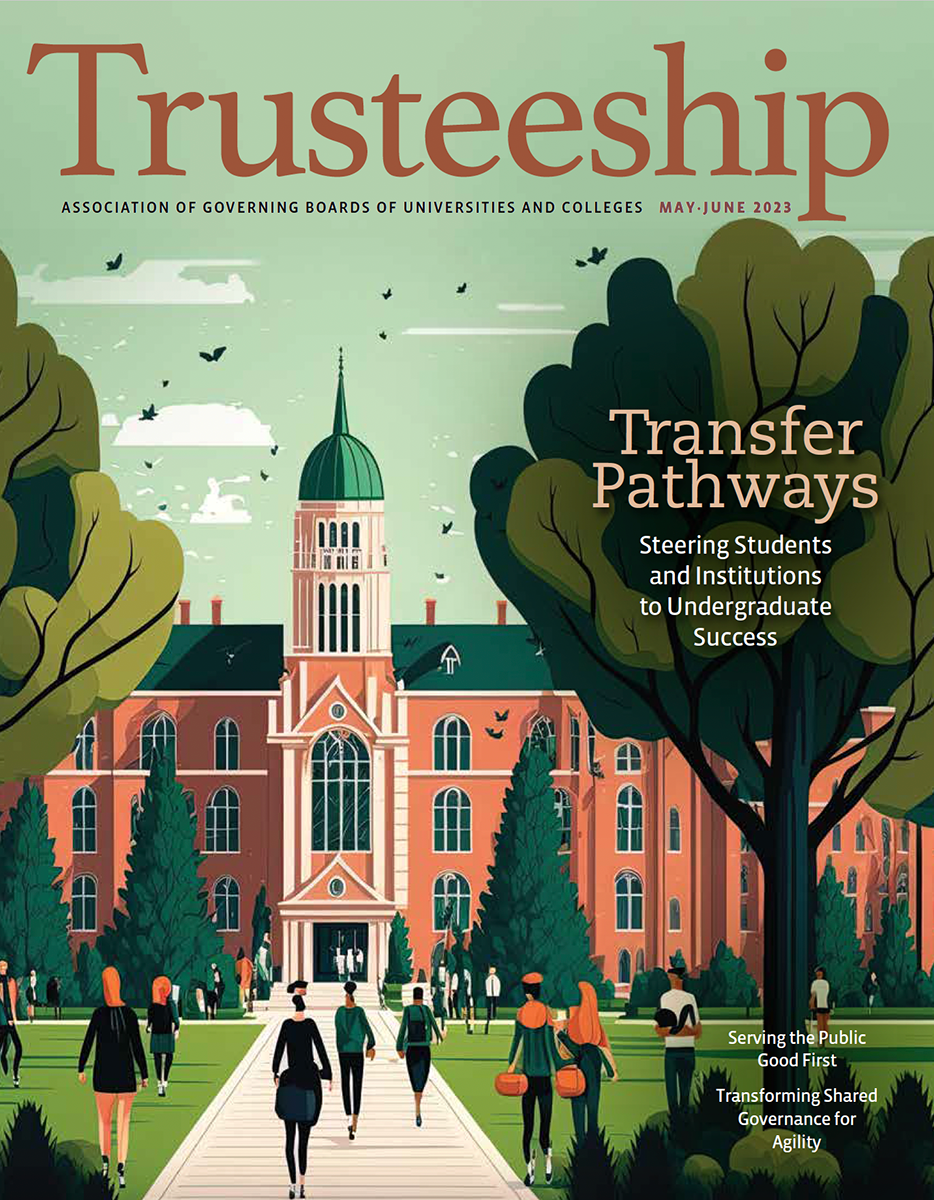 Good governance and effective university fundraising derive from the trusteeship, philanthropy, business acumen, and vision of individual volunteer university board leaders. A plenary session during AGB's Foundation Leadership Forum featured a robust conversation about how to develop an effective foundation board of trustees, focusing on board leadership, philanthropy, and the need to support higher education as a national asset.
Moderator Tyson Voelkel, president of the Texas A&M Foundation; Gina Luna, chair-elect of the Texas A&M Foundation; and Ray Rothrock, former Texas A&M Foundation trustee and member of the boards of directors of the University of Texas/Texas A&M Investment Management Company (UTIMCO) and the Massachusetts Institute of Technology Board, opened the session with a discussion on how foundation board members advance the mission of higher education in this complex time, and what it means to be a good board member.
The Role of Board Members
The role of university foundation board members is fundamentally to help and support the institution by bringing the "right attitude" to board meetings and "coming prepared and being present, constructive, and collaborative." A board's role is to "ask good questions, bring perspective and wisdom and thought, and help think through the implications of certain issues." Luna stressed that board decision-making must consist of constructive debate and agreement on how to move forward, followed by collective ownership of the decisions made. "We're here to support the team, to be a resource, to remove obstacles, and to help with the hard conversations" to move the organization forward.
Dissension among board members can hinder decision-making, so it is important (particularly for board chairs) to "disagree without being disagreeable" by listening to other people's views, owning the decision made "as if it were the decision of every one of us," building a trusting relationship with the president and other board members, and providing the "air cover and ground cover" to help university leaders feel confident in the direction that the board is giving.
Building trust is critical, Luna said. "People need to be able to trust [the board chair] and to know that they can tell you how they feel, what they believe, and what they're worried about, and that you will use that information only in the way that is the most helpful." The role of the board chair is to facilitate constructive dialogue and to ensure that everybody gets heard in order to arrive at the right ultimate decision. "It just takes a lot of patience, and a lot of time, and a good relationship, and maybe a little good humor."
Engineering and Managing the Board
Polarization among members of the board can often lead to misinterpretations and a "broken board," which is "the quickest way to kill a company or organization." Rothrock stressed the need for solidarity among board members on "one voice, one decision." Failure to do so can drive wedges between the board and institution, "and that's where the polarization really hurts."
A good board is constructed and engineered for the goals in mind. The best leader, Rothrock said, is one who constantly focuses on the mission of the institution and regularly outlines key objectives. As companies or institutions expand and boards and the needs of the marketplace evolve, "you change board members out and people need to be willing to do that. So it's a dynamic process and requires a level of maturity and the ability to park egos and move on…. It's an engineered thing."
Developing Vision and Culture
The best attributes of board chairs include the ability to listen carefully and think before they talk, and the creativity to develop a vision for the institution and to articulate it well. In fact, Rothrock emphasized that "if you don't have a vision, you won't have a culture. And if you don't have a culture, you really don't have much because culture beats strategy every day of the week. And culture comes from a vision and from the leadership."
A solid vision and deep understanding of the mission of the institution is also crucial in dealing with the "crises de jour." Board members need to consider the impact and opportunities before responding to any crisis and to view issues through the filter of the mission and purpose of the institution. "We need to use our collective wisdom to think about the example we're setting, how we are behaving, and what message that sends," added Luna. Indeed, panelists agreed that every crisis does not deserve or merit an immediate response and, if one is called for, a board's wisdom can be leveraged to articulate that response.
What matters is honesty, accountability, and above all, solid values to guide an institution through a crisis.
Seeking Donors and Big Ideas
Without both a solid vision and a set of core values, it can be difficult to achieve alignment and buy-in on a board decision. Staying the course becomes a struggle when the board allows "scope creep" in which people want to move in directions that stray from the institution's mission, vision, and values. That doesn't mean, however, that boards shouldn't welcome new ideas. No one should have a monopoly on education or a monopoly on ideas, said Rothrock. Donors often present ideas to boards and although writing a check doesn't mean they have the best ideas, "you have to have people of all sizes, shapes, diversity, and everything to get those ideas rolling." Money is essential—it changes people's lives. "We have a young Aggie who came to A&M versus going to UT because A&M gave him a $500 scholarship. It's just a simple decision like that." Providing "seed corn" to students might teach them the value of philanthropy and "maybe they'll give back. That's like the greatest pay it forward story ever," he said.
Donors who have billions of dollars available to give want to donate to "a place where it's going to make a difference, it will have impact, it will solve—or at least make progress towards—big problems," Luna said. She suggested that boards need to look for and listen to big ideas and seek to attract "the people who have the incredible mind space [to determine how to] attack those problems and align them with those donors and then drive execution and accountability. It's really about alignment and matching up and making sure we as higher educational institutions are focusing on the right opportunities." She steers potential donors away from donating funds for a particular project. "When you give money to a university or a school of higher education, you should trust them. You should trust their values, you should trust their leadership. Give them the money. They'll do what's right with it. I discourage people from being too specific with their money because sometimes money just sits there because nobody's working on that particular project and that's not good."
Recruiting the right board members should be a very thoughtful process, Luna said. "It's not about picking your friends or your biggest donors, but who really has something to contribute and the right mindset to contribute it."
Managing Conflict
With the right people aboard, effective chairs employ strategies to create dynamic dialogue during board meetings, and to ensure that potential conflicts do not derail discussions. They set the tone for civil discourse during the meeting, encourage a culture for compromise, and above all ensure board members have a basic knowledge of the topics to be discussed. One tactic that Rothrock uses to educate the board and promote compromise is to ask a board member with a specific view to take the opposite position and argue the other side of the issue. "That's actually a pretty effective tactic. It will either shut them down if they're a troublemaker or they'll engage and when they engage, that's what you want."
Board members don't have to agree 100 percent of the time with one another and, indeed, there can be many dissenting voices on particular issues. "But once you make the decision, you walk out together with one voice. Encouraging that culture on the board is a palpable and very real way to move the organization forward so the best ideas come forward," said Voelkel.
Providing Stability and Continuity
High turnover in leadership roles at an institution, as well as political intrusion into institutional governing boardrooms and system boards, can also lead to dysfunction or instability at the institution. Panelists noted that university foundation boards are often well-positioned to "provide a sense of stability and to [help institutions] aspire to dynamic impact." Foundations also can help institutions navigate the two different roles of boards: providing stability, continuity, and a focus on long-term goals, versus the need for immediate action and being an active driver of ideas. "The Texas A&M Foundation is an independent organization serving a "gigantic institution that has an insatiable appetite for more of everything that we do. The continuity these foundations provide is critical to the future of higher education," Rothrock added. "A foundation is supposed to live forever, he concluded, "Its investment profile is supposed to live forever, not just for the current term. So you had better remind everybody why you're in the room and what your mission is."
---
Laura Wilcox is a communications executive experienced in media relations, project and event management, marketing, strategic communications, and publications. Laura@wilcoxm3.com