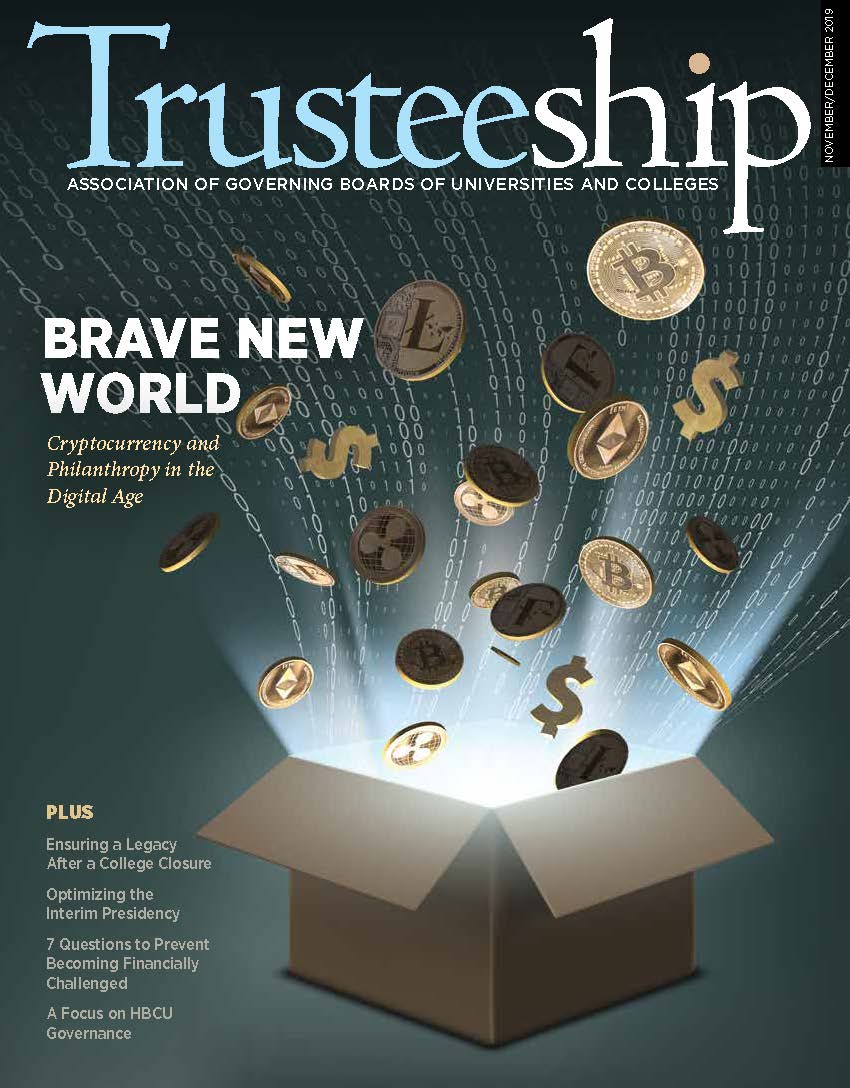 As you prepare for your fall board meetings focused on advancing your students' success and your institutions' vitality, I urge you to reflect on your boards' roles of accountability. This preparation requires discussion not only to identify and prioritize agenda topics but also to remember that the board of trustees is accountable for everything that happens or fails to happen within your institution [or foundation]. As a trustee, you have an enormous role to fill as a leader on a governing board, which is both an honor and a privilege. Both the value of the student's educational experience and the very fate of the institution are in your hands.
But what is good leadership? Good leadership has many components, but one critical piece of the puzzle is an understanding of accountability.
Boards of trustees are accountable for the institution's mission, ensuring academic quality and financial health, and reviewing and ensuring the continuing effectiveness of all major policies and programs. When I talk with members, I emphasize the leadership principle that while accountability cannot be delegated, responsibility—management of the institution [or foundation]—can be delegated.
AGB is taking the idea that good leadership starts with accountability to the forefront of our work. To reinforce this perspective more broadly, I will be meeting with governors, public and private boards, and state legislatures. In addition, AGB is initiating a groundbreaking project, Principles of Trusteeship, to document the core principles that define the responsibilities of trustees.
Good leadership takes accountability to protect the integrity of the mission of higher education as well. Your leadership in the boardroom is critical not only to driving student success and institutional vitality, but also to overcoming societal skepticism toward higher education. As AGB has researched and documented over nearly 100 years, it is critical for trustees to leverage shared governance to listen, learn, and engage with internal and external stakeholders such as presidents, senior staff, faculty, students, alumni, and community partners. Further, and as evidenced in AGB's 2018 Trustee Index, trustees should be active in advocacy efforts for higher education and dedicate substantial time to deepen their knowledge of current and emerging issues that are either impacting or may confront their institution. This level of commitment is essential in order to serve as a strategic asset for your institution.
Understanding issues that face higher education institutions broadly is yet another critical aspect of good leadership through accountability. Governing boards are accountable for ensuring the overall success of their institutions in which both the institution and its students are thriving. AGB is paying attention to issues impacting higher education institutions because we want to lead by example and show that we take accountability seriously. As you may know, the Department of Education's National Advisory Committee on Institutional Quality and Integrity (NACIQI) has formed an ad hoc sub-committee to discuss whether standards for board governance should remain part of accreditation reviews. In late September, I submitted a letter on behalf of AGB acknowledging that accreditors have high standards for board governance related to fiduciary responsibilities and encouraging the sub-committee to maintain these standards. AGB aims to be the watchdog for our members to ensure that governing boards are not just a part of the conversation in higher education, but that we also have a defining voice in the higher education landscape. This is an example of how as an organization, we are taking the philosophy of leadership with accountability as one of our virtues to a higher level.
AGB is committed to empowering you to lead with confidence and knowledge in the boardroom—and with accountability in mind as a critical leadership principle, together, we can ensure the vitality of our institutions and ultimately, better prepare students to be better citizens and contributors to society.
Share on LinkedIn