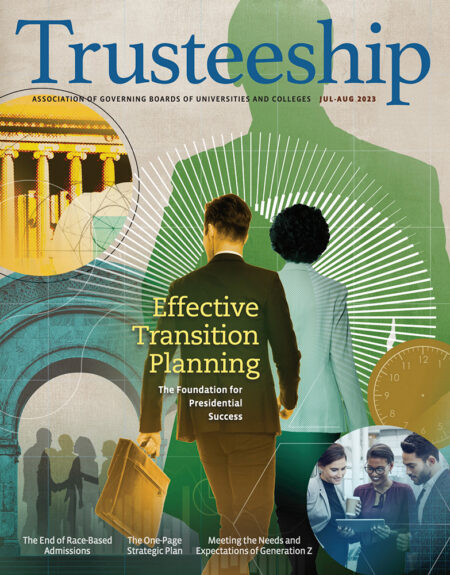 Colleges and universities are deliberative bodies whose operations are often described as cumbersome, sluggish, and comparatively inefficient. They are typically organized by "function" into semi-autonomous offices and divisions. Over time, each unit is likely to have adopted systems and procedures that are unique and suited to its particular function, but are not well coordinated with the functions served by other offices. As a result, they come to be regarded as "bureaucratic silos" seemingly incapable of making timely connections with one another. Too often, students are left frustrated and discouraged over delays and inconsistencies in getting their questions answered and their entwined needs met by their college or university.
This is especially true for today's students who enter college accustomed to efficient and streamlined online service and who have undergone a barrage of traumatic events, including a horrific pandemic and its harm to their psychosocial temperament. Even before the pandemic, there has been a growing gap between the culture and forms of communication familiar to Generation Z students, born between the mid-1990s and the mid-2010s, and the modus operandi of many colleges and universities. The aggregate negative effect of campus operations on student success and learning must not be underestimated.
We have all acculturated to the speed and efficiency of the internet for responsiveness whether we seek information or entertainment or wish to order goods or services. An inquiry on a search engine yields an immediate response, often with a menu to choose from. Purchasing is done in one transaction on a computer with the provider handling ordering, billing, and shipment in automated electronic coordination which allows the purchaser to know the status of their purchase at any time. Even seemingly unrelated business transactions are automated to enhance end-user experience; for example, getting discounts on buying gas based on purchases at a supermarket chain.
Gen Zers have grown up with these types of experiences and have come to expect commercial levels of integration, speed, and satisfaction in their transactions. Some can become easily frustrated and intolerant of services that are cumbersome, time-consuming, and in the end, not particularly helpful. Even before they arrive on campus, some learn to ignore messages from the institution that are not personally directed or quickly perceived to be pertinent. At one university, it turned out that as many as 130 messages were sent to incoming first-year students from different offices without any idea what other offices were sending. Too often this is a harbinger of what is to come during the student's campus career.
The quality of the user experience has emerged as an organizational priority in virtually all fields of business. The service provider's goal is to ensure that their service is coordinated, reliable, and prompt and to make the experience of the end-user rewarding and memorable. This applies not only to digital interactions, but also to the quality of human interactions with the end-user. In the digital present, it is both the ease of transactions and timely use of meaningful human interactions with the end-user that can differentiate and separate service providers.
Service Delivery in Colleges and Universities
Over the next decade, colleges and universities will be competing with each other over a shrinking number of traditional-age college students and the growing number of alternative paths to careers. Presidents and their boards must wrestle with redesigning services to be better matched to student needs and expectations, as well as cost-effective.
Currently, student administrative and support services are typically segmented into four broad clusters: 1) student learning, academic achievement, enrollment, and career planning; 2) social, spiritual, athletic, and behavioral dynamics; 3) health, nutrition, and mental health care; and 4) business, technology, facilities, security, and finance. Within each of these four clusters, there is an array of many more specialized offices with their own particular mission, identity, and, too often, student records. Yet, from the student's point of view, the student's needs are inextricably linked and so should be the available support systems. Conflicts in the residence hall, difficulty meeting tuition payments, problems registering, or bouts of depression all can influence their performance in the classroom and vice versa. From the student's vantage, the college experience is the sum of all encounters, but for professionals, the student experience is divided up based on their area of expertise and defined categorical responsibility.
I remember a meeting I had with a corporate IT vice president of a large international service firm to discuss some of the problems my university was facing in aligning student services and to seek advice about technology tools to resolve them.
I gave examples of administrative runarounds with which I was familiar. One example was the student who needed an accommodation to assist with his coursework, but failed to have the required form completed by his physician. The student began to do poorly in his classes. Despite his situation, no accommodation or early warning of academic performance was provided or even suggested by any of the faculty teaching the student's five classes. In consultation with his academic advisor, the student decided to drop out of school for the term and start over the next term with the accommodation letter and the needed assistance.
The advisor filed the withdrawal form in time for a 50 percent return of tuition, and the student stopped going to classes. Nearly a month later, the student's mother called about not receiving the refund and was told that the student was still registered and owed the full amount of tuition. Apparently, the electronic form prepared by the advisor had been "lost." The advisor indicated that neither he nor the registrar had the authority to alter the unfolding scenario. The student's mother expended considerable effort climbing the administrative ladder and finally negotiated a resolution, only to learn later that the time lost had delayed her son's access to early registration. Moreover, two of his required courses that accommodated
his health needs and fit his schedule were closed.
I also told the story of the student who had secured a private loan to pay their tuition bill, which was not received or recorded by the Bursar's Office. The Bursar's Office consequently marked the bill as unpaid and issued a late fee. In visiting the Bursar's Office, the student was told that for internal verification of the loan, they would need to speak with the Office of Financial Aid which handles such matters. Upon checking with Financial Aid, the student learned that that office did not have documentation from the private loan institution, nor could they receive it directly. The student was told to speak with the IT Office about how to send the evidence of the loan to the Bursar. The student met with the IT staff and was told that there was nothing they could do and to go back to the Bursar's Office. Understandably, the student felt they were being given the runaround.
In my meeting with the corporate IT officer, I also touched on other university policies and practices that seemed convoluted or contradictory, and which could interfere with the learning experience. After patiently listening, he said, "Scott, you do not have a technology problem, you have a management problem." He went on to say, "Most important is for you to think through your processes, your student pathways, your policies, and lines of authority and communication. We have many technology products, but first comes the hard work of rethinking your administrative design."
This was a profound insight and one consistent with the literature about the end-user experience. The key to transforming the end-user experience rests on the development of an integrated service design, designated pathways for the flow of actionable data, and the timeliness of the informed human interface. Once this very difficult but essential redesign is planned, tested, and eventually configured, the necessary technology to facilitate these objectives can be identified. The former tasks are difficult to do, particularly in a setting that has long enshrined its practices and procedures and is set in its ways. Yet, redesign comes first and the software follows. Such reconceptualization of the aforementioned college and university siloed services remains to be done within our academic settings. Hence, the role of those outside the higher education industry, including trustees who are familiar with newer patterns
of organizational operations, has much to offer.
How Did it Get This Way?
Historically, America's colleges initially were highly autocratic institutions run by a powerful president with nearly unilateral authority. Not until the late 19th and early 20th centuries did "modern" management practices emerge in colleges and universities. By 1920, the organizational structure of colleges and universities had transitioned to the structure we know today.
The organizational ideas of a German scholar, Max Weber, were pivotal in shaping the structure of colleges and universities which persists today. Upon visiting the United States in 1904, Weber proposed a bureaucratic structure composed of units of trained individuals with specialized expertise in the task at hand. He argued that such a structure would render efficient direct services or actions that were "factual, unambiguous, and rational." Weber's proposed hierarchical structure with semi-independent specialized units would report up through a chain of command to an overarching executive. New branch organizations, divisions, or units could be added as needed. This lattice structure came to resemble an evergreen tree, with many branches on the bottom narrowing on their way up to the pinnacle administrator, as represented on organizational charts.
Many pressures pushed colleges and universities in this direction. These included faculty seeking greater autonomy and control, an expanding range of services offered to students or required by regulation, and the adoption of similar organizational structures in modern corporations. This evolving decentralized and expertise-driven culture helped support the remarkable growth and expansion of American colleges and universities throughout the 20th Century.
Perhaps Weber did not anticipate a different time when individuals in his idealized bureaucratic model might become overly protective of their specialization, too controlling of their flow of information, resistant to cross-unit convergence, and more focused on the volume and professionalism of their services—while unaware of the overall end-user experience. Yet, times have changed, students have changed, and colleges and universities need to evolve once again.
Opportunities and Challenges for Trustees
Here, we have an opportunity for college and university trustees, many of whom are affiliated with businesses and industries that are increasingly focused on improving the end-user experience. Trustees from sectors other than higher education are a promising source of expertise on the remarkable transformation occurring in the marketplace and how it might be applied in an academic setting. Trustees can provide invaluable insight and relevant experience to help the institution overcome existing roadblocks, customs, and unit territoriality to become more student-centered and responsive to the holistic expectations and needs of a changing student population.
Trustees can help illuminate emerging models of services outside the sphere of higher education. Board members who are or who have access to corporate leaders who are immersed in improving service experiences can be a vital resource. Bringing examples of these concepts and models forward to the president and cabinet—and eventually, the campus community—can be of immense value in developing support for the initiative and in setting objectives, timetables, and accountability.
Some examples of strategies as well as outcomes include:
integrated data and communication processes aligned to facilitate the flow of timely and actionable information;
identification of individuals with overall accountability for the aggregate student experience;
documentation of existing service pathways and identification of ways for better service alignment;
development of more horizontal organizational structures to achieve more integrated and holistic support;
measures of success and use of key performance indicators;
examples of effective case management to simplify point-of-access for students;
training modules that inculcate the importance of end-user experience to every employee;
approaches that cultivate a rewarding work environment for front-line personnel;
strategies to encourage staff problem-solving skills that extend beyond their specialized function or unit.
Accountability for assuring that the university's systems and resources are realigned to better support student success is, of course, the responsibility of senior leadership. Faculty, staff, and administrators need to be trained to know how to connect and coordinate with the array of university resources to provide students with meaningful advice and timely help when needed.
One model that is appearing in business and industry is the "chief experience officer" (CXO) directly reporting to the president. The CXO is responsible for ensuring institutional priorities such as "students first" are fulfilled throughout the organization. While slow to be adopted in higher education, a handful of campuses have pioneered the concept, which seeks to cultivate a more seamless and holistic student experience. To what extent might this approach work within a trustee's college or university?
Many within the academic community are resistant to the appearance of "administrative bloat" and fear the increasing "corporatization" of the academy. The university or college is a unique community proud of its heritage and distinctiveness. Therefore, trustees must be sensitive to how to approach conversations about service delivery, the current needs of students, and how best to meet them. With appropriate introductions, faculty and administrators can be intrigued by how other institutions have enhanced their interactions with end-users in a manner that strengthens and reinforces their primary purpose. Hopefully, they will be interested in applying similar tactics to reinforce their own primary purpose: student learning and personal growth.
With sensitivity to the culture of the academic community, including the value placed on shared governance, new initiatives focused on student success and well-being can take hold. Trustees who serve as guides to more holistic service models well-honed outside of higher education can encourage the administration to assess where internal service problems are most dire. Once a more comprehensive process of change management appropriate to the particular campus is underway, trustees can continue to provide advice to the campus leadership as necessary changes are implemented.
Trustees familiar with the difficulty of re-engineering an organization to put the end-user first will recognize the time and cost, but also the importance of doing so. The energy and resources expended are a long-term investment in modernizing the institution that will pay dividends in enrollment, retention, and graduation rates. Equally important is the graduation of students who, having had a positive experience at a college they feel truly valued them, will bring a lifetime of sustained allegiance and commitment back to the campus.
The current digital generation, which has encountered a barrage of seemingly unending, stressful traumatic events, often finds itself facing an array of fragmented service functions within the academy. With the full commitment of the campus community, supported and encouraged by the board of trustees, redesigned administrative structures and processes better aligned with student needs and expectations, and with better outcomes, can take hold.
---
Scott A. Bass, Ph.D., is a professor of public administration and policy at the School of Public Affairs, American University. Bass is the executive director of the Center for University Excellence and served as provost of the university from 2008-2018. He is the author of Administratively Adrift: Overcoming Institutional Barriers for College Student Success (Cambridge University Press, 2022). He received assistance for this article from Thomas A. Gottschalk, a former trustee of American University and Earlham College. Earilier, Gottschalk was a partner with Kirkland & Ellis LLP and executive vice president of General Motors Corporation.
Share on LinkedIn