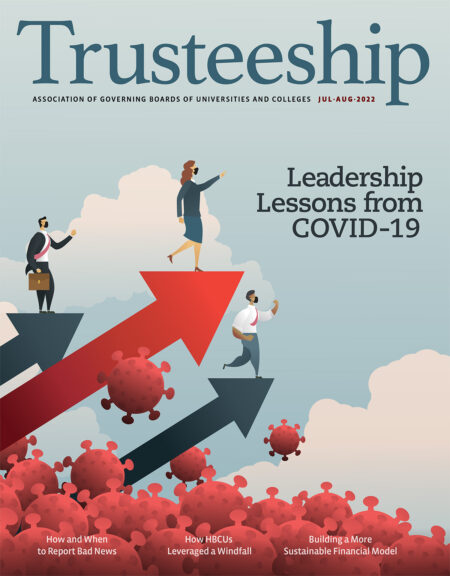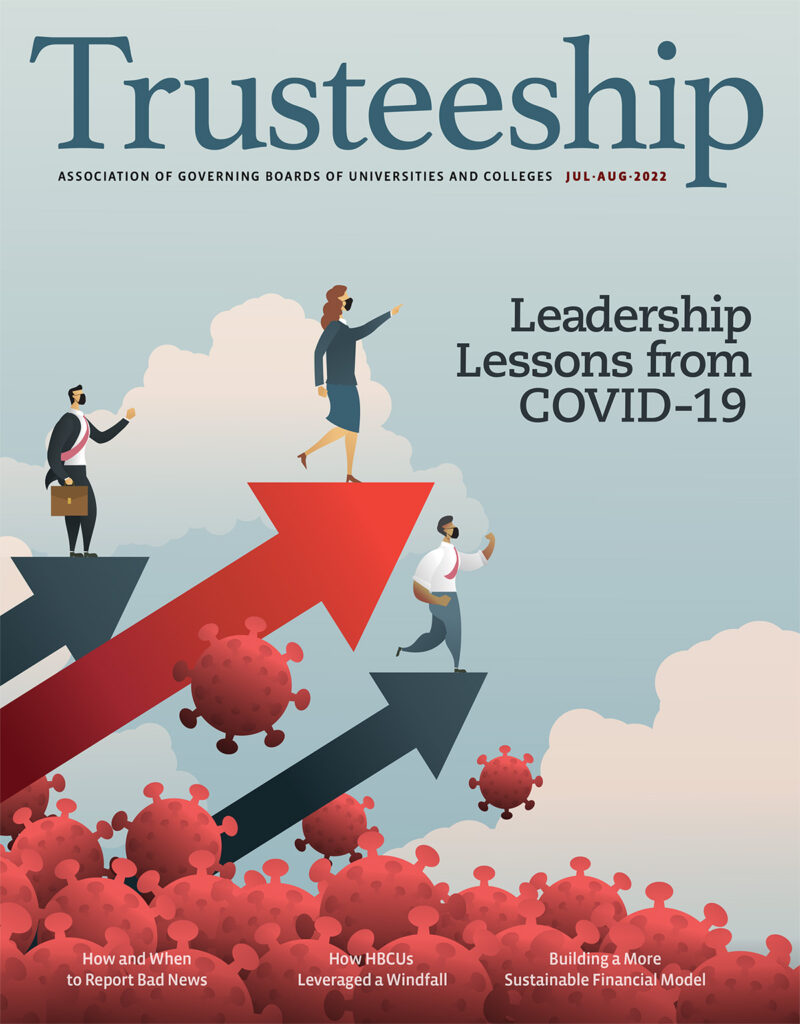 Midsummer may represent the halfway point between vacations and academic years, but for many in higher education, this period is hardly a chance to rest. Rather, it affords both members of the campus community and the board time to reset, plan, and prepare; for newly hired presidents to walk their campuses and begin meeting with available faculty, staff, and students; for faculty to rethink their existing courses, perhaps develop new ones, and engage in research; and for new board members to prepare for the coming academic year.
In other words, summer is a perfect opportunity for board members to strengthen their capacity to be both consequential and strategic.
Thousands of AGB members have taken advantage of AGB's New Board Member Orientation course (AGB.org/Orientation) to augment their institution- and foundation-specific onboarding programs provided to new board members. This orientation is an early important step in enabling trustees to serve as strategic thought partners for their chief executives and leadership teams. At the same time, the array of pressing issues that boards must address further requires trustees, in collaboration with their board chair, committee chairs, and chief executives, to embark on an educational journey to understand both governance and the significant internal and external challenges and opportunities facing their institution.
Being a consequential board member in higher education is quite different from serving on the board of a corporate or other not-for-profit entity. For the vast majority of trustees who come from outside higher education, the starting point for each should be an understanding of both the fundamentals of strategic board governance and also the board's oversight role. Board members do need to take the time to understand the macro strategic forces and the important values of, for example, shared governance and academic freedom. At the same time, as with other organizations, board members need to be able to provide oversight for the institution's finances and facilities and consider whether the institution is advancing its mission. Higher education trustees also need to concern themselves with student success and for the quality of the academic experience.
Beyond the fundamentals, I encourage you to think about how your unique skills, experience, perspectives, and expertise will help the institution address its challenges. For example, it is critical that board members not only understand how their institution creates and delivers unique value so that graduates can lead a meaningful life, but also the total financial liabilities (budgeted and unbudgeted) and risks the enterprise faces. Trustees should also be able to make the case that the value of higher education is in fact worth its cost.
To strengthen board education, every board meeting should include plenary discussions on specific topics that affect the institution's strategy. These discussions can be facilitated by external and internal subject matter experts. For example, you might take advantage of your AGB membership and invite an AGB leader to facilitate a conversation at no cost, by visiting AGB.org/NewMemberBenefits. Beyond hearing from faculty and staff, student stories are also exceptional ways to deepen your knowledge of today's campus climate.
Summer is a perfect time to begin planning your personalized board education journey. As the board and leadership team work together to identify and prioritize strategic initiatives, financial requirements, and anticipated risks, I encourage you to peruse the AGB knowledge center, attend webinars, participate in discussions with peers, and enhance your capacity to oversee the mission and strategy of your institution, system, or foundation.
To help our members succeed in today's rapidly changing environment, AGB recently created a suite of new resources, including a Board Self-Assessment Tool. To learn about these new, complimentary benefits, please visit AGB.org/NewMemberBenefits to discover how AGB's expanded benefits can further help you and your board govern with knowledge and confidence.
Have a great summer and enjoy this issue of AGB Trusteeship magazine.
Henry Stoever, AGB President and Chief Executive Officer
Share on LinkedIn