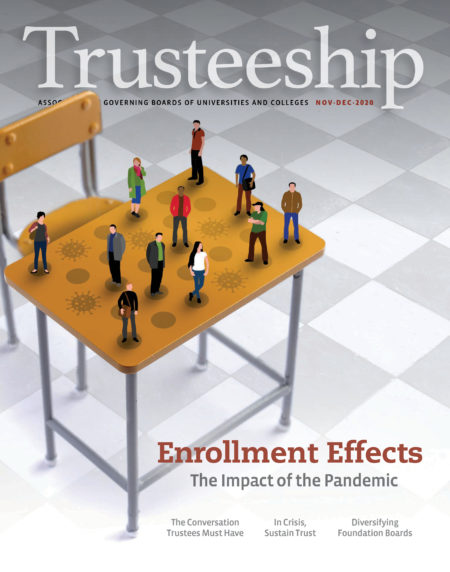 With the fall semester well underway, I'm aware of the unprecedented challenges confronting your board, leadership team, faculty, and staff as you collaboratively address immediate short-term challenges. While I understand how significant these challenges are, I encourage you also to devote time and energy to those strategic matters that are essential to creating long-term, sustainable, and vibrant learning communities. In particular, I urge you to conduct your work through the lens of trust as a strategic asset, and as part of establishing trust, you make serious commitments to the issues of justice, diversity, equity, and inclusion.
I am sure you agree with me that trust is a critical component of all boards and executive teams seeking to govern and lead effectively. Trust is best earned through collaboration and communication, especially by striving to seek common understanding and agreement. Trust can, for example, influence a board's ability to recruit new board members, augment an institution's ability to enroll and retain students, hire and motivate experienced faculty and staff, and inspire current and potential donors and partners. Additionally, trust is necessary for boards to engage in very difficult conversations that are at the heart of building the future institution.
During times like these, your board may also need to rethink and even alter your strategic direction and priorities in order to create a financially sound future. In such instances, trust can mean the difference between an institution undertaking necessary adjustments and succeeding due to campus and community support, or seeing such efforts fail because of confusion or suspicion. A lack of trust can become an acute risk factor that affects how well an enterprise functions.
Boards and senior executives need to actively work at building trust as an essential component of leadership. Trust is an integral component of developing and executing long-term strategies and institutional transformation. My hope is that you will always consider cultivating relationships that yield the trust required to successfully implement board and executive team decisions.
There are a multitude of ways to grow trust between leadership and stakeholders. For example, I encourage you to work with the faculty and others in your community to develop policies and practices that exemplify your institution's commitment to enhancing campus health and safety. By leveraging shared governance and fostering an inclusive culture and a sense of belonging, clear and comprehensive communication can be achieved. Regular and transparent communications will help ensure that the board's policies reflect the best thinking of your campus community. In short, intentional efforts to strengthen trust now will pay dividends over time.
A critical aspect of building trust is to ensure that everyone on campus feels a sense of inclusion and belonging. Over the last several months, I have shared how important AGB believes justice, diversity, equity, and inclusion (JDE&I) are to higher education and our society. AGB also believes that if we are to encourage boards and presidents to leverage JDE&I to strengthen their teams, operations, and students' success, we must practice what we recommend to others. At AGB, we are working to promote JDE&I in every facet of our work, and I'm pleased to announce the launch of AGB's Justice, Diversity, Equity, and Inclusion Initiative. You can find out more about the initiative at www.AGB.org/JDEI. This initiative will showcase AGB's promise to pursue and uphold JDE&I within our own AGB culture and embrace these values across our practices, programs, services, and research as we engage in our own transformation to better serve higher education.
Trust, JDE&I, and other issues will be strategic focus areas in our upcoming resources and programs, including the three flagship events in 2021: the Foundation Leadership Forum (January 25–27), the Board Professionals Conference (April 6–8), and the National Conference on Trusteeship (April 12–14). Registration for these virtual events is now open at www.AGB.org/Events, and I look forward to seeing you there (virtually).
Please share with me how AGB can enhance its JDE&I Initiative to empower your boards and teams to build trust, confidence, and belonging within your communities.
As always, I am immensely grateful for your partnership, and I thank you for your collaboration and commitment to strategic board leadership.
Henry Stoever
AGB President and Chief Executive Officer
Share on LinkedIn