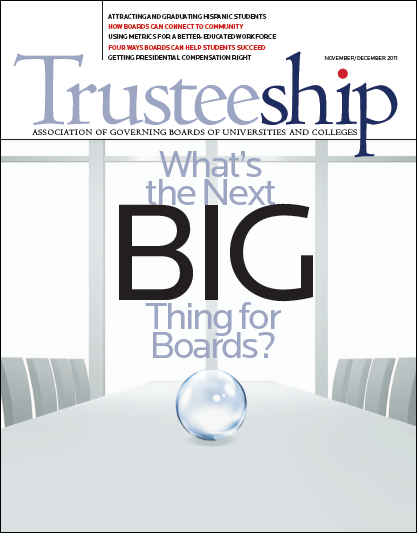 The world of higher education has been rocked over the past month by some tragic and high-profile events. The occurrences at Penn State have attracted national attention and put institutional management and governance in the spotlight. The situation, which has already received extensive commentary, continues to unfold—and much more will undoubtedly become known as investigations proceed. At the same time, we've witnessed crises occurring across a number of other college and university campuses.
The purpose of this essay is not to assess how those institutions got into such circumstances or have dealt with them. Yet the impact of the recent events extends across higher education. They serve as a keen reminder of what is important about governance and higher education. They provide a learning moment for board members and other institutional leaders, and we should not waste that opportunity.
Although the Penn State tragedy is primarily about alleged sexual abuses, it casts a further shadow over big-time college sports and its influence. Perhaps it will encourage boards and other institutional leaders to step back and revisit the relationship between intercollegiate athletics and the primary purpose of higher education. While athletics has an appropriate place in academe, we must ask ourselves whether higher education is, in some ways, being distorted by the commercial and media-driven nature of big-time sports.
The incidents at Penn State and elsewhere raise other crucial issues about board and presidential oversight and performance. America is known for the overall quality of our higher education system and its unique governance structure—a structure that depends primarily on independent board members, who in many ways define and protect its autonomy. Governing boards have the responsibility to link the institution or system they serve to the interests of the public. Through this special responsibility, they help their institutions meet public expectations and ensure a high degree of trust. If that trust is shaken, however, public support can be seriously weakened.
Today, even though expectations of board accountability have never been higher, too few boards give their own performance the level of oversight it needs. Getting governance right—in overall board performance and individual board-member behavior—must be a heightened priority for board members and top administrators. Failure of boards to attend to the business of their business is not acceptable.
Boards must adhere to several basic tenets that define a fiduciary:
The Duty of Care—requires full attention to one's duties as trustee, setting aside competing personal or professional interests insofar as possible;
The Duty of Obedience—refers to trustees' obligation to promote the mission of the organization within legal limits; and
The Duty of Loyalty—requires board members to put the interests of the trust before all others.
While more encompassing and less specific, The Duty to Act in Good Faith requires board members to exercise diligence, competence, and objectivity. And, along with many legal scholars, I would also add The Duty to Serve the Public Interest as among a board's primary fiduciary responsibilities.
These tenets represent an expectation that all board members will exercise their best independent judgment on behalf of those whose welfare they hold in trust. It is an awesome and historic charge. Our institutions have been operating under essentially the same standards of governance for some 350 years. And, for the most part, the system has worked well when given its proper attention.
Each person who serves on the governing body of a college, university, or public system should be informed early on about the requirements associated with these fiduciary standards, which define committed and ethical board engagement. From the beginning, board members should understand that those standards must be met. Moreover, how trustees fulfill their fiduciary responsibilities, working in collaboration with institutional or system chief executive officers, requires constant diligence and discipline throughout their service on the board.
Some essential elements, or First Principles, of board engagement and behavior are especially significant right now:
The relationship between a board and an institution or system chief executive officer must be defined by the highest level of transparency, candor, and mutual expectation. An operating model of "no surprises" best defines how they should work together—that is, neither the board nor the CEO should be surprised by the actions of the other.
Presidents expect and should have full authority to manage and lead, but they must recognize that the board is responsible for holding them accountable for the effective management of a complex enterprise. Presidents can ill afford to intentionally limit the information being shared with their board about current or potential challenges—especially those that carry a high risk. And, although confidentiality may, at times, require the president to restrict the flow of information, he or she must inform board members as much as possible within those limits and encourage their appropriate involvement as issues unfold.
For their part, board members must be engaged in the work of governance. They must put in the time and effort necessary to be informed and aware when critical issues arise. Board members should ask the questions that need to be asked—those that might be awkward, those that might be perceived as provocative, and even those that might demonstrate limited familiarity with an issue. Holding back out of excessive trust or the desire to go along, while polite, fails the expectation of board-member independence. Trust comes from candor, and it helps to ensure that the Duties of Care and Loyalty are being met.
Boards meet their responsibilities only when they are informed, supportive, and, at times, appropriately skeptical. We are long past the time when a passive board is an effective board—critiques of boards as "potted plants" should not be the common perception of how we do governance in American higher education. Boards that merely rubber-stamp proposals coming before them are neither fully engaged nor meeting their fiduciary responsibilities. Collaborative governance requires full engagement on the part of the board.
The board, through its committees, should be structured to encourage the focused and strategic engagement of its members. Most governing bodies address their policy work through a committee structure that is designed to facilitate efficiency, candor, and good decision making. Effectively engaged board committees are often the best way to move the work of the board forward. However, some elements of board structure can have a detrimental impact on board effectiveness and engagement.
For instance, boards that rely too much on an executive committee, or CEOs who become too dependent on a small cadre of board members to address complex challenges, run the risk of falling woefully short of providing sound oversight. When the executive committee routinely meets more frequently than the full board, it tends to limit the engagement of most board members. The risks of failed governance are exacerbated when the voices of a few trustees become the proxy for all their colleagues on key challenges and policy issues. Although the executive committee has a role (I believe an important, yet limited, one), it should not be as a continuing substitute for the full board on matters of overarching institutional consequence.
The chair must understand his or her obligations as the senior officer of the board. The chief executive officer and the board chair must establish a positive relationship—one defined by mutual support and candor. A healthy give-and-take between them is crucial, and the chair has the special challenge of being supportive yet also remaining independent. The chair must not be selected based on any assumption that he or she will serve merely to advance the chief executive's agenda. Rather, the chair should be selected for his or her respect among peers on the board, demonstrated commitment to the institution or system, overall engagement during board service, and leadership skills.
Boards and top administrators should establish risk assessment processes to help address the broad array of challenges that influence decision making. The corporate sector, which had its own highly publicized governance challenges not long ago, recognizes the need for such formal processes to monitor opportunities and threats. Fiscal, academic, disaster-related (man-made or natural), and, perhaps most significantly, reputational risks are more than ink blots on a heat map. Sound risk-management programs are a means to plan for uncertainty and keep decision makers informed. Ultimately, they help institutional leaders identify blind spots, make tough choices, and be ready for "black swans"—those events that, while unlikely to occur, pose the highest risks.
Boards, chief executive officers, and other senior leaders should regularly monitor risks and consider the strategies to pursue in the event that threats unfold or opportunities present themselves. Seeing that the institution is prepared to respond to all types of scenarios is among a board's most essential responsibilities.
Board members must make the interests of the institution they serve their primary focus and commitment. Service as a board member can never be about personal benefit. The paramount obligations of a board member should always be about achieving the institution's or system's mission. It's about student success, intellectual pursuits, research breakthroughs, and advancing a public purpose.
When board members become part of the "story," it can do irrevocable harm to the institution. Once at risk, institutional reputation is, at best, difficult to reclaim. In meeting their Duty of Loyalty and Duty of Obedience, board members must act in good faith—they must exercise diligence, competence, and objectivity. And, if a board member has information about an issue best shared with the full board, he or she must find an appropriate way to make that known to colleagues.
In today's environment, board members should reflect on their commitment to ethical norms. Boards should adopt a statement of expectations or board member commitment. And a strong conflict-of-interest policy is also essential. Among the policy's most essential elements must be a clear expectation as to when a board member must recuse himself or herself from participating in a specific action or conversation coming before the board.
Moreover, boards should be sure that their independence is untainted by external influences on their deliberations. And policy makers and other sources outside the institution should afford governing boards the respect they deserve as deliberative policy bodies.
Boards should expect and demand ethical behavior throughout the institution. It must start at the top. The governing body should ensure that policies that call for the highest ethical standards are in place, regularly updated and reviewed, and discussed in orientation sessions for board, faculty, and staff members. That will send a powerful signal across the institution or system that ethical behavior—especially in the face of crisis—is an essential institutional value.
As part of that effort, working with institutional administrators, the board should be certain that the institutional whistle-blower policy is current and known to all. Every student, administrator, and faculty and staff member should understand that whistle-blowers will not be admonished or punished for stepping forward.
---
In partnership, boards and chief executives must deal with institutional challenges and meet the public's expectations with candor and trust. At the same time, they must recognize their respective leadership responsibilities in serving higher education. While presidents expect and require fully delegated management authority, boards must also be able to assert their governance authority as warranted. Anything less falls short in meeting the oversight principles that define our system.
The clock is ticking for board governance. It would be a shame if policy makers at some point decided to step in and determine how boards should do their business when we hold the keys to good governance in our hands. Once again, we must demonstrate that we can get governance right.
Let's apply First Principles.
Share on LinkedIn