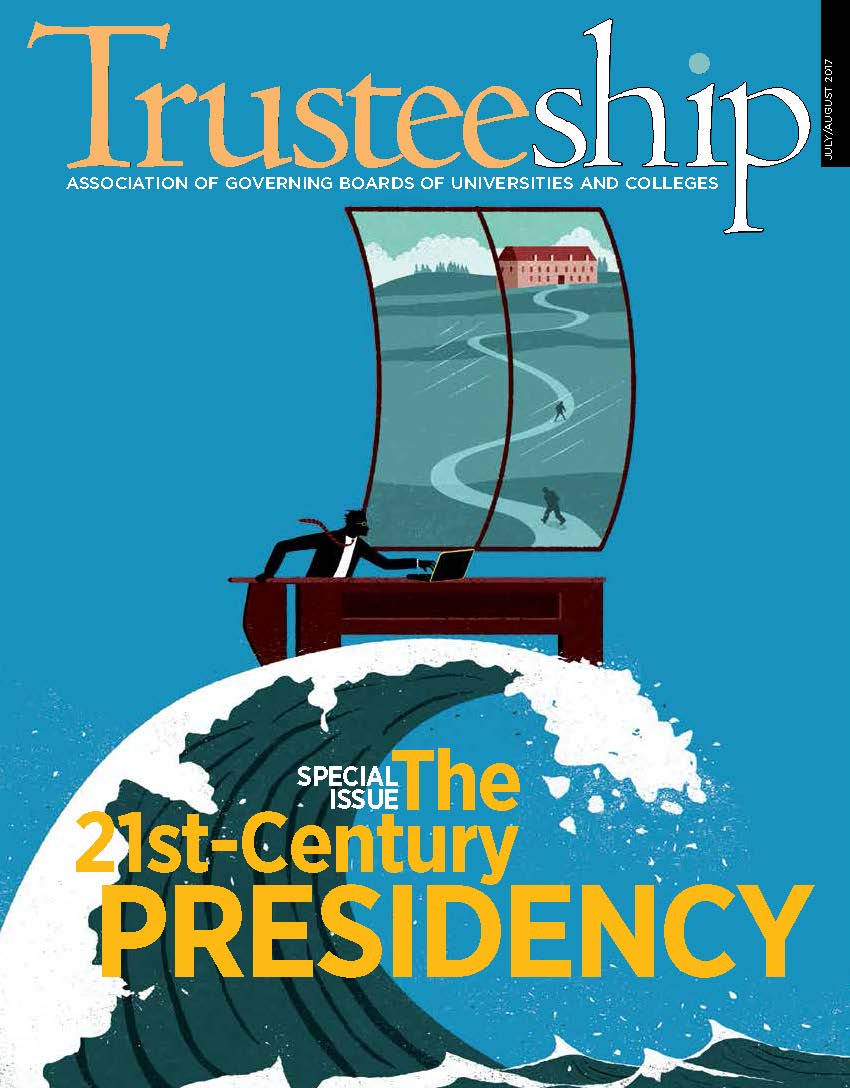 This article is part of the New President Toolkit, a resource to help you hit the ground running and chart a course for your institution that ensures well-being and sustainability.
The following is a Q&A with the author of AGB's new report, The 21st-Century Presidency: A Call to Enterprise Leadership, Terrence MacTaggart.
Q. In AGB's new report, The 21st-Century Presidency: A Call to Enterprise Leadership, you focus on the array of pressures and challenges confronting the 21st-century presidency. What factors contribute to the contemporary volatility in higher education and its impact on presidents, chancellors, and boards?
MacTaggart: This is a time of Sturm und Drang for higher education as a whole and especially for presidents and board members. Perennial challenges on the financial side have become more intense for public and independent institutions alike. Affordability and productivity of the sector drive major policy choices in the political arena. Partisan and social equity issues not only permeate the national consciousness, but also have invaded the campus. Tuition discount rates approaching 50 percent or more in some cases are sure signs of the weakness of higher education's historic business model and value. The rise in student activism and students' readiness to demonstrate and occupy is something we haven't seen since the 1960s. Principles of civility and fair debate of controversial issues are soon discarded in today's superheated campus environment. Thanks to the pervasiveness of social media, the time between initial awareness of an issue and social action has shrunk from weeks to hours.
These forces combine to cause some presidents to question their ability to lead in this complex and turbulent environment. Trends tell part of the story. No-confidence votes appear to be on the rise, and the time presidents are willing or able to serve is in decline. We found increasing examples of conflict in the boardroom as alumni on the board, longing for a return to what they remember as a simpler time, resist change. One president told us that his board just wants him to recruit students like those of 30 years ago. Other board members, especially corporate executives, are impatient with the slow pace of change.
Q. Given today's higher education environment, what should governing boards expect of their CEOs, and what should CEOs expect of their boards?
MacTaggart: The report offers the concept of enterprise leadership as a means to help presidents and boards clarify their expectations of each other. Starting with the search for a new CEO onwards, boards should make clear three expectations. First, the chief executive needs to possess and communicate a clear understanding of the business of the university, the competitive environment and other threats it faces, and a practical vision for navigating through the turbulence and risks associated with change. Second, this is no time for a "go along, get along" presidency. The courage to persist in the face of certain opposition is a must. Third, the 21st-century president needs to work with the board as an ally and trusted partner in leading change. Instead of learning about decisions as a fait accompli, the board has a right to expect upstream engagement in discussing overall institutional direction, as well as policies and strategies.
The reciprocal of these expectations falls on the shoulders of board members. The board needs to study current social media of higher education. Universities and colleges aren't businesses, but unless the business model works, the academic effort will be compromised. Understanding the business is a fundamental fiduciary responsibility. Second, as one executive told us, presidents are much more likely to act courageously if they know the board has their back. Clear board support for a capable president is essential. Finally, board members and especially the chair must commit time to working closely with their president on assessing the environment, developing strategic responses, and supporting the president in enabling the academic community to adapt to new realities.
Q. Can you give us a deeper dive on the concept of enterprise leadership?
MacTaggart: We were well aware of the volumes written and hours of TED Talks given to the subject of leadership, so we sought a short, practical definition that would guide presidents and trustees. The concept of enterprise leadership seemed to capture the perspectives of many of the leaders who helped frame this report.
Enterprise leadership means the vigorous exercise of authority in guiding an institution through a comprehensive adaptive process that positions it to prosper in a competitive, fast-changing environment. Effective enterprise leaders of colleges and universities engage the academic community in the change process. They work actively with their governing board as trusted partners in developing strategies to strengthen the institution's financial base, its academic quality and effectiveness, and its reputation for value to students and society.
This definition suggests (at least) five attributes of the enterprise leader and enterprise leadership. First, the modern presidency is a 24/7 job demanding hard work over a sustained period of time. Periodic respite from this intensity is required to maintain mental and physical health, and to support a return to what is often a relentless pace. Second, change leadership is more than change management. It requires a sophisticated understanding of the emotional brew that accompanies serious innovation and change. This skill includes applying the appropriate change strategy to match the situation, exerting pressure without alienating or exhausting the team, and having the emotional intelligence to cope with opposition and courage in the face of conflict and personal attack. Third, enterprise leaders clearly appreciate the challenges facing their institution. They also have the imagination to envision ways to advance the institution in this volatile environment. Fourth, enterprise leadership mandates the strengthening of the enterprise through time. The critical measures are financial stability, academic quality and effectiveness, and the reputation of the institution for worthwhile teaching, research, and service. Finally, the sine qua non that underpins all the rest is personal integrity in all decisions and in relationships with the governing board and the academic community.
Q. How do presidents who come to the role from sectors outside the academy fare as enterprise leaders?
MacTaggart: In spite of some well-publicized examples of missteps by business executives turned college presidents, we found that presidents with business, military, political, or religious backgrounds often make excellent university leaders in the enterprise mode. Corporate executives and military officers have formal training in leadership and experience in getting things done in competitive environments. Successful politicians know how to advance a policy agenda by orchestrating the interests of diverse groups. These talents are highly transferable to today's academic enterprise. Effective "nontraditional" presidents take time to learn the values and taboos of the academy. They respect and champion important values such as academic freedom and shared governance. And they recognize the unique model of independent board governance. If the culture of a particular academy is committed to putting the long-term interests of the institution first and working with an administration to advance the institution, then nontraditional presidents are well received. If the local culture is adamantly opposed to serious change and regards the administration as the enemy, then the change becomes more fraught. Just as presidents need to learn to appreciate academic culture, so academics need to accept and even embrace the need to change familiar practices.
Q. When innovation is the order of the day, how should presidents and boards address the risks associated with departures from historic practice?
MacTaggart: These days the most dangerous option may be to take no risk at all. The first step is to avoid either of two extremes: sidestepping change altogether out of a fear of risk or supposing that just because an innovation can be imagined, it can be successfully implemented.
Before plunging into a new venture, presidents and their boards should ask themselves tough questions such as: Has this new strategy worked anywhere, and what can we learn from that experience? Do we have the human and material assets to carry out this venture, and have we engaged all campus stakeholders in a timely fashion? Is there a reasonable market with the resources for what we propose to offer?
Institutions considering online education are likely to find they are late-to-market unless their programs are highly distinctive. Not all new initiatives will succeed, or yield positive results as soon as hoped, so it behooves leaders to pursue several strategies rather than pin their hopes on one long shot.
Q. What surprised you most in your conversations with boards and presidents? 
MacTaggart: I was surprised and pleased by the level of candor coming from the presidents and board members on a number of sensitive topics. These thoughtful and experienced leaders didn't pull any punches when it came to describing the challenges facing their institutions and the difficulty of their work. Based on their years of experience as senior officers or presidents, nearly all agreed that the job has been much more challenging than in the past.
Concerns over a fraught relationship between presidents and trustees—across both public and private institutions—loomed larger in these conversations than we originally thought. Several found themselves caught between factions on the board. One set of members was exasperated over the academy's resistance to change and its slow pace, while others were not persuaded of the need for change in the first place.
Several presidents listed the pervasiveness of mobile communication—smartphones in particular—as an unexpected challenge. They found the accelerating spread of messages true and false not only among students, but among interest groups, politicians, and the general public had come as an unwelcome surprise. Some reported that they struggled just trying to stay abreast of the next issue to go viral. Several others, however, found that the new media provided opportunities to communicate their messages to students far more frequently, quickly, and effectively than a formal address or a casual conversation while walking around the campus.
The following is an excerpt from The 21st-Century Presidency: A Call to Enterprise Leadership.

Twentieth-century leadership approaches will no longer suffice. Skepticism over the value of a college degree, higher expectations for performance from institutions at all levels, student unrest, intense competition for students and resources, and political divisions are among the most prominent challenges. In addition, a new wave of technological change will most likely alter higher education as we know it.

Such realities combine to require that presidents of colleges and universities possess talents and skills that are different from those required in the past. But presidents can't operate alone. Boards also must change to meet the demands of the 21st century: They must rethink and redesign governance in ways that enable them to work as allies of the president in meeting whatever challenges face the institution. At all types of colleges and universities, the governing body must participate in leading the enterprise by collaborating with the president in developing major strategies, standing firm with the executive in the face of criticism and opposition, and committing time and resources to the work of sustaining and advancing the institution. Indeed, the success of the enterprise leader rests on a foundation of trust and confidence between the president and the institution's governing board.
Share on LinkedIn