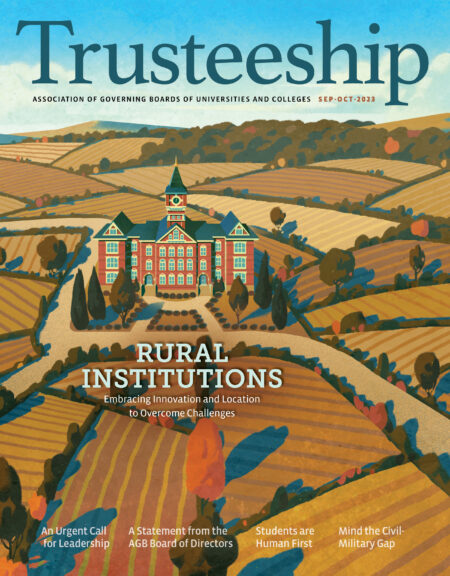 Takeaways
---
More than ever, colleges and universities should lean into distinction to describe what they do and why they matter. With so many institutions competing for a shrinking college-age population, brilliant faculty, and scarce funding, the ways that institutions talk about themselves make a difference.
Boards should think "noses in, fingers out" in their governance approach to provide the strategic guidance, not direct the daily work and execution.
Most institutions' strategic priorities are tied to institutional perceptions. Therefore, a university or college's brand should signal its highest priorities and reflect strategic decision-making at the most executive level.
Boards have an incredible opportunity to offer their members' talent and professional expertise to improve their institutions and partner with staff on priorities, such as branding.
In higher education marketing, there is the phrase "a sea of sameness." The phrase refers to the strikingly similar (and familiar) way most people describe public research universities as beacons of "academic excellence," "student success," or "cutting-edge research and discovery." These are clichés institutions should avoid in pursuit of more authentic and distinctive narratives.
Let's face it—higher education has a differentiator problem. One of our Virginia university colleagues, Aaron Basko, said so much in the Chronicle of Higher Education last year: "It seems that trying to be all things to all people is our fatal flaw. And everyone sees it but us."
That's why it's refreshing—and strategic and invigorating—to see an institution describe itself in more "untraditional" terms.
More than ever, universities must lean into distinction to describe what they do and why they matter. With so many institutions competing for a shrinking college-age population, brilliant faculty, and scarce funding, the way institutions talk about themselves makes all the difference.
Strategic communications and marketing experts know that the best brand positioning is distinctive and can strengthen organizational reputation in the near and longer term. They also understand the unique value of evolving stakeholder dynamics and diversity in elevating an organization's story.
For Virginia Commonwealth University (VCU), this has entailed reimagining an authentic way to show the world what the university stands for and investing in a framework for measuring our success. We say that the VCU story we like best is the one we tell ourselves.
Rather than take the path of least resistance—branding the university with familiar slogans and visuals—VCU chose the path of most resistance by building a platform for the inclusive culture and unique character that set the campus apart. Now 18 months later, the university has an "uncommon" way to tell its story that captures the essence of who VCU is and who it serves.
Every university's brand should signal its highest priorities and reflect strategic decision-making at the most executive level. The "Uncommon VCU" brand was created in partnership between the Board of Visitors and senior university leadership to tell a story that combines the institution's formidable academic, research, and health care reputation with a clear commitment to diversity, equity, and inclusion (DEI), serving our communities and shattering the status quo.
"As a leader, the greatest gift you can give an institution is to be really bold about distinguishing what you do, how you do it, and the impact it has," said Michael Rao, president of VCU and VCU Health System. And that's what VCU has done, in a way that we believe will be "unstoppable."
Here's how we did it and what we learned.
Restructure Branding for Transformation
Like so many institutions, VCU previously suffered an identity crisis. A decentralized structure meant every college and department, and even VCU's health system, had separate branding and marketing strategies.
The immediate past rector of the VCU Board of Visitors, Keith Parker, said it best: "Before this [branding effort], people weren't quite sure what VCU stood for. If you asked 50 people, you got 50 answers," he told us.
That's because VCU is many things to many people. The university is a Virginia leader in enrolling first-generation students, Pell Grant recipients, and students from underrepresented backgrounds. The National Science Foundation ranks VCU among the top 50 public research universities in the country.
U.S. News & World Report named VCU one of the nation's top 20 most innovative public universities. And U.S. News & World Report ranked VCU Medical Center as both Virginia's largest safety net hospital and Richmond's No. 1-ranked hospital.
"Even with VCU's history—which involved a merger of two institutions—and the favorable way our community saw us, we were a house of brands instead of a branded house," Rao said. "The board and I recognized that we needed to bring it all together in a way that showed what VCU really stands for."
So, board members and senior leaders sought to create an enterprise brand identity for the university and health system that reflects the institution's commitment to students and patients, impressive academics and research, and its intrinsic link to the vibrant and growing Richmond community. To do that, we needed bold leadership and leaders who could bring the best of the entire institution into one story.
Engage Board Talent as a Resource
VCU has benefited from the rich personal and professional experiences of its board members.
When the board first began conversations about the need for a new branding strategy nearly four years ago, it was one of the most diverse university boards in the country and demonstrated a powerful commitment to DEI at every level. Those perspectives provided us with direction and energy—and the upheaval of the pandemic, a national reckoning around social justice issues, and the public's waning confidence in higher education gave us purpose. Above all, we knew our new brand must reflect VCU as a meaningful destination for ideas and solutions and a beacon for diversity, equity, and inclusion.
The board's makeup closely reflected the demographics of VCU's students and patients and provided expertise in strategic communications and marketing needed to craft a new brand. Others who contributed expertise were alumni who had witnessed VCU's transformation from a commuter school to a destination of choice for a diversifying student body.
"What I realized being on the board was how unique VCU is as a superior research university that also helps students who have the potential, but maybe not the financial resources, to go to college," Pamela El, a recent VCU board member and former chief marketing officer for the National Basketball Association (NBA), said. "Being inclusive and accessible to students, being an amazing research institution, and being in the heart of a city make VCU really stand apart. A great positioning campaign for the university should reflect this and help us meet our goals. It is very strategic work."
The university's brand should lift its profile locally, nationally, and internationally, said Todd Haymore, VCU board rector, who has served as Virginia's secretary of commerce and trade as well as secretary of agriculture and forestry. "It was about doing what we could as a board to better position VCU to attract the highest caliber students, faculty, researchers, and companies that want to partner with VCU—and put that impact back out into the world."
Although institutional branding may not always fall within a board's purview, the "Uncommon VCU" brand platform was the direct result of university leadership leaning into many board members' experiences and passion for the project. "There was a great desire to include board members and take advantage of their areas of expertise," said H. Benson Dendy III, former VCU rector and chairman, and a former secretary of the commonwealth.
Boards have an incredible opportunity to offer their talents for the betterment of their organizations. "Be partners with the staff, challenge them with your expertise to make the end results stronger," said Parker, a VCU alumnus and CEO of Goodwill of North Georgia. "Don't sit back and hold it to yourself; the worst of all advice is the expertise you didn't give."
In addition to tapping into board expertise, VCU hired national experts in higher education marketing and strategic communications. These experts were charged with centralizing academic and health systems communications operations into an enterprise model and working directly with board members on the new brand direction.
About VCU
Located in the heart of Richmond, the capital of Virginia, Virginia Commonwealth University (VCU) is home to more than 28,000 students.
VCU is a member of the University Innovation Alliance, a consortium of national public research universities dedicated to increasing the number and diversity of college graduates. Fifty-four percent of VCU undergraduate students and nearly half of all students are from minority backgrounds. U.S. News & World Report ranks VCU in the top 20 percent in the world among "Best Global Universities."
Together, VCU and VCU Health are Virginia's sixth-largest employer (23,000 employees) with a combined annual budget of more than $4 billion.
'Noses In, Fingers Out' Approach to Governance
If you ask many current and former board members why the enterprise branding moved so smoothly and quickly, the answer is mutual respect and trust. While the board provided strategic guidance, it relied on university leadership and staff to develop the enterprise brand identity.
El, the former NBA marketing executive, credits this to the popular "noses in, fingers out" governance approach. "As a governing body, your role is to advise. Your role is to question. Your role is to understand. But your role is not to do the work," she said.
In a 2020 article on university board governance, the management consulting firm McKinsey calls delineated responsibilities one of the best ways to improve cooperation between boards and administrative leadership: "Boards that get too involved in the details not only frustrate leadership but also become distracted from the more critical strategic questions they should be addressing, such as what are the most imminent risks facing the university and what might the institution's strategic priorities be for the near and long term?"
In VCU's case, several of its most strategic priorities are tied to institutional perceptions: enrollment, funding and fundraising, and national reputation and recognition. Keeping the strategy at the highest level and allowing staff the creative license and space to execute made all the difference.
Board members frequently offered guidance and feedback to the president and senior marketing team, reviewing brand research and positioning to ensure it aligned with VCU's unique story and aspirations. But the day-to-day creative direction and execution remained with staff.
"I'd like to think that more boards could use this model not only to elevate their brands but also to have more brain power and experience at their table," Haymore told us. "There are far more opportunities for boards to collaborate to help 'build a better mousetrap,' as the saying goes."
Rankings and Reputation
As universities and colleges consider ways to distinguish themselves, many institutions are wondering exactly what to do with national rankings.
Instead of focusing exclusively on rankings, VCU's new brand platform elevates its unique attributes by using rankings as external validation of its commitment to diversity, equity, and inclusion and quality for students and patients.
"The rankings have their place, they're very valuable," says Kevin Best, VCU's associate vice president for brand marketing. "But they should not be the exclusive message for most institutions. When used correctly, they help us speak from a position of strength."
In its new brand, VCU highlights its national recognition as the only urban university to be named INSIGHT Into Diversity's Diversity Champion, its Carnegie Classification as a very high research activity university with a special focus on community engagement, and its U.S. News & World Report and National Science Foundation rankings.
But ranking is wrapped around brand positioning that showcases VCU's aligned culture and aspirations.
While rankings provide enticing proof points for a college or university's reputation, they are not the only measure or evidence of its excellence. Although they can't be ignored, colleges and universities would do well to distinguish themselves in ways beyond rankings.
Respond to the Research
Branding is particularly tricky work. Both an art and a science, it involved a significant shift in mindset from where VCU had been to where it wanted to go. And that can be difficult when juggling an army of stakeholders—including students and parents, patients, board members, administrators, community members, and alumni.
That's when it is best to rely on research—to help pull out the threads that weave together your authentic story. Altogether, this included eight months of more than 2,000 conversations with university leadership, faculty, staff, students, alumni, patients, and stakeholders across Richmond and Virginia. It involved outside market research that measured levels of awareness of VCU among key audiences. Compared with its in-state peers, VCU is not as widely known by high school students or parents across Virginia, so specific focus was given to prospective students and parents.
The results informed several non-negotiables for a new brand platform that had to:
Create bold messaging with distinction and swagger;
Drive student applications and patient growth;
Raise national prominence among thought leaders; and
Work across the entire enterprise—the university and health system.
"Our job was to build an enterprise umbrella that allowed everybody to stand on the same platform but still tell their own story," El said.
Or, as Basko wrote in his 2022 Chronicle article: "Think of differentiation as a large umbrella narrative—the story under which all the sub stories of your college or university can thrive and find shelter. Academic programs can differentiate themselves and become more attractive to students when aligned under this umbrella. Staff members find purpose and serve students better when this narrative is woven into their daily work. The college then invites each prospective student to bring their individual story under this umbrella and share in the institution's larger narrative."
Prioritize What Makes the Institution 'Distinctly Special'
Brands have myriad definitions, but there are three essential aspects to branding that serve as VCU's north star. The first is to be authentic—to be true to who you are. You must also be aspirational, because your brand isn't just a mirror that reflects—it should inspire you to be a better version of yourself. Third, it needs to be distinctive.
With thousands of universities and health systems around the country, VCU's new brand needed to answer the question, "What makes us distinctly special?"
Ultimately, VCU's brand spirit embraced its individuality. "In the world of the common, we are the uncommon," said Kevin Best, VCU's associate vice president for brand marketing. "We are packaging this in a very simplified way to express our levels of authenticity, distinction, and differentiation. As a brand, VCU has always compared itself to other universities. The reality is we're distinctly different from all our peers in the commonwealth, and we are unique in very specific ways. Our intent is to speak very differently about the VCU experience, our level of expertise, and how we positively impact communities."
Uncommon. Unstoppable. Unlike any other. These are all brand messages that now appear across VCU—in enterprise storytelling, digital advertising, recruitment viewbooks, faculty and health provider profiles, social media, athletic programs, billboards, and even a commercial that aired in the Richmond area during the 2023 Super Bowl LVII. (See VCU's brand brought to life at vcu.edu/uncommon.)
"What makes VCU uncommon is the emphasis we place on three priorities: access, excellence, and impact," said Fotis Sotiropoulos, provost and senior vice president at VCU. "Some institutions focus on one of those priorities. Some even focus on two of them. At VCU, we focus on all three in everything that we do. That is our distinctive brand advantage compared to our peers."
Those messages are resonating, especially with one of VCU's key audiences: prospective students and parents. Early message testing shows that when coupled with pride points around the campus's DEI or national academic rankings, the brand platform is compelling.
More than two-thirds of prospective students reported positive perceptions of the VCU brand after viewing video, social, and digital content. More than 85 percent of prospective parents said the same.
After viewing a sample of the brand platform, comments included: "a school that allows you to be who you are and all you are," and "the students that attend there are unstoppable, unrelenting. They can do anything they want and put their minds to."
This brand platform stands out, President Rao said, "because it is many high-level things that are combined in uncommon ways. You have a major research university that is uncommonly accessible and a health system that is uncommonly committed to the entire range of patients who need us. We are an institution that is moving away from the traditions that inadvertently exclude people to focus on the benefits that come from including people."
Measure What Matters
Ultimately, the value of the new brand platform is the impact it has. And we have been very intentional in how we will measure success.
While the brand was being developed, the university also adopted a new strategic plan, "Quest 2028: One VCU, Together We Transform," which includes many of the same desired outcomes of the brand initiative. What's more, VCU's board maintains a dashboard for reporting progress on the strategic plan, including brand performance and its alignment with strategic plan goals.
Several of those marketing-related metrics include awareness and familiarity of VCU among Virginia's prospective students and parents; first-year applications; social media audience and impressions; health system patient and staff perceptions and intentions; and positive placements in targeted national media outlets.
Using the new brand platform in 2023 freshman recruitment materials and its admissions website, VCU broke a record with more than 20,000 applications for the first time in history. Now, we're targeting enrollment yield with personalized and rebranded materials for our largest college to test their impact.
Our national prominence work continues to accelerate. With 311 positive national media placements since July 1, 2022, VCU has already exceeded its annual goal of 250. And in April of this year, VCU and the Chronicle of Higher Education hosted an on-campus forum about the future of higher education. The first in a national series, this event signaled to leaders around the country that the future of higher ed starts at VCU.
An Unforgettable Experience
Many institutions would launch a brand with a traditional press conference or news release. At VCU, we launched "Uncommon VCU" with an immersive experience designed to create excitement across the entire community.
The brand launched at New Student Convocation in fall 2022 and during the first days of classes to capture personal stories from new students and those returning to campus.
Board members, university administrators, and staff at all levels joined the celebration. Students paused to have their photos taken, choose a T-shirt, and discuss what makes VCU a place unlike any other.
We asked what was the "un" word that best captures the reason they chose VCU. Their stories provided authentic emotional connections that have inspired others to engage and interact with VCU.
Here are a few responses:
"Unexpected," said Steph Cull, a health psychology doctoral student. "There's so much diversity here. There's people from every walk of life, every creed, every nationality, every age. It's definitely not what you expect for a four-year university—in all the best ways."
"Unapologetic. One hundred percent, I feel like I come authentically every time as myself. I want to break the mold. I want to do something new, and I think VCU lets me do that," said Makai Walker, a senior theater performance major.
"There are very few universities in the country that truly practice what they preach in terms of diversity, equity, and inclusion," Dr. Tonya Parris-Wilkins, a VCU board member, told us during the launch. "And that is what makes VCU uncommon."
See more of the faces and stories from VCU's brand launch at vcu.exposure.co/uncommon-campus.
If you think about a brand as a marathon, we're just getting started. More of VCU's colleges, schools, and units have signed on to work with the enterprise marketing team to roll out the brand with their own student and faculty stories. A close collaboration between the enterprise and athletics marketing departments ensures consistency and cohesion across channels. And we will continue to amplify the new platform in anticipation of a future comprehensive fundraising campaign to further transform VCU's trajectory and its impact.
But the measure of success that we like best is the response from our own campus community.
In a recent sit-down with students, a biracial African American and Puerto Rican student spoke up. "I feel like the brand gets me," he said. "I am represented in the brand. I am the brand. I am uncommon."
There's no better endorsement than that.
---
Carolina Espinal, Ed.M., is the former vice rector of the VCU Board of Visitors and the founding principal of Mozaic Strategies, a consultancy working to support the creation of a more inclusive culture in and outside the workplace.
---
Grant Heston, MBA, is the vice president for VCU Enterprise Marketing and Communications, responsible for branding, communications, and marketing for VCU and VCU Health.
Share on LinkedIn