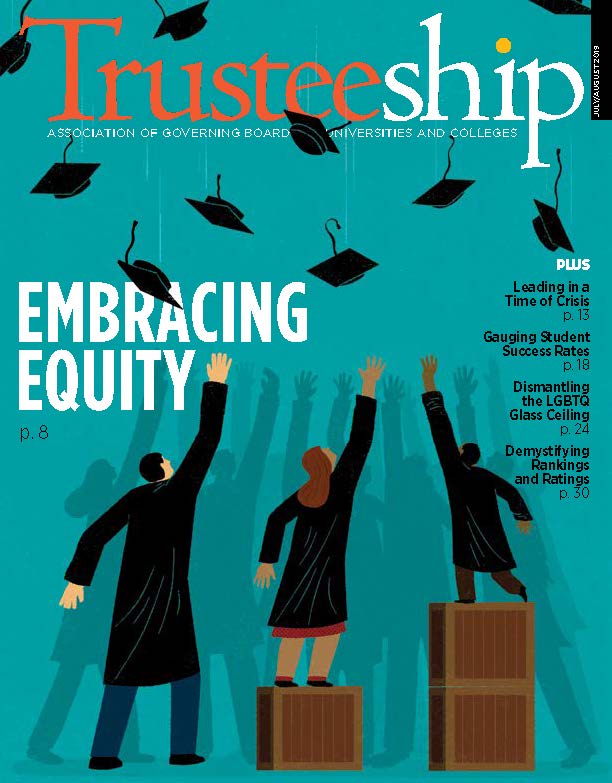 As I assume the presidency of AGB, I look forward to helping write a new chapter in AGB's history. Of course, you, our members, will serve as the primary benefactors of our next chapter, but this endeavor will be a collaborative one. While we approach AGB's centennial secure in the knowledge that the organization's reputation within the higher education sector is solid, the sector itself faces a number of significant challenges to be addressed in the near term. It has been engulfed in a sweeping variety of scandals, is grappling with such issues as affordability and shifting student demographics, and is plagued by public skepticism regarding the value of higher education. AGB will address these challenges of enhancing strong governance and board leadership, focusing on the key elements outlined in our recently published Anatomy of Good Board Governance in Higher Education: board composition, board focus, and board culture.
To that end the outline for our next chapter should begin with a reaffirmation mission to enable trustees to lead with confidence in the board room through our research, services, and advocacy. We will also sharpen our vision, strategies, and initiatives to build AGB's future.
Three strategic priorities will drive AGB's work over the next several weeks and months: growth, engagement, and impact. The theme of growth will be a focus throughout the organization, and I am defining "growth" as a multifaceted term that encompasses the professional growth of AGB's members, the expansion of AGB's membership, and further development of the portfolio of products and services to strengthen the value proposition we offer our members.
Deepening engagement with our members, with our stakeholders, and with each other will also be essential. This engagement will enable us to glean insights that will assist us in refining and delivering knowledge and provide actionable tools that will enable you to serve as a strategic asset for your institution.
As I envision the outcomes of our collective efforts, AGB will enable trustees to be viewed as stewards who favorably impact student success and who effect long-term achievement and esteem for their institutions.
We are on the brink of a new beginning for AGB, and my hope is that as we come together on the road ahead, we raise the bar on good governance to advance the missions of every college, university, or system that serves the higher education sector.
How will history view our next chapter once written? I am confident that this chapter will make clear what our aspirations were as we embarked on our second century in service to higher education: to continue to fortify the American higher education system by means of strong, effective boards of trustees; to continue to establish new ways to think about board engagement; to continue to assist college and university presidents in valuing the resources that their boards contribute; to continue to encourage and participate in debate on the issues most important to our higher education system; and perhaps most importantly, to continue to underscore the real purpose of higher education, which is to provide opportunity for students, who will ultimately advance society.
So let us begin.