Trusteeship: September/October
Volume 28, Number 5 // September/October 2020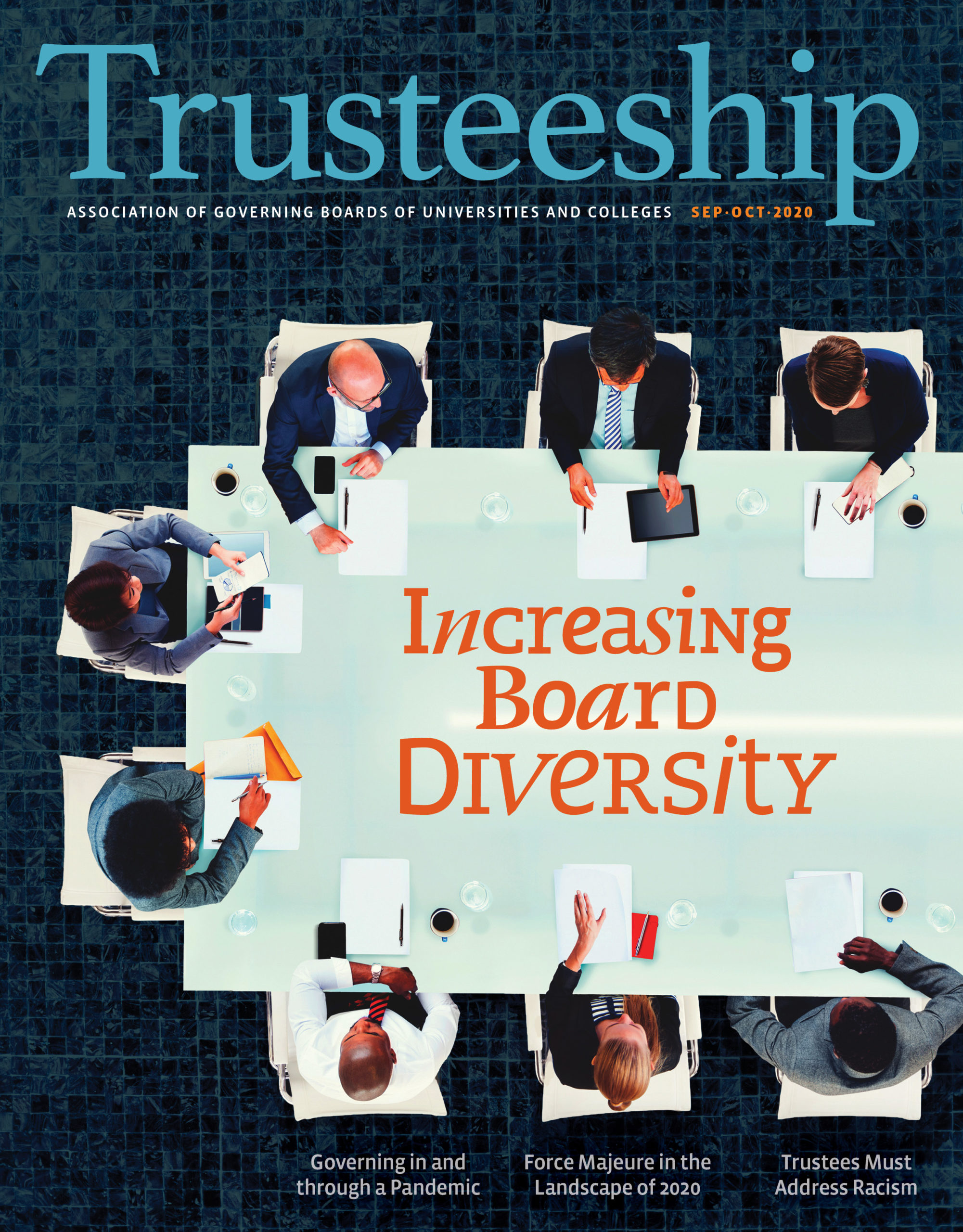 Table of Contents
Features
Increasing Diversity on the Boards of Colleges and Universities
By Vicki W. Kramer and Carolyn T. Adams
Colleges and universities rank among the institutions most likely to be called upon to improve opportunities for historically disadvantaged Americans, many of whom see the college degree as the key to economic advancement. Increasing boardroom diversity is particularly important to achieving this. With recent national events showcasing racial injustice and widespread demonstrations, there is no better time to make board diversity a priority for college and university boardrooms.
Governing in and through a Pandemic
By Peter D. Eckel and Cathy A. Trower
Boards find themselves facing a host of challenges as they work to fulfill their fiduciary roles in the COVID-19 pandemic. These challenges include meeting virtually, being overwhelmed by detail, and working outside traditional rhythms. These challenges of the pandemic may provide opportunities to evolve governance in ways beneficial for boards and institutions in the immediate term and beyond the crisis.
Force Majeure in the New Landscape of 2020
By Art Lee
The year 2020 has brought with it extreme circumstances that impact all aspects of the economy and society, including institutions of higher education. Contractual arrangements and expectations are shifting as colleges and universities deal with the challenges of trying to resume operations during the ongoing pandemic. A robust understanding of different considerations around the types of contracts and the role of a force majeure clause is critical during these times of continued disruption to institutional operations.
New Challenges for the Academic Affairs Committee
By Kathleen B. Rogers
As higher education institutions seek to adjust to a changing operational and financial reality, boards need to revisit traditional ways of allocating responsibilities among their standing committees. Colleges and universities should consider exploring the potential benefits of expanding trustees' oversight responsibilities beyond the classical academic affairs portfolio and embrace issues that have traditionally been left to presidents, provosts, and faculty.
Departments
On My Agenda
Prioritizing Diversity, Equity, and Inclusion and Shared Governance
By Henry Stoever
News in Brief 
A sampling of national higher education news  
Inside AGB
Registration Now Open for the Foundation Forum
AGB Consulting Launches New Services
Legal Standpoint  
The Rule of Law
By Steve Dunham
Reflections
Trust, Unity, and Wisdom
By Gregory Crawford
Forum
Trustees Need to Address Racism
By Kenneth Bedell
Focus on the Presidency
Educating Students for an Uncertain Future
By Morton Schapiro and Gary Saul Morson
View from the Board Chair
Let Go of Old Tools to Survive During a Crisis
By John P. Smith
A Question For…
Suresh Garimella, president of the University of Vermont
How are you reopening campus for in-person classes amid the COVID-19 pandemic?
Share on LinkedIn