Shared Governance, Summer 2018
Volume 26, Number 3 // Summer 2018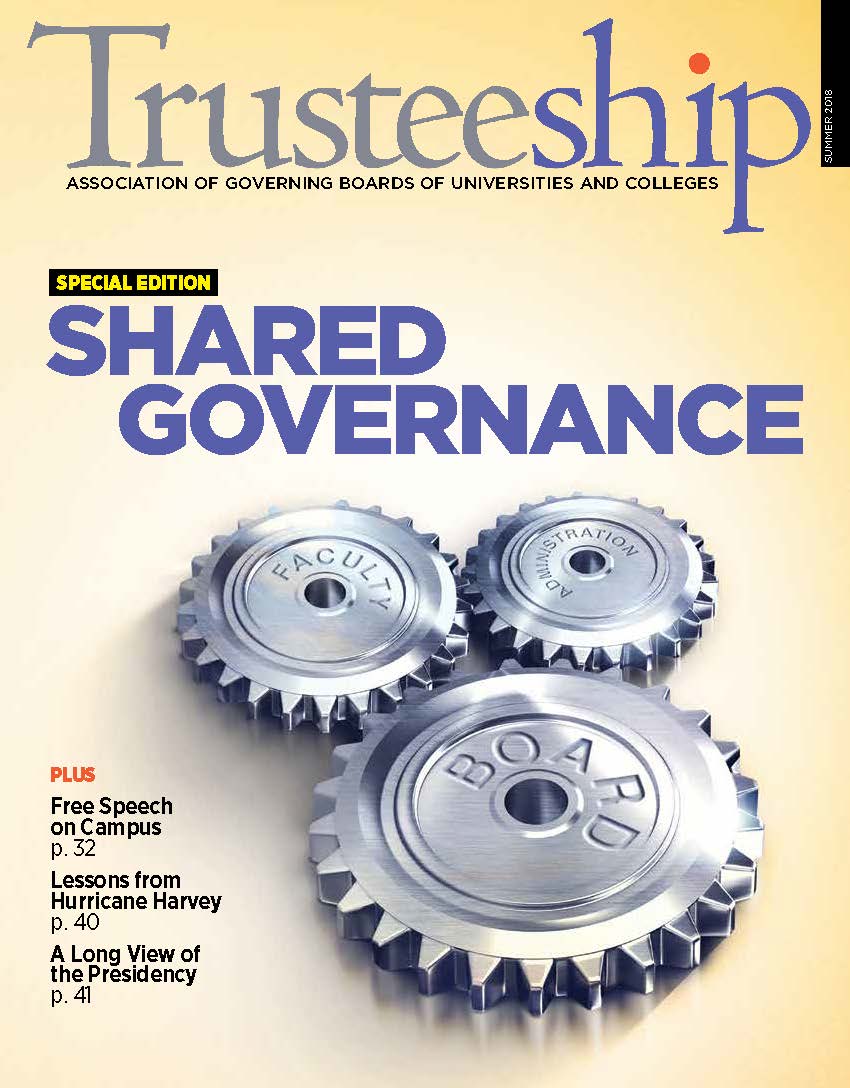 Shared governance is a fundamental, yet often misunderstood, value of American higher education. This special issue of Trusteeship examines the concept from a variety of perspectives—and reveals that shared governance remains relevant and surprisingly flexible in a sector increasingly plagued by disruption and volatility. Authors' viewpoints and recommendations are intended to foster meaningful engagement of presidents, board members, and faculty—the key constituencies who "share" governance—as they face contemporary challenges and advance their institutional mission. It opens with a piece by Terrence MacTaggart on Nontraditional Presidents: A New Wave of Enterprise Leadership, in which he offers counsel for leaders coming from outside academia. Following is Steve Bahls' Evolving Workforce Expectations—an examination of emerging issues for boards to consider, as fundamental changes in the academic workforce place new demands on shared governance. Navigating Board-Faculty Collaboration, by Roger G. Baldwin, answers the question: What are the ground rules for an effective partnership that strengthens shared governance and supports the institution's mission? Michael Crow and Derrick Anderson share their experience with Arizona State University's new operational "logic"—academic enterprise—in Higher Logic. Finally, a distinguished panel of higher education leaders gathered at AGB's National Conference on Trusteeship to share strategies for managing freedom of speech controversies and moving forward in a time of divisiveness in Speaking Freely. 
In This Issue:
Nontraditional Presidents: A New Wave of Enterprise Leadership
Evolving Workforce Expectations
Navigating Board-Faculty Collaboration
Higher Logic
Speaking Freely
Multiple Hats
After the Storm: Valuable Lessons from Hurricane Harvey
The Presidential Long View
What Do Board Members Need to Know About Endowments?