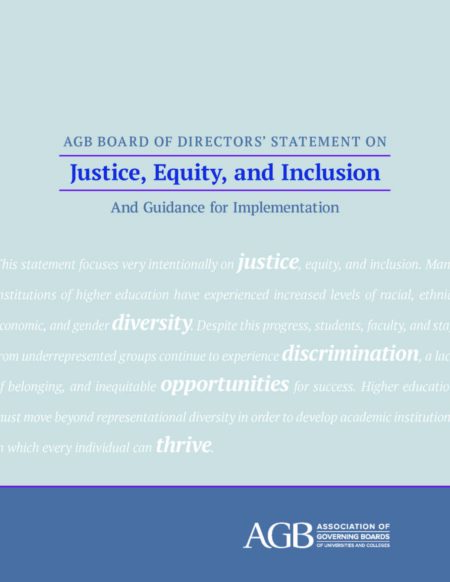 April 14, 2021
Many trustees equate fiduciary responsibility principally with safeguarding the financial and tangible assets of institutions. But in fact, trustees also guard and steward institutional values, mission, campus culture, and the well-being of thousands of human beings, especially students.
Our institutions must be engines of fairness, opportunity, and justice as well. As many institutions today carry out the difficult and critical work of studying their historical relationships with Indigenous, Black, Brown, LGBTQ, and many other groups too long marginalized in American society, it is painfully clear the U.S. system of higher education—both public and private nonprofit—has never been the level playing field some imagine it to be.
The AGB Board of Directors recognizes the urgency for governing boards to examine and address barriers to justice, equity, and inclusion (JEI) in their own work, at all levels of the institution, and beyond the borders of the campus. Undertaking this work will be challenging and complex and the AGB Board of Directors' Statement on Justice, Equity and Inclusion serves as a critical resource for boards in their efforts to implement this important governance work.
AGB continuously develops content to support boards and foundations on their justice, equity, and inclusion journey. Members will have access to articles, case studies, professional development resources, assessment instruments, and examples of high impact practices for student success. Visit AGB's Justice, Diversity, Equity, and Inclusion page for more resources.
Download the Full Statement
"I want to express my organizational and personal solidarity with the substance and spirit the AGB Board of Directors' Statement on Justice, Equity, and Inclusion and Guidance for Implementation. This is a central issue posing a great challenge and threat to the future viability of our democracy. Our higher education institutions and society can ill afford any longer a leaky higher education pipeline. Therefore, governing board practices must be rethought to examine questions of student success through an equity lens. I salute the AGB Board for showing the way."
John N. Gardner
CEO and Board Chair
John N. Gardner Institute for Excellence in Undergraduate Education
"The issues of justice, diversity, equity, and inclusion increasingly have been a more central and difficult part of university discourse as our institutions seek forward paths through very troubling times. I am pleased that AGB has finally placed these matters squarely within the major fiduciary responsibilities of boards of trustees, regents, and governors. Additionally, AGB has begun the development and provision of tools and services to assist boards on this path."
Senior Fellow and Consultant, AGB
Former President, Clark Atlanta University and Savannah State University

"Colleges and universities are vital to American democracy, prosperity, and ingenuity. At this juncture in our nation's history, the courageous leadership of governing boards is needed to take on the fundamental work of examining anew our policies, practices, and institutional behaviors through a lens of equity. To do less is to fail to understand the most significant shortcomings of the institutions entrusted to us, as well as the extraordinary promise and fullness of our futures. The most important job of trustees is to ask bold and reverberating questions. This new statement from AGB will guide trustees in asking questions that will lead their institutions—and our society—to a better tomorrow."
Leo M. Lambert
Member, Board of Directors, AGB
President Emeritus and Professor, Elon University
"Colleges and universities—public and private, large and small—will be questioned—even challenged—about issues of justice, equity, diversity, and inclusion by current and prospective students, alumni, faculty, accreditors, donors, supporters, or detractors. This AGB statement will assist boards in analyzing their values, policies and practices, and aspirations so that they are ready to respond or well prepared to make progress on goals that only they can determine are appropriate for their institutions."
Eleanor V. Horne
Member, Board of Directors, AGB
Trustee, The College of New Jersey
"Each of us has a sphere of influence where we have the power to advance change. Action, not only compassion, is needed to achieve justice, equity, and inclusion. What actions will you take?"
Kim Bobby
Executive Search Consultant, AGB Search
"It is with great pleasure that I endorse the AGB Board of Directors' Statement on Justice, Equity, and Inclusion and Guidance for Implementation. AGB has always provided enlightened guidance to governing boards of colleges, universities, and foundations, and this document is no exception. At this time in our history, it is imperative that institutions of higher education intentionally focus their attention not just on student access but on the success of ALL of students, which can be accomplished with the support and guidance of board members. Kudos on a job well done."
Belle Wheelan
President, The Southern Association of Colleges and Schools Commission on Colleges
"This important statement recognizes the need for all leaders to work in unison to directly and strongly confront issues of justice, equity, and inclusion throughout the entire institution and as they affect every member of the campus and surrounding community. It will be a valuable resource for college and university boards, presidents, and other senior leaders committed to building inclusive, welcoming campuses."
Ted Mitchell
President, American Council on Education
"The AGB Board of Directors' Statement on Justice, Equity, and Inclusion and Guidance for Implementation provides thoughtful insights and encourages boards to address holistically issues that have interfered with the academic success and progress of many students. Board discussions and integration of justice, equity, and inclusion principles are critical to providing a 'culturally' healthy institution that embraces fairness and equality. This publication is thorough and an excellent platform for discussion for board leadership. I hope that it can influence and create systemic institutional changes at every level of operation!"
Cynthia Jackson-Hammond
President, Council for Higher Education Accreditation
"I congratulate AGB's Board of Directors for not just making this very important statement, but more specifically for providing a well-designed roadmap for institutions to follow. Trustees and administrators alike will be well advised to follow the guidance this document provides."
Larry Schall
President, New England Commission of Higher Education
"During these fraught times in America when colleges and universities are having to deal with persistent racial disparities in education and in societal issues such as hunger, poverty, health care, jobs, and criminal justice, it is exciting to see a timely and definitive statement and guidance by AGB for our institutional leaders to step up to ensuring justice, equity, and inclusion on our campuses."
Sonny Ramaswamy
President, Northwest Commission on Colleges and Universities
"HACU commends the Association of Governing Boards of Universities and Colleges for adopting a comprehensive and proactive approach to justice, equity and inclusion. The guidance presented in this publication is an important resource for institutions, especially during these challenging times our country is facing. It is our hope that boards, presidents and staff at institutions of higher education adopt and implement these important strategies."
Antonio R. Flores
President and CEO, Hispanic Association of Colleges and Universities
"I commend AGB for providing an additional resource to guide boards in asking critical questions of issues surrounding justice, equity, and inclusion. This statement will further help boards lead institutions toward representing an environment where each student and employee feels welcome, included and supported, and promotes academic success for all students."
Robin Gary Cummings, MD
Chancellor, The University of North Carolina at Pembroke
"The State Higher Education Executive Officers Association (SHEEO) proudly supports the AGB Board of Directors' Statement on Justice, Equity, and Inclusion and Guidance for Implementation. We genuinely align with the principles of the statement's vision, including the intentionality of stating that governing boards have a moral, fiduciary, and educational responsibility to provide leadership on issues of justice, equity, and inclusion in higher education. AGB has laid out a solid statement to guide trustees in leading their institutions towards positive change in these arenas."
Robert Anderson, Ph.D.
President, State Higher Education Executive Officers Association (SHEEO)
"Leadership starts at the top. Whether in the private sector or higher education, board diversity is a priority not just because it is the right thing to do — it's the smart thing. There is overwhelming evidence that greater diversity can translate to more innovation and bring different ideas and viewpoints to businesses and institutions."
Suzanne Clark
President & CEO, U.S. Chamber of Commerce
"Diverse boards are better able to create value and foster inclusiveness. Greater diversity can help colleges and universities recruit from a richer pool of talent and experience as well as provide a deeper understanding of students, stakeholders and communities."
Rick C. Wade
Senior Vice President of Strategic Alliances and Outreach, U.S. Chamber of Commerce
AGB welcomes your feedback on this statement.
Please submit your comments using the form below.