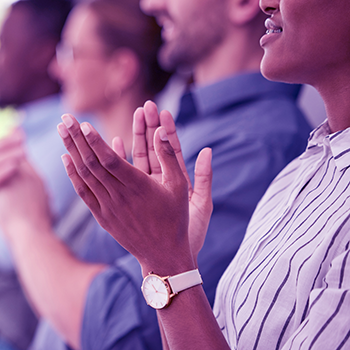 You are viewing the Institutionally Related Foundation version of this CEO Update. System and Institution versions are also available.
After recently participating in three AGB conferences along with nearly 1,500 members, I am inspired by the passion and commitment of these individuals who collectively support the education of more than 6.5 million students. AGB members focus on the success for all students and the long-term vitality of their institutions and related foundations. Their commitment to strategic, consequential board leadership is needed now more than ever. Higher education is being disrupted from many sides, and institutions and foundations will need to make great efforts to see it thrive in the coming years.
During these convenings, I shared my "three Ss" to guide boards' priorities: Strategy, Students, and Sustainability. These priorities are related to the following key takeaways I heard during our conferences:
Independence, Accountability, and Student Success
Independence: Independence is highlighted as one of the nine Principles of Trusteeship, and this principle is essential not only for individual foundation board members but also for foundation boards as a whole. As you know, all governing board members are expected to embrace their fiduciary duties of care, loyalty, and obedience—independent of external influences.
While it is essential for foundation governing boards and their members to listen to and understand perspectives of many different constituencies, it is also important to exercise fiduciary responsibilities with courage, prioritizing the best interests of the foundation and its institution over those of individual or corporate donors. Notably, influence only becomes "undue" when an external voice changes your decision against the best interest of your foundation.
Go Deeper: Consider reviewing the AGB FAQs on independence from external influences.
Accountability: In a 2020 issue of AGB's Trusteeship magazine, I included accountability as one of the six elements of strategic board leadership. The most important component of strategic board leadership is realizing that the board is accountable for everything that happens or fails to happen within the foundation.
From a technical leadership perspective, while accountability cannot be delegated, responsibility can. It is critical for foundation board members to recognize that their primary and ultimate fiduciary duty is to be accountable for the foundation's long-term reputation and vitality.
For foundation boards, accountability may require working closely with institution leaders to ensure that strategy, policies, practices, and oversight consider tasks for which the foundation board may not have direct managerial responsibility. For example, while a foundation board may not be directly accountable for oversight of institutional accounts and expenditures, it does have the responsibility to make sure that foundation funds distributed to the institution are used in a timely manner and in accordance with donor intent.
Go Deeper: Consider reviewing the following AGB resources:
Student Success: As you have read in my monthly communications over the past four years, success—for all students—is a priority for the future vitality of higher education around the world, and for the well-being of democracy, the global economy, and civil society. During our recent conferences, I heard speakers and panelists reinforce the importance of maintaining a close eye on student success and how strategic priorities are aligned with and advance the success of their students.
Go Deeper: Consider the following resources related to board oversight of student success for foundations:
Many governing board members have asked me how they can best influence strategies that impact the future well-being of their students without succumbing to micromanagement. In response, I ask governing boards to discuss the "what, why, and how" as they affirm their strategic priorities. For example, many boards admit that they have not considered the following questions:
Why do students withdraw, fail to graduate, or struggle to find rewarding employment after graduation?
What can the foundation do to most effectively support student success?
How do we listen to and work with institution leaders, faculty, students, and alumni to understand the factors affecting student well-being and success and develop strategies to support student success?
I share these questions as the futures of many colleges and universities are being disrupted by technology, industry, donors, elected officials, other institutions both domestically and around the world, and more.
So, as you prepare for your next board meeting, I urge you to think about how your foundation will thrive during higher education's disruption, and how your governing board's collective actions will shape your future.
Share on LinkedIn