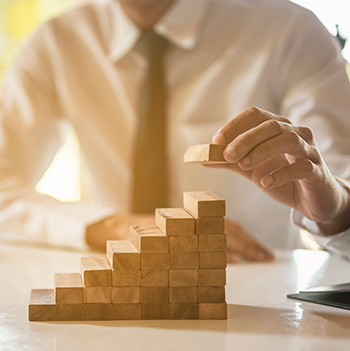 During the November 2022 meeting of AGB's Council of Board Professionals, understanding board readiness to address the critical role of technology and its profound impact on higher education was at the core of a lively and engaging discussion.
After expressing appreciation for the members' commitment to serving and supporting the newly implemented term/cycle structure of the Council, AGB President and CEO Henry Stoever welcomed new members Hanna Rodriguez-Farrar from Colgate University, Erika Geetter of Boston University, and Lisa Cousino-Hoersten from the University of Toledo Foundation.  Council members were encouraged to register for the annual Board Professionals Conference to be held in San Diego in March and to register for the new Board Professionals Certificate Program, which has more than 230 learners currently enrolled. Several council members have finished the program and now hold certificates of completion.
The topic of board readiness for strategic digital transformation and engagement on their campuses highlighted the plenary session with Amazon Web Services leaders Mark Hampton, executive education advisor, and Jennifer Sparrow, senior manager for higher education business development leading the discussion. They launched the group into an exploration of board readiness to address the next wave of technology innovation in higher education.
They noted the invaluable role of board professionals to assist trustees in "seeing over the horizon" where new opportunities and challenges await them.  AWS has been considering the importance of digital transformation for quite some time. Mark Hampton noted AWS is acutely aware of its transformative power as a tech company and brings to higher education a way of helping to modernize and build resiliency within their IT organizations and ways to engage students, faculty, and other stakeholders. Further, Jennifer Sparrow mentioned AWS espouses 14 leadership principles at the core of their business, and one in particular, "customer obsession" or understanding the "voice of the customer," drives their work in the higher education sector. They are driven by gaining insights into better understanding how boards address challenging questions and how AWS can help institutions think more broadly about "the art of the possible."
In thinking about the needs of today's and tomorrow's students, AWS knows the bar is raised for campuses to meet an ever-advancing set of expectations from students, especially around such standard services as student information systems that may be antiquated and outdated. For example, students are frustrated with systems with "mundane" tasks such as entering email addresses multiple times in order to access academic records and other resources. AWS is trying to better understand how to leverage and contemporize technology to ensure a more relevant, resilient, and robust student experience from the moment of enrollment through time as alumni and potential donors.
Sparrow also posited that boards are very concerned about their institutions' reputations. For example, when a student, faculty researcher, or alumnus comes to campus are they left with the impression that the investment made in the enterprise of education is valuable and viable?  AWS, in particular, is thinking about how modernization and budgetary constraints are often at odds.
SURVEY RESULTS
Prior to the council meeting, members were asked to complete a survey of ten questions on their board's strategic transformation perspectives including:
Having a track record of maintaining focus on strategic priorities.  Ninety-one percent of respondents favorably agreed their boards are attuned.
Has an effective structure for board oversight of strategic transformation. More than 95 percent believe their boards are ready for this role.
Yet, when asked for responses to: "My board includes individuals with necessary experiences and insights to inform strategic transformation, the results were slightly different with 83 percent responding favorably, which may indicate a possible need for more trustee expertise, education and engagement on this subject."
My institution's chief executive and senior staff are ready to leverage the board for strategic transformation. Thirty-nine percent strongly agreed while nearly 57 percent somewhat agreed.
Digging a bit deeper, the following question offered these results:
Digital solutions are an important focus of strategic transformation in my institution going forward. The results were fairly evenly dispersed: 30 percent strongly agreed, 39 percent agreed, and 27 percent neither agreed nor disagreed.
More than 52 percent strongly agreed, and 35 percent somewhat agreed IT is a strategic asset, not just a utility. When asked who is the leading proponent of transformative digital strategies the results were varied:
Cabinet-level leaders
Chief executives
Individual trustees
Board leadership
Board committee
Full governing board
Outside consultants
Others (CIOs, COOs, etc.)
78%
48%
30%
35%
26%
13%
8%
17%
Council members were unanimous that cybersecurity is a key topic at the board and administrative leadership levels and often is discussed during plenary sessions, while results were slightly mixed regarding strategic accounting for IT expenses (capital and operational budget) and sustainability of tech investments with 83 percent and 74 percent indicating "yes" respectively.
Finally, when asked if their boards would approve new investments in technology within the next one to three fiscal years, the results varied: strongly agree: 52 percent; somewhat agree: 30.43 percent, and neither agree nor disagree: 17 percent.
Board professionals also are concerned about a number of other areas including systems interface and the ability for such systems to "talk to each other"  and ensure consistency of response, data sharing across campuses and with their institutional systems, data "ownership," costs of training, champions for IT transformation, donor data ownership (for example, institutions partnering with their institutionally-related foundations), stewardship, duplicate systems, integrity, and costly investments needed to remain updated. Several raised concerns about board members' knowledge and their own professional/personal readiness to engage in these strategic discussions.
In concluding remarks, council members shared insights regarding how they structure meetings to include strategic topics for their boards. Solutions included:
setting aside 30 minutes at the beginning of each meeting to focus on one topic;
establishing a culture of open and engaging inquiry within the board;
arranging pre-meeting education sessions where subject matter experts on various strategic issues offer insights to fuel further board discussions during the formal meeting;
creating annual roadmaps for board topics to be discussed;
reviewing and restructuring committees to make their work more targeted, purposeful, and attuned to the future;
offering continuous education and cross-committee information to ensure all board members are ready to address critical, strategic issues; and
maintaining a focus on board diversity and inclusion to make sure needed expertise and talent are present at the table.
Many agreed the path during this post-pandemic period remains filled with opportunities to more squarely focus on strategic issues that are just over the horizon.
TAKEAWAYS
Strategic investments of agenda time to prioritize and financially support digital transformation and technology infrastructure are top of mind for boards, chief executives, and cabinet-level executives especially with respect to cost, quality, and access. Some boards have created ad hoc technology committees or made this work an important part of other board committees (that is, audit, building and grounds, development, or even academic affairs).
Frustration exists among students, faculty, staff, alumni, and other constituents with respect to seamless engagement with campus-based technology and ensuring constant attention to the changing landscape of digital presence on and off campus as a means to advance student success. There is a need to provide ongoing board education on this critical subject.
Concerns are emerging with the longevity and departure of knowledgeable and progressive IT professionals from campuses. These leaders who are equipped to implement reliable infrastructures are being recruited to other campuses or industries. Boards view the lack of knowledgeable professionals as a risk-management concern.
Preparing board members to serve through effective orientation beyond a one-day immersion is key to ensuring satisfaction and high performance of the board as a whole. Longer orientation using a variety of tactics deepens the board member's commitment to the mission.
Lynnette M. Heard is an AGB senior fellow and senior consultant and is the ambassador for the Board Professionals Council and Membership Experience Department, who spent more than 25 years as a board professional for public and private institutions and an institutionally related foundation.
Opinions expressed in AGB blogs are those of the authors and not necessarily those of the institutions that employ them or of AGB.
Share on Twitter