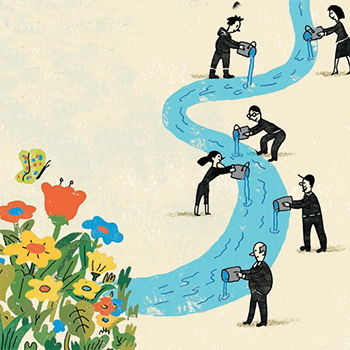 AGB recently published Top Strategic Issues for Boards 2022–2023, which outlines the most pressing challenges currently facing colleges and universities. The issues will sound familiar to higher education leaders, but the publication makes a compelling case that the pandemic has exacerbated deeply rooted challenges and that board oversight, vision, and leadership are more critical than ever.
The top strategic issues for 2022–2023 are:
Ensuring institutional vitality;
Improving outcomes for students;
Strengthening civic education and democracy;
Grooming new higher education leaders; and
Managing serious risks.
At its April meeting, AGB's Council of Foundation Leaders explored the implications of these issues for college and university foundations and shared examples of ways Council members' foundations are addressing them.
Advancing institutional vitality and supporting improved outcomes for students are central to most affiliated foundations' missions. However, during the first years of the pandemic, unbudgeted costs, increased student needs, and the imperative to transform countless facets of campus life led many institutions to request increased and unrestricted funding from their foundations. While robust endowment growth may have enabled foundations to provide such emergency support, foundation leaders were concerned that growing reliance on unrestricted foundation funds wasn't sustainable. A significant market correction undermining both endowment values and fundraising would further restrict foundations' ability to provide unrestricted support.
Public-private partnerships, collaborations, or mergers were creating new philanthropic opportunities for foundations and helping institutions better align program offerings with regional workforce needs. One foundation was collaborating with other state institutions to raise funds from corporations and foundations interested in workforce development and other issues benefiting the state as a whole. Foundations are also looking beyond scholarship support to address the wide range of hurdles, major and minor, that prevent students from completing their degrees. An article in the May/June issue of Trusteeship magazine describes a variety of ways foundations are innovating to have a greater impact on equitable student success.
At first glance, strengthening civic education and democracy, grooming new higher education leaders, or managing serious risks stemming from institutional operations may seem to be beyond the purview of foundation boards. The Council members, however, argued that foundations have important roles to play in all three. In an environment in which a faculty member's tweet, an out-of-context quote, or a privately funded speaker can lead to social media firestorms or even legislative reprisals, advocating for and marshalling private philanthropic resources to support civic education and democracy are imperative.
The average tenure of a college or university president is far shorter than that of most foundation board members. Foundation boards can play a critical role in helping new presidents and other academic leaders navigate institutional cultures and forge relationships with key business, community, and state leaders. They also contribute a valuable perspective in the leadership selection process. Looking beyond the challenges posed by presidential leadership transitions and recruitment, building a pipeline of diverse volunteer leaders and advancement professionals is an urgent priority and one that foundation boards are uniquely positioned to advance.
Finally, while foundation boards may not have direct responsibility for oversight of institutional risk, effective risk management requires close collaboration, robust communication, and well-integrated policies and practices encompassing the institution and all affiliated entities.
AGB's Top Strategic Issues publication is focused on key responsibilities and areas of oversight of institutional governing boards. Foundation boards may not have direct responsibility for these issues, but they should invest the time needed to understand the way these issues are affecting their institutions and work to identify ways they can collaborate with institutional leaders to address current and future challenges and chart a path forward.
David Bass is AGB's executive director for philanthropic governance.
Opinions expressed in AGB blogs are those of the authors and not necessarily those of the institutions that employ them or of AGB.
Share on LinkedIn