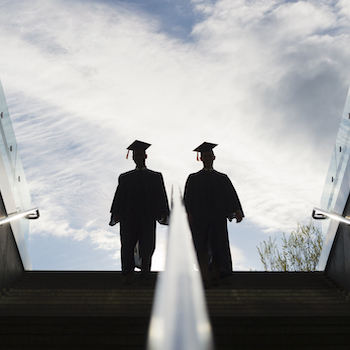 Our world is rapidly changing, and so is the higher education industry. There is never an easy time to implement a campus-wide transformation – for many higher education institutions, the time to explore opportunities for innovation and holistic change is now. The current higher education landscape, while challenging, is empowering college and university leaders and board members to make strategic, data-driven decisions to support the evolving needs of students, faculty and staff that align with the institution's mission and ensure institutional sustainability and student success.  And the solutions being pursued are more exciting and creative than ever before.
Meeting the academic, health and safety needs of students, faculty and staff, while also ensuring fiscal resiliency, has always required institutions to take a strategic approach to aligning resources through a fiscal management lens (and that was before the pandemic and ensuing economic downturn). In many ways, college and university boards are facing a perfect storm. COVID-19 has created an uncharted environment that accelerates the need to take a more intentional approach to institutional resiliency. Issues that have been brewing for years have now combined with the ongoing pandemic to impact operations, enrollment and financial performance in a way that may be daunting for some institutions. As a result, leadership is left to proactively improve short- and long-term liquidity, which often results in their seeking guidance from board members when options are not obvious, and/or needing advocacy when options require difficult decisions. Frequently in these trying times, both board members and senior leaders find themselves pondering the question, "What do we do now?"
The answer to this question involves many institutions and systems of higher education considering (and in some cases, implementing) partnerships with like-missioned organizations on collaborative combinations, strategic integrations and/or shared services models. The goal of these collaborations goes beyond the financial need, in that they should also result in enhanced service and responsiveness to students. Some examples include:
Shared academic programs –students and faculty on different campuses are sharing academic programs, resources and support services
Inter-institution partnerships – universities are considering program-specific affiliations or strategic combinations of their entire institutions, essentially integrating their physical footprints with their academic and administrative expertise to create something new and more aligned with market demands
Shared institutional support and administrative functions – institutions are consolidating these functions while enhancing what they currently have to achieve better, more responsive service in a cost effective way
Focusing footprint and asset allocation on core mission –colleges and universities are eliminating capital assets that do not support the core of what they do. Instead, they are contracting with community businesses and corporate entities to collaborate in areas outside their expertise
Community-based partnerships –institutions are leveraging their areas of expertise in creating workforce pipelines and hands-on career development opportunities with community-based partners (e.g., health systems, senior living entities, etc.) by designing complementary academic programming and workforce competencies and further leveraging capital assets (physical and human) in joint ventures and agreements
The perspective, involvement and leadership of the board are as critical as ever as institutions navigate the current environment and chart a path forward. Today's challenges in higher education call for board members and senior leaders to take bold steps to positively impact student and institutional success. Boards should serve as catalysts for change and drive the institution towards achieving fiscal resiliency.
I encourage you to attend our upcoming education session at the National Conference on Trusteeship on April 12, Collaborative Combinations to Support Student Success and Institutional Sustainability: Lessons for Boards from PASSHE's Path towards Integration. I'll be joined by the Chancellor of Pennsylvania's State System for Higher Education (PASSHE), Daniel Greenstein, and my colleague, Raina Rose Tagle, to share PASSHE's multi-university integration story and discuss the benefits and key lessons learned for boards to keep in mind in exploring institutional opportunities for creative collaborations. In particular, we will share a holistic perspective of the complexity of establishing strategic and operational collaborations within a decentralized environment and specific principles for the board's role in the success of such initiatives, including risk oversight considerations.
Christine Smith is Managing Director at Baker Tilly.
Opinions expressed in AGB blogs are those of the authors and not necessarily those of the institutions that employ them or of AGB.
Share on LinkedIn