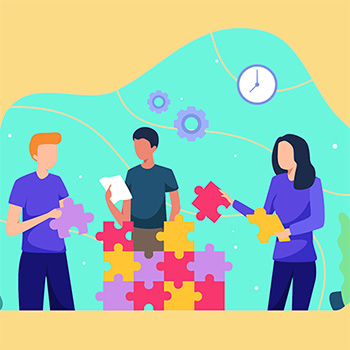 On Title IX's 50th anniversary, the U.S. Department of Education released proposed changes to the regulations ("proposed rule") that govern Title IX compliance. The proposed rule substantially alters the required college or university response to sex-based discrimination, including pregnancy and related conditions as well as sexual harassment, sexual assault, stalking, dating violence, and domestic violence. The proposed rule also clarifies that "on the basis of sex" includes sexual orientation and gender identity, strengthening protections for LGBTQIA+ individuals who face discrimination on these bases.
To effectively comply with the proposed rule once it is finalized, colleges and universities will need to make substantial adjustments to their nondiscrimination programs, including updating their policies and procedures that govern sex discrimination. Once the Department of Education publishes the final rule, institutions will likely have 60 days to make the required policy and procedure changes. Now is the time for campus leaders to work with their Title IX coordinator(s) to begin the planning process and prepare stakeholders for the coming changes.
Although many of the policy and procedure requirements outlined in the proposed rule remain consistent with the current regulations, campus leaders should note that the proposed rule will require alterations to their current nondiscrimination program and begin discussing how they will implement the necessary policy and procedure changes in a timely manner. Current policies and procedures must remain compliant with the 2020 Title IX regulations until the proposed rule is finalized and the Department of Education communicates an implementation date, likely sometime in late 2022 or early 2023.
Here are five actions to take now while awaiting the final rule.
1. Understand what changes the proposed rule will require. The proposed rule is lengthy (50-plus pages of regulation and 650 pages of preamble) and will require updates to all facets of an institution's nondiscrimination program as it relates to sex discrimination. It's a good time for campus leaders to begin internal discussions with key stakeholders and develop a strategic implementation plan for the final regulations. These stakeholders include internal legal counsel, human resources, the vice president for student affairs, union leadership, and leaders of diversity, equity, and inclusion programs. Pay attention to three key areas: (1) the proposed definition of sex-based harassment; (2) the requirements to adhere to the pregnancy and related conditions provisions; and (3) how the nondiscrimination program may be expanded to incorporate the scope of the proposed rule (i.e., discrimination on the basis of sex includes discrimination on the basis of sex stereotypes, sex characteristics, pregnancy and related conditions, sexual orientation, and gender identity). It may be helpful for the Title IX coordinator to create a summary of the proposed rule for review by trustees, the president, and other senior leaders. The summary could include a checklist that outlines how the proposed rule will impact the institution's nondiscrimination program.
2. Prepare to expedite the institution's policy revision process. Many institutions have a layered approach to adopting new or revised policies. Knowing that the implementation timeline will most likely be 60 days, campus leaders should ensure that they notify key stakeholders about the impending changes; key stakeholders prepare for policy/procedure approval procedures to accommodate the timeline; policy committees begin to look at the proposed rule to anticipate what changes will be necessary; and key stakeholders identify deadlines to submit policy revisions for consideration at applicable board or cabinet meetings.
3. Discuss current policies and practices and future actions. Because many of the changes that institutions will need to make involve pregnancy and related conditions and LGBTQIA+ protections, campus leaders should discuss the direction in which the institution wishes to move forward with incorporating such protections into its policies. Many campuses are considering whether any changes can be made now that will not conflict with the 2020 regulations or state law and are beginning to plan overall updates once the proposed rule is finalized. LGBTQIA+ protections may be a contentious topic in some areas. Campus leaders should prepare to manage the expectations of their constituents and communities, who may have differing opinions about these changes.
4. Notify the community of the proposed rule. Institutions may want to notify their community of the proposed rule, proposed implementation date, and the institution's plan for ensuring compliance so that when policy and procedure changes are implemented, the community will already know how the changes will impact the institution's response to sex discrimination. It is important for constituents to see that institutional leadership is committed to compliance and an environment free from sex-based discrimination.
5. Understand the proposed rule's training and mandated reporting requirements. The proposed rule will require that colleges and universities train all employees on the obligation to address sex discrimination in their education programs or activities. This requirement goes well beyond the training mandates of the existing Title IX regulations, including the recipient's nondiscrimination policy, the scope of conduct that constitutes sex discrimination, and all applicable notification and information requirements.
Here are some additional things to consider as you await the proposed rule changes.
Be prepared to review collective bargaining agreements. Colleges and universities in union environments will want to ensure that union leaders are aware that the institution will be adopting updated policies and procedures. It will be helpful to work with union leaders to ensure a smooth transition to the new regulatory requirements. The proposed regulations include areas where union expectations and practices may conflict with Title IX requirements, and the employees responsible for negotiating collective bargaining agreements with union leaders may need additional support to reach an agreement under these circumstances. The longstanding position of the Office for Civil Rights has been that union rights and Title IX rights need to be integrated and reconciled, but it is also true that changes cannot be imposed on unions just because federal regulations have shifted. Institutions will need to negotiate any required changes to collective bargaining agreements with union leaders to successfully implement the final rule.
Provide sufficient staffing and space resources. Policy development and revision is complex and attention to detail is paramount. This process will require significant time and focus from the Title IX coordinator(s) and may necessitate the provision of additional staffing support to continue prompt responses to complaints and fulfillment of Title IX compliance responsibilities. When the 2020 regulations were implemented, Title IX coordinators largely benefited from a respite from high caseloads because of COVID-19, allowing them to be singularly focused on revisions to policies, procedures, and training. That won't be true this time around, and Title IX coordinators will have to balance growing caseloads while managing the required changes to the nondiscrimination program. Because the proposed rule will require that recipients ensure the availability of lactation space(s) for students and employees, recipients will need to review how space is allocated and should be proactive in identifying spaces that can satisfy this requirement. Take advantage of resources available regarding Title IX.
Make use of available resources. The Association of Title IX Administrators (ATIXA) is one of the best resources for Title IX compliance. ATIXA's variety of training and continuing education opportunities are available throughout the year. Title IX teams can monitor ATIXA's website for information and policy updates that will comply with the proposed rule once it becomes final.
Attend the free AGB webinar on Tuesday, November 1, for more information. Daniel Swinton, JD, EdD, a partner with TNG Consulting and the vice president of ATIXA, and Leah Gutknecht, assistant to the president for compliance and equity management and Title IX officer at the University of Northern Iowa, will discuss the lessons they learned from the implementation of the 2020 regulations. More information on this free resource for AGB members can be found here.
Alisha Carter Harris is a consultant at TNG. Mandy Hambleton is the director of content development at TNG, an AGB mission sponsor.
Opinions expressed in AGB blogs are those of the authors and not necessarily those of the institutions that employ them or of AGB.
Share on Twitter