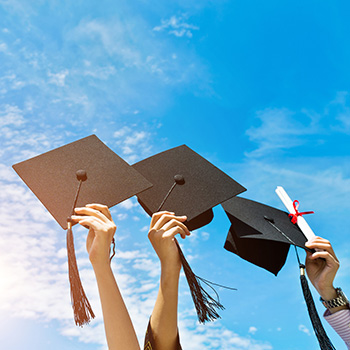 In his classic book, The Fifth Discipline, Peter Senge argued that creating a learning organization is critical to maintaining high levels of innovation and remaining competitive in turbulent environments.
It is no secret that many higher education institutions are facing unprecedented challenges to innovate and adapt to shifts in student demographics, student segmentation, and increasing competition. COVID-19 has accelerated the need to respond to environmental forces that have been lurking over the horizon for some time. Some have called COVID-19 a real-time SWOT (Strengths, Weaknesses, Opportunities, and Threats) analysis for how prepared institutions are to respond to the changing needs and expectations of today's students. Emerging data on enrollment trends and financial stress tests indicate that some institutions were not as prepared as they would have hoped.
The question at hand for the boards and leaders of those institutions is how to respond. Senge might argue that the answer is in creating a board commitment to continuous learning and transformation.
As institutions of higher learning, colleges and universities are natural places where seeking new ideas and data that challenge long-held assumptions to drive continuous improvement should thrive. The same thing should be said of their boards. How can boards become learning organizations that work together to enhance their capacity to advance equitable student success?
A board commitment to continuous learning
At its September meeting, AGB's Council for Student Success did a deep dive into the board leadership principles that drive and support achieving equitable student success outcomes. While many different principles were discussed, an overarching theme that emerged from the conversation was the importance of boards sharing a commitment to continuous learning that challenges them to examine current policies and operations through the lens of the needs and aspirations of a more diverse student population.
What surfaced from the conversation was a set of ideas for how to drive the kind of deep deliberation, self-reflection, and at times difficult conversations, that are necessary if a board is really committed to building campuses that place student success of all students at its core.
1: Seek out data that highlights both successes and failures.
We all like to celebrate our successes. Narratives about best practice programs or discussions of performance metrics that are moving in the right direction create opportunities to celebrate hard work and provide insights into where to continue to invest and prioritize. But we can learn as much, if not more, from efforts that did not go as well as planned.
Innovation, like that needed to make progress on improving student success outcomes and closing equity gaps, requires a high tolerance for risk. Meeting the academic and support needs of a diverse cohort of students will require institutions to redesign their historic approaches, many of which were developed for a different population of students.
That type of disruptive innovation, which involves imagining new solutions to new problems that you do not completely understand or existing problems that have remained stubbornly difficult to solve, requires new models and ways of thinking. Institutions will need to experiment and some of those experiments will fail.
A board committed to continuous learning encourages their leadership teams to experiment and take risks and at creating an environment in which those experiments—both successes and failures—can be examined in a way that supports ongoing continuous improvement.
2. Create opportunities to hear from a diversity of student and faculty voices.
As I discussed in an article in the most recent issue of Trusteeship magazine (September/October), "Today's College Students: What Boards Need to Know," there is no longer a single profile of today's college student. Our students come from diverse backgrounds and experiences, have complex academic and support needs, and are pursuing a college credential for myriad personal and professional goals.
As board's are considering policies and actions that will impact their student population, how is this diversity being understood and considered. Who are the students and faculty who are invited to share their perspectives with the board? Do their perspectives and experiences reflect the complex profile of the students your institution serves? Boards need to actively seek input from a diverse array of student and faculty perspectives to fully understand the impact of policy decisions on different student populations and recognize that policies can have a different and sometimes negative impact on underrepresented student groups.
A board committed to continuous learning looks for opportunities to expose the group to new and conflicting data that reveal gaps in understanding in order to improve decisionmaking.
3. Cultivate an environment in which difficult conversations are welcome.
Policies and practices are often grounded in an institution's historic mission and student population and evolve over time in a process of incremental change. Making tangible progress on improving student success outcomes across all student segments may mean that gradual adjustments will no longer suffice.
Developing a boardwide understanding of how existing policies and practices are negatively impacting segments of your student population and the changes that will need to take place to address these inequities may challenge existing institutional norms and values, both explicit and implicit. These are critical conversations for boards to have if their goal is to advance the success of all students. But these same conversations hold the potential to be difficult and divisive—especially if the discussions are not grounded in a shared responsibility for the long-term health and sustainability of the institution. This goes to the heart of Principle 9 of AGB's Principles of Trusteeship.
"Bring genuine curiosity and an open mind to board service. Welcome alternative points of view and value them as a reflection of a community committed to the common goal of advancing the institution."
A board committed to continuous learning actively cultivates a board culture that supports the open discussion and deliberation of what is really impeding the progress of the institution and its students and commits to seeking solutions that advance the shared goal of institutional and student success.
4: Embrace the need for continuous transformation.
As the profile of students attending our colleges and universities continues to change, our programs, services, policies, and practices will need to change right along with them. Responding to the current wave of disruptions resulting from the needs and aspirations of today's students with a one-time redesign misses the larger point. To achieve true resiliency, institutions will need to be in a state of continuous transformation to stay aligned with the changing student and market needs and demands over time.
A board committed to continuous learning understands that one of its greatest responsibilities is to ensure that the institution is asking critical questions of itself on a regular basis, is gathering new insights to challenge current assumptions, and is using the results to continuously respond to the emerging needs of its students and stakeholders, especially those who have not been well served by existing approaches.
A board ethos of continuous learning and improvement takes time to develop. Establishing the level of trust necessary to engage in constructive but difficult conversations that support shared learning requires a strong partnership between the board chair and president. It also requires a sense of collective responsibility for the success of all students that is central to our shared mission and purpose as institutions of higher education.
Lisa Helmin Foss, PhD, is an AGB senior consultant and the ambassador to AGB's Council for Student Success.
Opinions expressed in AGB blogs are those of the authors and not necessarily those of the institutions that employ them or of AGB.
Share on LinkedIn