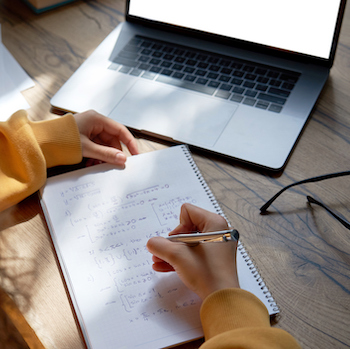 Note: The COVID-19 pandemic has accelerated a shift in what students think of higher education. This is the second in a series of three posts from Six Red Marbles looking ahead to these possibly seismic shifts and how to prepare your institution for the student of the future.
One thing the pandemic has made crystal clear is that online education is here to stay. Quality online education has become a strategic goal for most colleges and universities; the question is less about if they will create more online programs than how many they will create and on what timeline.
The technology available to create online courses is continually in flux and improving, which means that online courses are also changing rapidly. The rapid shift to online instruction due to the COVID-19 pandemic has further accelerated shifts in online course trends. While it is impossible to fully predict what an online course will look like, here are some of our projections for what the next couple of years of online courses have in store.
Emphasis on the Student
Student-centric, learner-focused courses and programs are growing in popularity. Whether it's small, individualized instruction that is more closely tailored to a student's need or letting students be the drivers of what they want to study, the pandemic gave students more flexibility in where they learned and how that learning was measured. Now that students have had a taste of being in the driver's seat, it's likely that this demand for more opportunities to direct their learning will continue to grow.
As we create our online courses, we should be asking ourselves, "What does the learner need?" and "How can we design with the learner in mind?"
One of the big things that students need is educational content that is closely tailored to their future career interests. Students want to be able to create their own majors and select paths that are tailored to their individual interests, whether that's a career in social justice or a series of courses to help them better understand our changing climate.
Students who have experienced the benefits of a flexible learning environment are also eager to have the flexibility to take courses either in-person or online, depending on their needs. Many nontraditional students, including parents and students in the workforce, benefit from the flexibility of online courses.
Experimentation 
By now we're all familiar with massive open online courses (MOOCs) on platforms such as Coursera and edX. MOOCs are not the only ways that institutions are experimenting with the format of their courses, though. Colleges and universities are exploring other non-degree alternatives such as shorter courses (e.g., one credit hour instead of the conventional three credit hours), boot camps, and certificate programs, all of which share the common goal of getting students the information they need more quickly. As employers are increasingly becoming accepting of non-degree qualifications for jobs, colleges and universities are scrambling to create quick, modular trainings that can keep pace.
The pandemic also forced many professors to experiment with the format of their courses, whether by flipping the classroom, pre-recording lectures, or experimenting with discussion forums. Some professors found that certain experiments led to even greater participation than what they had been doing before. (For instance, Six Red Marbles worked with many professors who found that students were much more likely to attend virtual office hours than they were to attend traditional in-person office hours.)
Now that colleges and universities have more flexibility in what they put online versus teach in person, they are also experimenting with hybrid courses that mix online and in-person elements to leverage the most effective components of each method.
Desire for Community
Whether they attend online or in-person, students expect to be able to have easy access to the resources they need and to feel a sense of community. There is a growing demand to meet students' needs, even if the students are not on a physical campus. The pandemic has led many people to feel isolated, and students expect that higher ed institutions will provide mental health services and that professors will be more sensitive to students' emotional needs.
Colleges and universities need to be flexible in thinking about how they can replicate the in-person aspects of the college experience in an online learning environment. Strategies to try include putting together academic cohorts or student project teams in order to give students a stronger sense of community.
Continuous Improvement
The past year has taught us a lot about what makes for a successful online course. With the acceleration of online learning, we are getting more data and feedback on how we can improve courses and learning experiences to better meet the needs of all learners. No matter which trends take hold and what opportunities new technologies bring, we're confident in one thing: online education is only going to get better.


Bethany Ramirez 
Sr. Digital Marketing Specialist 
Six Red Marbles
Opinions expressed in AGB blogs are those of the authors and not necessarily those of the institutions that employ them or of AGB.
Share on Twitter