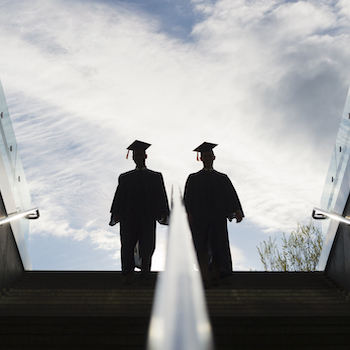 According to a study conducted by Harvard Business Review Analytic Services, 90 percent of respondents said customers expect organizations to know their interests and anticipate their needs. This should come as no surprise, as we live in an era of personalization. Prospective students, alumni, donors, parents, and other constituents demand that communications, content, and offers be tailored to their interests.
How does personalization drive engagement? The Engagement Function illustrates how institutions can effectively interact with students and donors in a way that captures their interest and compels them to act.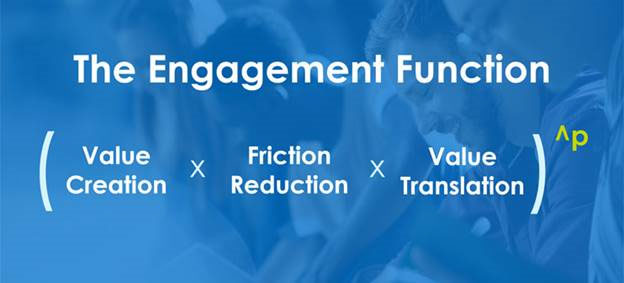 Value Creation is the benefit your constituent desires—a degree program, graduate outcome, or philanthropic objective.
Friction Reduction addresses how easily you allow the student or donor to engage with you and continue on their journey to enrolling or giving.
Value Translation shows how, at each step of the enrollment or fundraising process, your audience stays engaged and sees the direct benefit in what they are doing.
The Power of Personalization (p): These three variables are elevated through personalization, so the value propositions, communications, content, and experiences are tailored precisely to students and donors. The end result is a consistent, continuous experience that makes the student or alumni feel like you are talking to them as an individual while providing the information and incentives they need to take action.
Accomplishing Personalization at Scale
Personalizing interactions with these constituents is a daunting challenge for most colleges and universities. It requires automation, data management, and omnichannel communications to deliver the right message to the right audience at the right time, in the channels they use every day.
From an ROI perspective, it does not make sense for campuses to do all of this on their own. That's why RNL has developed advanced personalization solutions for enrollment and fundraising, and has also partnered with dozens of other firms through the RNL Marketplace.
Personalization Drives Sustainability
The increased competition for students and donors means that your institution will have to work smarter to engage your constituents, keep their attention, and incentivize them to act. That engagement will not happen without personalization, meaning that personalization is critical for the ongoing success of your campus.
Learn more about how RNL can help you achieve personalization at scale and increase engagement in your enrollment and fundraising efforts.
Share on LinkedIn