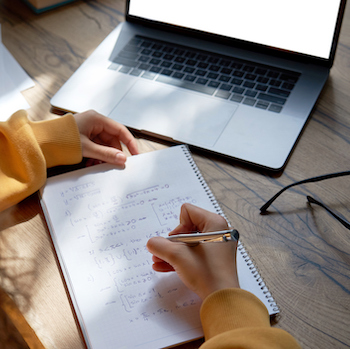 Many advisors who work on campus know a student is struggling before they say a word. After all, the student's expression and body language can reveal their frustration and anxiety.
But online advising is different. Advisors often work with online students by phone, email, or text — formats that don't offer the same cues as in-person advising. Therefore, online advisors must use different tactics to discern a student's mental state or desire for help.
Enter the Online Learning Advising Model (OLAM).
Instead of recycling tactics used on campus, OLAM is custom-made for the online learning experience. That includes accounting for how students think and feel about online coursework, helping them cross the finish line to graduation.
The Four Elements of OLAM
1. Shame resilience theory
"You can do this." This simple message should be baked into every interaction an advisor has with an online student. By continually building their confidence, it reinforces the student's belief that they will thrive in online classrooms.
The shame resilience theory offers ways to build that confidence. Instead of overcoming negative feelings when challenges arise, students may run from them — and their online program.
This flight behavior often follows a similar pattern. First, the student will ignore their advisor's emails and texts, and they will let calls go to voicemail. After cutting these ties, the student may quit logging into their LMS and eventually drop out.
Seeing students ghost their programs is what motivated me to design OLAM. I wanted to understand why they stopped responding to us. And I wanted to figure out why they never called to say they couldn't continue in their program.
Advisors can turn calls into judgment-free spaces, so each student feels comfortable about discussing the obstacles they face. From there, the student receives practical guidance to accept that, yes, online coursework is a challenge — but it's one they can win.
2. Proactive advising
The idea that many online students feel isolated is a tough pill to swallow. But it's true: Many online learners believe that no one will guide them when their journey goes astray. Nor do they have someone to celebrate with when they have an academic breakthrough.
Proactive advising helps students overcome these feelings by showing that someone is always on their side. It works when advisors build strong connections with students.
Colleges don't wait for students to reach out when they commit to proactive advising. Instead, advisors build relationships with students, reinforcing they will travel together through their journey. This approach prompts students to contact advisors not just when there's a problem; they also share their wins.
Proactive advising starts when counselors first walk online students through their program orientation process. It's these advisors' job to show students they aren't alone. That way, they start classes knowing someone is always there for them.
3. Cognitive behavioral theory
Through cognitive behavioral theory training, advisors learn to help students resist defeatist behavior when they struggle with coursework. Advisors also learn to spot warning signs that a student is losing confidence.
Behavioral analytics make this aspect of OLAM even more impactful. For instance, we have recorded more than 4 million calls with students to identify the motivations behind statements and whether their verbal cues signal a cry for help. These cues feed into predictive modeling that helps us anticipate at-risk behavior.
Advisors can use these insights to help students see that setbacks aren't permanent. They can also condition students to remain positive as they learn from their mistakes.
This type of advising is not easy. It challenges students to change how they think, which can get uncomfortable. It helps to tailor statements for each student's needs, considering their unique situations and abilities.
4. Appreciative advising
When students discover their strengths, they lay the groundwork for achieving their goals. And this is where they can really shine.
Appreciative advising helps students amplify their natural talents to offset their skill gaps. Advisors begin identifying these talents when they form a relationship with a student. Then they help students see how to use those strengths as they work to complete their online program.
These conversations condition students to imagine how to use their talents to solve problems.  They also equip students with the confidence and critical thinking skills needed to achieve long-term success.
Implement a learner-centric strategy for online advising
If you're interested in the Online Learning Advising Model, contact Wiley Education Services. Using OLAM has helped partners achieve 89% term-to-term retention.
To read the full article, click here.
Julie Delich is the Vice President of Retention and Student Support Services at Wiley Education Services. Delich strives to find new opportunities to increase Wiley's positive impact on students, one of her longtime passions.
Julie Delich
Vice President of Retention and Student Support Services
Wiley Education Services
jdelich@wiley.com
Opinions expressed in AGB blogs are those of the authors and not necessarily those of the institutions that employ them or of AGB.
Share on Twitter