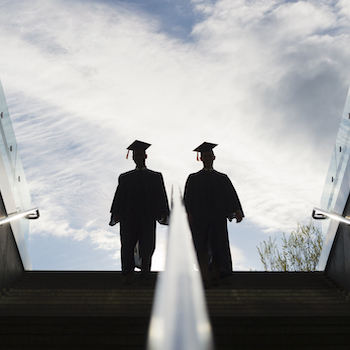 This blog post is part of the Mergers and Affiliations Toolkit, which includes a host of resources that enable board members to learn, evaluate options, and develop a strategy that makes sense.
The COVID-19 pandemic has inflicted great pressure on higher education institutions even as they were dealing with preexisting, intense disruption in the industry.  Having closed Marylhurst University in 2018, I know what these pressures feel like, and worry that additional institutions may confront the same tough decisions we did only a few short years ago.
The silver lining is that even through closure there is a way to honor your institutions' mission:  by transitioning with grace.
Our collective definition of closing with grace was only partially evident as the board took its closure vote on May 16, 2018.  But by holding that mantra close as we lived through the announcement to our campus the next day, and in the crucial days and weeks of shock, anger, and confusion that followed, trustees and campus leaders tested the principle daily.  It became our North Star in the midst of an emotional firestorm.  As we used this phrase to guide our actions and shape our responses to the community, the term took shape: Grace required that we prioritize the care of our community, first and foremost.  This commitment took the form of aggressive efforts to create robust teach-out agreements for the benefit of students, and the extension of both severance and outplacement services for faculty and staff.  These twin goals required a closure in time to preserve sufficient cash on hand for implementation.
I believe we satisfied our self-imposed standard of transitioning with grace.  Not that the early days following that May 2018 announcement would give us much peace:  We witnessed all stages of grief from our community, including denial, anger, disappointment, and shock.  But while facing the emotion that often comes with such disappointment, trustees and executive staff remained calm and kind.
Ultimately, and due in no small measure to our decision to close while we still had sufficient resources to meet our responsibilities, we provided severance as we had hoped.  And by the end of September 2018 we had graduated or transferred 92 percent of our student body.  We moved our four most distinctive academic programs—in toto—to neighboring universities that eagerly welcomed our students, and in some cases, our instructional faculty.  We were able to offer a modest severance to all full-time employees, along with robust outplacement services.  Additionally, we closed the doors of our beloved university at the end of 2018 with clean audits, no debt, and no threat to our accreditation: We closed with grace.
Colleges and universities struggling through the current crisis, and the preexisting challenges they exacerbate, should continue to innovate and to consider structural changes that will allow them to thrive.  But should those options come up wanting, the goal should be to close with sufficient resources to care for affected stakeholders.  Achieving graceful transitions such as closure, while no one's first choice, is possible.
Melody Rose, PhD, was the final president of Marylhurst University, assuming the position in 2014, and is a senior consultant for AGB Consulting. With Larry Large, PhD, she is a coauthor of Achieving Graceful Transitions in Higher Education, to be published by AGB Publications in fall 2020.
AGB Consulting's Mergers & Affiliations area of expertise can also help you with divestitures and even closures.  We can help guide you to also close with grace should you determine, as a board, that this difficult decision is your best path forward.  Email the team anytime at consulting@agb.org.
Opinions expressed in AGB blogs are those of the authors and not necessarily those of the institutions that employ them or of AGB.
Share on LinkedIn