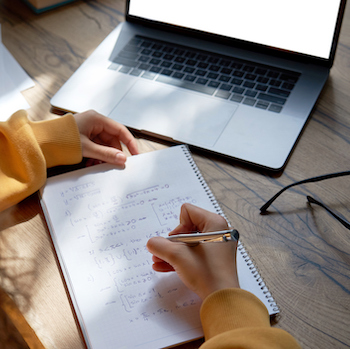 This blog post is part of the Finance Committee Chair Toolkit, a resource that highlights a variety of perspectives, including how to assess disruptive scenarios and what types of actions to consider.
More than a few institutions—particularly in the Great Lakes and Northeast regions—are wrestling with declining enrollment.  In The College Stress Test, Robert Zemsky, Susan Shaman, and Susan Campbell analyze IPEDS data from the past decade and find, for example, that more than 40 percent of private four-year schools in the Great Lakes region have experienced losses of greater than 10 percent.  If misery loves company, there would seem to be plenty of love to go around.
National data suggest a potentially new era for higher education.  After nearly six decades in which every year brought higher enrollments than five years prior, since 2014 we have experienced enrollment decline.  (See Figure 1.)  While this new trend partly reflects recovery from the Great Recession, declines in enrollment at private four-year institutions suggest a broader phenomenon.  In particular, reports by the Western Interstate Commission for Higher Education point to recent stagnation in high school graduate numbers (and declines in the Great Lakes and Northeast regions) that seem critical when interpreting data like that presented by Zemsky et al. and Figure 1. Fertility declines across the country since 2008 suggest the next chapter of demographic history will be even less forgiving.
Figure 1
Five-year growth in total fall enrollment at degree-granting institutions, 1952-2017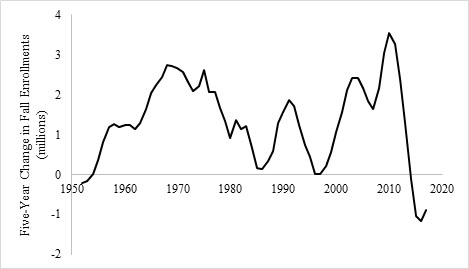 Source: Author's calculation based on data drawn from the National Center for Education Statistics
Digest of Education Statistics, Table 303.10
.  Data interpolated for missing data in 1958, 1960, and 1962.
Many institutions have entered a new reality in which budget models cannot presume continuously growing enrollment.  Instead, institutional health will depend on the ability to make improvements in student success that support larger total enrollments despite small prospective student pools.
Nathan D. Grawe, PhD, is the Ada M. Harrison distinguished teaching professor in the social sciences and a professor of economics, Carleton College. He is the author of Demographics and the Demand for Higher Education, and on April 7, 2020, of AGB's National Conference on Trusteeship, he will present fresh data and join in a panel discussion entitled "Anticipating Student Demographic Shifts," including leading efforts to prepare for the coming demographic cliff.
Opinions expressed in AGB blogs are those of the authors and not necessarily those of the institutions that employ them or of AGB.
Share on Twitter