Each year, 2.8 million students in the United States earn two- and four-year degrees from our colleges and universities, stimulating economic, social, and cultural growth for themselves and for society. Trustees should know the facts about the significant return on investment for today's graduates and share it with others.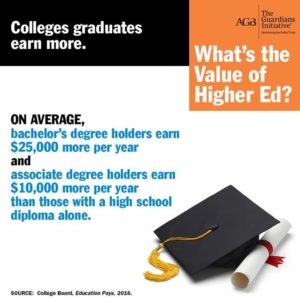 College graduates earn more over their lifetimes. Recent college graduates (ages 22-27) earn median annual incomes of $17,500 above those who hold a high school degree. And over the course of their working lives, the gap widens: on average, students who complete bachelor's degrees have incomes of $25,000 more per year, and those with associate degrees earn $10,000 more annually.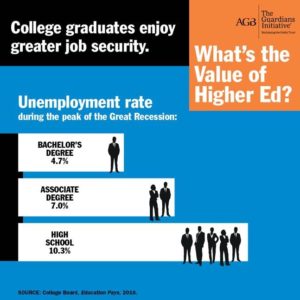 College graduates enjoy greater job satisfaction and security. Individuals with college degrees are more likely to describe their work environments positively than those without—and they consistently experience lower levels of unemployment. At the peak of the Great Recession, for example, those with bachelor's degrees experienced an unemployment rate of 4.7 percent, while the jobless rate for those without a college degree was twice as high.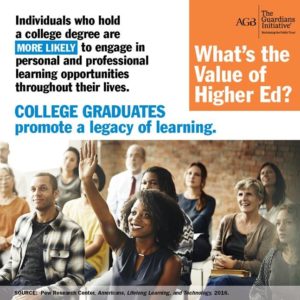 College graduates promote a legacy of learning. College graduates explore significantly more personal and professional learning opportunities throughout their lives, and also share a love for learning with their kids. Children whose parents earn college degrees are more inclined to pursue educational activities—including college. In fact, 85 percent of children whose parents completed college will go on to attend a college or university themselves.
College graduates take care of themselves and others. Generally, individuals who complete college are more apt to pursue healthier lifestyle choices (smoking less, exercising more, for example) and report being happier than those who do not hold college degrees.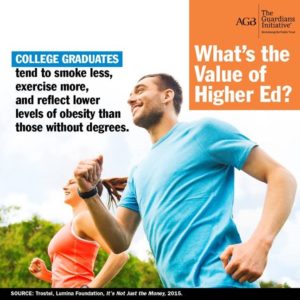 College graduates also prioritize giving back: they donate to charity at least three times more than high school graduates and volunteer twice as much. College graduates are also more than three times as likely to serve as leaders in school, community, service, and religious organizations.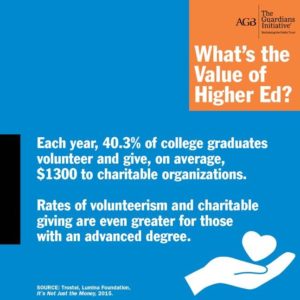 There is powerful evidence that earning a college or university degree provides a substantial return on investment, yet not everyone who pursues higher education reaps the full rewards. One in 12 Americans has some college education, but no credential to show for it. Institutions and their leaders must share responsibility with students for the hard work of college completion and continue to champion its economic and personal benefits.
Use these resources to craft messages, op-eds, and remarks to share with colleagues, campus constituents, the media, and other audiences. Also, follow @AGBGuardians and visit the Guardians homepage for other useful information on higher ed's return on investment.
RESOURCES
Talking Points: What's the Value of Higher Ed? For the Graduate
The Return on Investment in College Education
Trusteeship Radio: The Public's Trust in Higher Education
How to Write an Op-Ed
Making Advocacy Part of Your Board's Culture
Infographic #1
Infographic #2
Infographic #3
Infographic #4
Infographic #5
Infographic #6
Share on LinkedIn