America's colleges and universities make vital contributions to the economy as employers, investors, business incubators, and industry partners. As discussion continues about the return on investment of higher education, trustees are uniquely positioned to share how truly important colleges and universities are to the nation's economy.
Colleges and universities are major employers. Higher ed institutions are the largest employers in 10 states and two-thirds of America's 100 largest cities. Overall, U.S. colleges and universities employ 3.98 million people, or more than 2.5 percent of the population.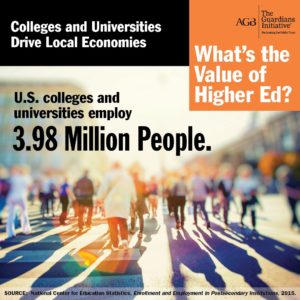 Colleges and universities cultivate entrepreneurship and incubate new businesses. Those who attend college are twice as likely to own a small business than those with a high school education or less. Moreover, in the last two decades colleges and universities have allocated facilities, technology, and research to 11,000 new business ventures.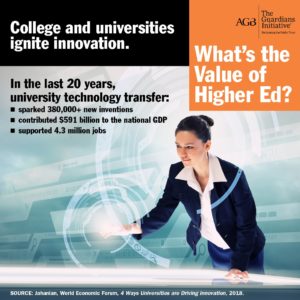 Colleges and universities ignite innovation. From 1996 to 2015, technology transfer from universities sparked development of more than 380,000 new inventions, contributed $591 billion to the national GDP, and supported 4.3 million jobs. In fact, 9 out of 10 U.S. patent holders have bachelor's degrees, and nearly half have professional or doctoral degrees.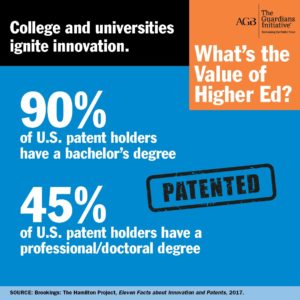 Colleges and universities fuel the knowledge economy. With the world's shift from an industrial economy to a knowledge economy, postsecondary education is key. Since the Great Recession, 99 percent of jobs created have gone to employees with more than a high school diploma. And as predictions forecast that 65 percent of U.S. jobs will require postsecondary education or advanced training by 2020, the nation may face a shortage of five million college-educated workers needed to keep the economy strong.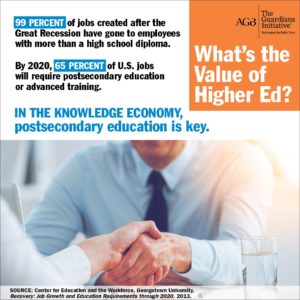 Colleges and universities drive economic development. Here's how: About one million international students study at American colleges and universities over the course of a year, contributing $36.9 billion to the U.S. economy and supporting more than 450,000 jobs through expenditures on higher education, accommodations, dining, retail, and transportation.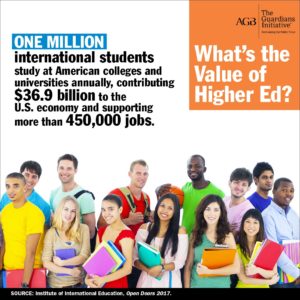 Colleges and universities set a higher standard. As they create a more educated labor market, colleges and universities essentially increase wages of all workers. When the number of college graduates increases one percent within a region, overall wages of high school grads increase by 1.6 percent.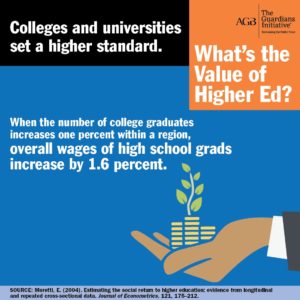 Use these resources to craft messages, op-eds, and remarks to share with colleagues, campus constituents, the media, and other audiences. Also, follow @AGBGuardians and visit the Guardians homepage for other useful information on higher ed's return on investment.
RESOURCES
Talking Points: What's the Value of Higher Ed? For the Economy
The Return on Investment in College Education
Trusteeship Radio: The Public's Trust in Higher Education
How to Write an Op-Ed
Making Advocacy Part of Your Board's Culture
Infographic #1
Infographic #2
Infographic #3
Infographic #4
Infographic #5
Infographic #6
Share on LinkedIn