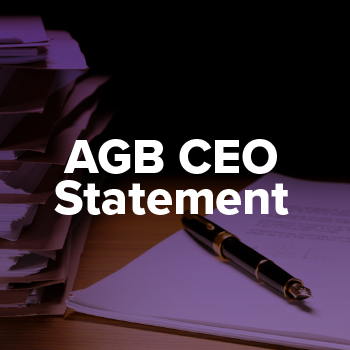 We are passionate about treating everyone we encounter with dignity and respect. We believe that this will make the world a better place. By doing so, we will create a sense of belonging and make others feel valued and seen as individuals. As leaders and colleagues, we will support efforts that individually and collectively lead to achieving our best work. This also means that we are committed to removing barriers to and creating opportunities for human growth and development for all.
The unique mission of the Association of Governing Boards to empower college, university, and foundation boards and their chief executive officers to lead with knowledge and confidence as they seek to fulfill their missions to society and advance student success and well-being brings a sharp focus to the enduring issues of racial and social justice in our society at this time. We are keenly aware that institutions of higher education have been complicit in the nation's history of systemic racial discrimination and may yet continue these practices. Nonetheless, contemporary colleges and universities are also beacons of hope and possibility for many and represent efforts for change in the larger society.
We are a community embracing an extraordinary opportunity to leave an enduring legacy as we strive to make AGB a more just, diverse, equitable, and inclusive organization. As an organization, we face challenges and opportunities together as countless individuals and institutions look to us to model change in our organization, nation, and the world. The current climate demands that we lead during this time of uncertainty with deliberate action to advance social justice, diversity, equity, and inclusion in all that we do.  For some organizations, diversity, equity, and inclusion (DE&I) and the movement for social justice may recede as a strategic priority in the future. While this might be unintentional as institutions focus on their most pressing basic needs, we believe that maintaining justice, diversity, equity, and inclusion as a strategic priority will increase innovation and resilience in times of turmoil and contribute to mission fulfillment.
Because we believe modeling highly inclusive leadership starts at home, AGB will elevate an intentional focus on justice, diversity, equity, and inclusion (JDE&I) as a critical component of our internal and external growth and renewal. Over the next several months, AGB will engage its board, leadership, staff, and consultants in a process designed to ensure that we as an organization and as individuals are fully aligned with best practices and values for the furtherance of JDE&I and that we hold ourselves to account for those practices.
While we are building, assessing, and holding ourselves to account internally, we will also begin to develop our capability to serve our unique membership of boards and chief executives as they pursue these matters in their diverse arenas. We will seek input and insights from our members, partners, and other supporters as we define expectations for this new era in higher education. A series of services, advisories, and supportive publications and convenings will be designed to serve our constituents. We want to encourage and support board and institutional culture and policies that enhance inclusivity and the achievement of social justice.
We have asked Carlton Brown, EdD, to lead this initiative and develop this area of practice for AGB. Brown is a proven academic leader who has served as the president of Savannah State University and Clark Atlanta University and in many other key administrative positions in higher education. Notably, he built greater diversity in the student populations during both presidencies.  He has also been an effective consultant for AGB over the past few years in innovation and business model development and for AGB Search as an executive search consultant. He was our leader in a Kresge-funded project to develop and help implement revitalization of business models in HBCUs. More recently, he has been a part of our Crisis Advisors Group in support of institutions navigating the COVID-19 crisis.
Kim Bobby, EdD, will work with Carlton Brown in developing this initiative, serving as the senior advisor developing our internal JDE&I work. She has served as an executive search consultant for AGB Search since 2017, notably helping institutions establish the role of vice president for diversity, equity, and inclusion. Prior to joining AGB Search, she served as the director of Leadership Programs at the American Council on Education (ACE), where her work advanced women and people of color into senior leadership roles in higher education. She also led the Creating Global Citizens: Challenges and Opportunities for Internationalization at HBCUs collaborative. Prior to joining ACE, she served as the inaugural chief diversity officer at the University of Puget Sound, where she held the primary responsibility for coordinating and implementing the university's strategic plan for diversity, equity, and inclusion.
We look forward to you and many others joining AGB on our journey to help colleges, universities, and foundations leverage JDE&I as they reimagine vibrant futures for their students, communities, and stakeholders.  To learn more and to contribute to our journey, please contact Carlton Brown at cbrown@AGB.org.
Share on Twitter