Principles of Trusteeship
Principle 9:
Ask insightful questions and listen with an open mind.
Principle 9 supports the fundamental function of thinking strategically by asking thoughtful questions and really listening to stakeholders. To achieve this, you must:
Pose the right questions, rather than prescribe answers. Help the board pressure-test assumptions, strategies, and recommendations by asking probing questions that frame problems, move discussions forward, and illuminate alternative approaches.
Listen actively and seek to understand. Come prepared to participate in a cooperative conversation, not a competitive debate.
Bring genuine curiosity and an open mind to board service. Welcome alternative points of view and value them as a reflection of a community committed to the common goal of advancing the institution.
"Good board members are able to ask exactly the right strategic question at the right point
without having that 'step aside, let me fix this' kind of attitude."
—Trustee, Private University
How open are you to having your ideas and opinions challenged?

What assumptions do you bring? How comfortable are you with competing perspectives?

How do board members build on work that has been done in advance?

How do board members advance the conversation? When do they inhibit conversation?

What questions are appropriate to ask

of the administration?

Of the committee? When should I ask these questions? In advance or during the board meeting?

How does this board explore important issues

that don't have easy answers? How does it frame questions and discern answers?

What decision are you being asked to make in this situation?

What is the appropriate level of board—and trustee—involvement?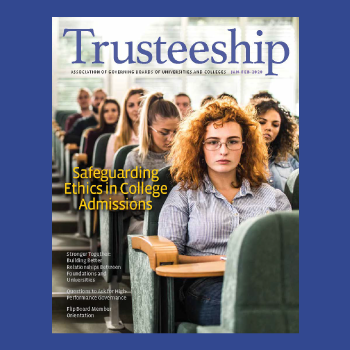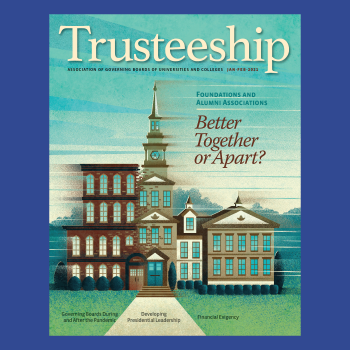 This guide conveys the essence of highly effective trusteeship in a concise, easy-to-use format. It defines the attitudes and actions of highly effective board members, and provides insight into three fundamental functions:
Understand governance by embracing all of your responsibilities in a structure of shared leadership.
Lead by example by upholding the highest standards of integrity.
Think strategically by focusing on what matters most to the long-term success of the whole enterprise.